Top Alternative to [email protected] Password Changer for Windows 10/8.1/8/7

June 15, 2016 10:35 am / Posted by Michael Eric to Windows Tips
Follow @MichaelEric
It is believed that many of us know [email protected] Password Changer, which is designed to bypass the forgotten or lost local administrator password on Windows systems. However, in recent days, quite a few of the users complains this Windows password cracker runs very slowly in their computer with Server 2010/2008/2003/2000. Is there any alternative? Yes! This article will show you top alternative to [email protected] Password Changer for Windows laptop/desktop.
SmartKey Windows Password Recovery is the perfect free Active Password Changer alternative if you are looking for the substitution for Active Password Recovery. It can instantly reset local password, user password, Microsoft password, etc and let you get access your Windows without password surprisingly. Collected in hand, you will not need to worry that what you should do if you lose or forget the Windows password.
Why Do You Need It
100% recovery rate & reset password in few seconds
2 options to create CD/DVD or USB flash drive to reset passwords
New GPU technical up to 10X faster than others
Support Windows 10, 8.1, 8, 7, Vista, XP, 2000, etc.
Easy to Use 3 Versions Software for All Users
Hurry up to have a try on this powerful password reset tool for Windows to restore your lost or forgotten password. Just click on the download button and you can have a free trial firstly.
Free Trial "Windows Password Recovery Tool":
How to Reset Windows 10/8.1/8/7 Password Easily and Efficiently
Windows Password Recovery is a extremely handy software to help you recover any password in a Windows environment within 3 simple steps. Follow the steps below to hack your Windows password.
Step 1: Download and install, open the program on any PC you have access to.
Step 2: You can select either "Default ISO Image" or "Create New ISO Image" on the top menu create a Windows boot CD or DVD with the program.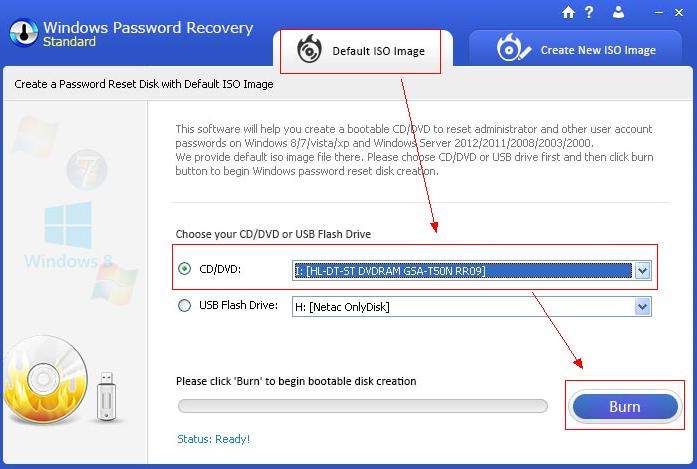 Step 3: After the steps 2 are complete, you should take out the password recovery bootable CD/DVD and insert it to your locked computer to reset the lost or forgotten password.
Step 4: Select the user account whose password you want to remove from and then click "Reset" to proceed.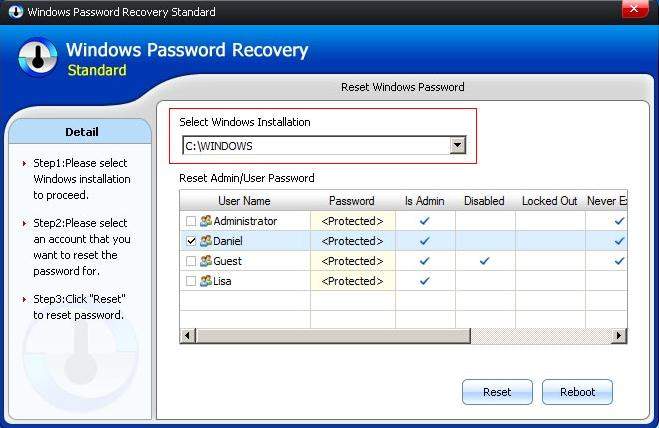 When the password is restored successfully, a pop-up window as below will come out. Go to click on "OK" to close it. Finally click "Reboot" to restart your computer and login Windows system without requiring any password this time.
That's all. Collecting this powerful program in hand, you will never worry about the forgotten/lost password in your Windows PC. If you have any other better Windows password recovery tool, you are welcomed to share it with us.
Download SmartKey Windows Password Recovery Standard:
comments powered by