Top 2 Options to Unlock Lenovo Yoga Tablet When You Forgot Password

Mar. 28, 2017 01:35 pm / Posted by Michael Eric to Windows Tips
Follow @MichaelEric
"Pls help. I am a new user. My friend convinced me to put a password for my Lenovo Yoga tablet. Unfortunately, when I opened it and logged the password...the tablet rejected it. I am sure I logged the password right since it is also my generic password :( Help anyone. Thanks!"
Lenovo Yoga is a nice and professional tablet that is better than normal personal computer. With this tablet in hand, you can simply rotate the screen and use it as a pad. Sometimes we create a password in the Lenovo Yoga in order to protect personal information. However, once the password is lost, you can't continue to use it. What a terrible issue! Consequently, how to unlock Lenovo Yoga tablet (Explore Yoga/Yoga Book/Yoga Book with Windows/Yoga Tab 3 Pro/Yoga Tab 3 10) when you forgot password is the main idea that we discuss here.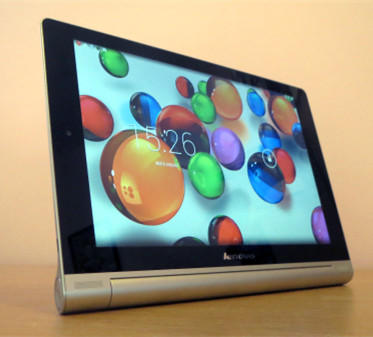 Since there are 2 systems in Lenovo Yoga tablet, which are Android and Windows system, here we share them within 2 parts about the solution.
Option 1: Unlock Lenovo Yoga Tablet in Android System with Factory Reset
While the Lenovo locked tablet is based-on Android system, if you enter the password or press the unlock pattern wrong a few times, it will let you login with Google account instead. Unfortunately, if that doesn't work, you will have to do a factory reset in order to unlock it. Remember that all the data will be disappeared after factory defaults. Now see the guide about it.
Step 1: Power off Android Lenovo Yoga tablet. And then select "Volume UP + Power" button on the tablet
Step 2: Press "wipe data/factory reset" option in the Android system recovery menu by using "Volume" button. On the next screen, use the "Volume Down" button to highlight the "Yes—delete all user data" option. After that, push "Power" button to confirm.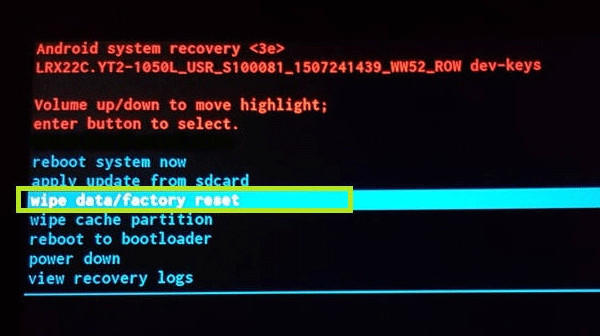 Step 3: Restart the system and then finish the process of factory reset. At present, the Lenovo Yoga tablet is unlocked without password required.
Option 2: Unlock Lenovo Yoga Tablet in Windows System with Password Reset Tool
In case your tablet runs in Windows system, such as Windows 10 Home edition, how to unlock it when you forgot power-on password? Once you use the factory reset, you will lose all the data. Consequently, to make use of a professional Windows password reset tool is necessary. Here we recommend SmartKey Windows Password Recovery software, a useful and easy-to-use program that enables you to reset Windows login password without losing data. Now let's see how to use it.
Step 1: Download and install Windows Password Recovery Ultimate software to any accessible Windows-based computer. Lunch it and to see the whole software interface.
Free Trial "Windows Password Recovery Tool":
Step 2: Plug writable USB flash drive into the computer and select "Default ISO Image", and then click "USB Flash Drive", choose removal USB flash drive from the drop-down list, then click "Burn" button to create a Lenovo tablet password reset disk.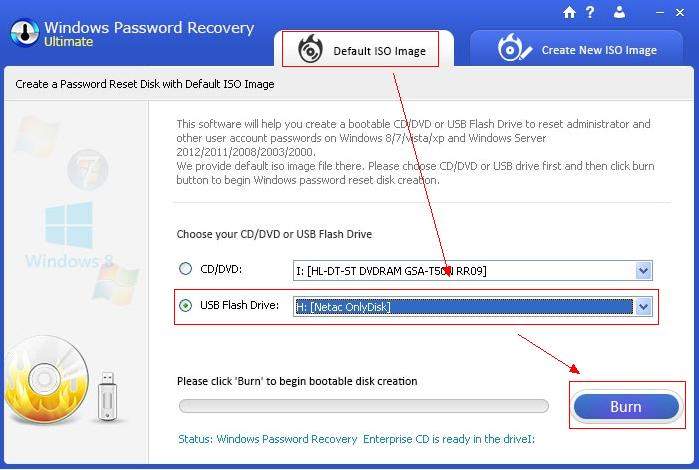 Step 3: Insert the USB flash drive to the locked Lenovo Yoga tablet.
Warning: If the tablet doesn't have a full-size USB port, you have to make use of a micro USB on-the-go (USB OTG) adapter to connect USB thumb drive to the micro USB port.
Step 4: Turn off your Lenovo tablet and then press and hold the "Volume Up" button, and then hold the "Power" button meanwhile.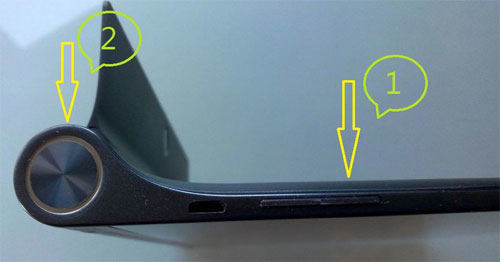 Step 5: After a moment, the tablet will enter the Novo Menu. Choose the "Boot Menu" and then hit "Enter" button. In the next screen, select the USB thumb drive as the boot media.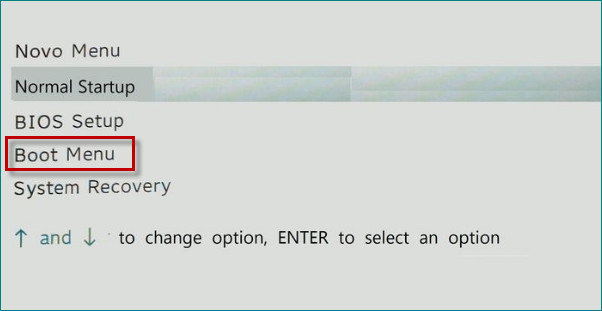 Step 6: Exit the Novo Menu and then you will see the SmartKey Windows Password Recovery Ultimate program again. All the system account will be displayed on the screen. Just select your target account and click "Remove Windows Password" to remove password, or the "Change Windows Password" to reset password.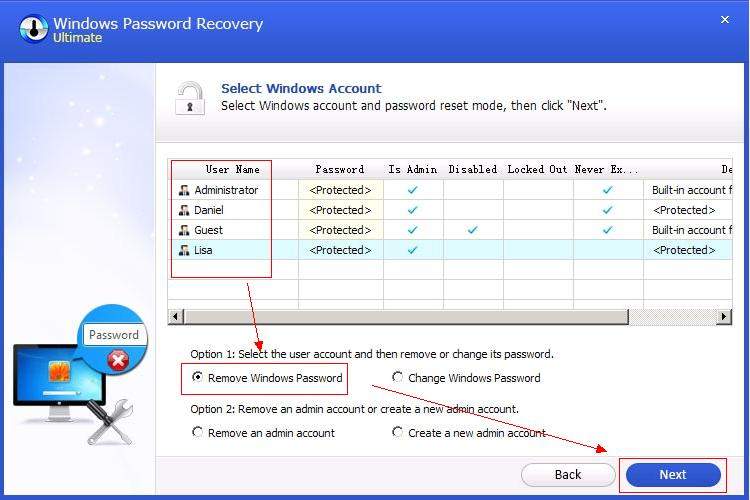 Step 7: In the next window, it will prompt that your password is removed or changed successfully. At last, click "Reboot" button to restart the tablet. Then you can use it constantly.
Forgetting password to unlock Lenovo Yoga tablet can be frustrating, and many uses actually end up forgetting it at some point. But there are always solutions to deal with the issue. Hope the above measures posted can do you a favor. Last but not least, welcome to leave a comment and let me know it these methods work for you.
Download SmartKey Windows Password Recovery Standard:
comments powered by