The Easiest Way to Skip User Login Screen on Windows 7

July 21, 2016 10:35 pm / Posted by Michael Eric to Windows Tips
Follow @MichaelEric
The login screen is an important security feature present and used in PCs and mobile devices. But you may be frustrated by the requirement to enter your password to login every time you power up. Worse still, what if you unfortunately forgot the password to login? If you're sick of typing your password or lost the login password. Here is a way to skip user login screen on Windows 7. All it takes is a few steps to setup this automatic login for Windows.
Method 1: Skip User Login Screen from Control Panel
Method 2:Skip User Login Screen When It Is Forgotten
Method 1: Skip User Login Screen from Control Panel
As with previous versions of Windows, you can configure Windows 7 so that you can log into your account automatically. The easiest way popping into your brain to skip user login screen is from control panel, just follow the step-by-step procedure to remove the Windows password.
Step1: From the Start screen, type netplwiz and click OK.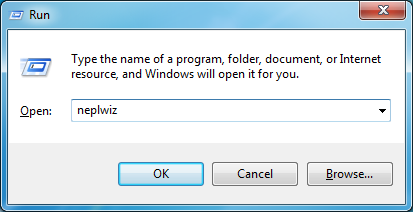 Step 2: In the User Accounts Control Panel, select the account you wish to use to log in automatically.
Step 3: Untick "Users must enter a user name and password to use this computer". Then click on Apply to bring out a window pop up.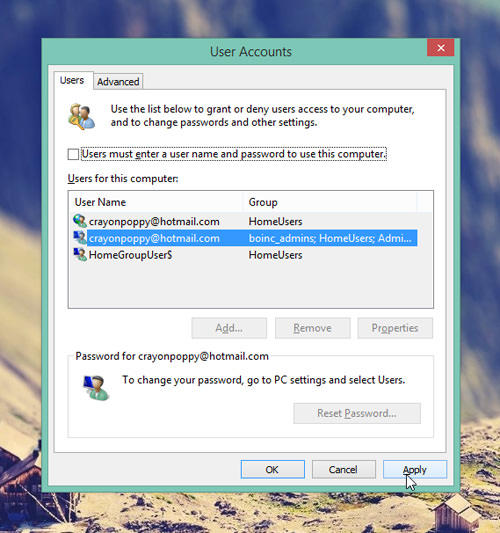 Step 4: Fill in User name, Password, Confirm Password. Click OK.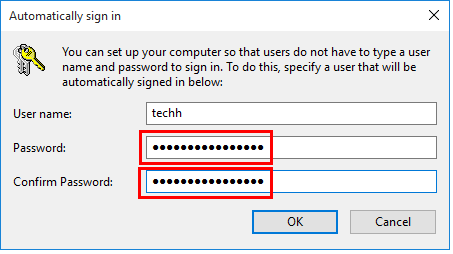 Step 5: Restart your PC and you will see your PC automatically login to Windows.
Method 2: Skip User Login Screen when It Is Forgotten
Although the method 1 is easy-to-understand with fewer steps, if you've locked out of the PC before you remove the user login screen, what could you do to gain access to your PC. Here I highly recommend Windows Password Recovery Standard.
Windows Password Recovery enables you easily create a boot password reset disk in seconds to reset forgotten local administrator and user passwords for Windows 7. It also works for Windows 10/8.1/8/7/Vista/XP. Here's details on how to bypass user and admin login screen on windows 7.
Step 1: To get started, you need to download and install SmartKey Windows Password Recovery Standard software on a Windows-based computer first. And then launch it.
Free Trial "Windows Password Recovery Tool":
Note: There are 2 options you can select to create a bootable CD/DVD as the Windows Password Reset Disk: default one and a new one. Here we will take the default ISO image as an example. For more details on how to create a bootable.
Step 2: Burn the ISO image of Windows Password Recovery to the blank media device. Click "Burn" to get burned.
Step 3: Insert the newly burned CD/DVD/USB disk to the PC and reboot it. When the When the CD/DVD boots, the Windows Password Recovery Standard will initialize.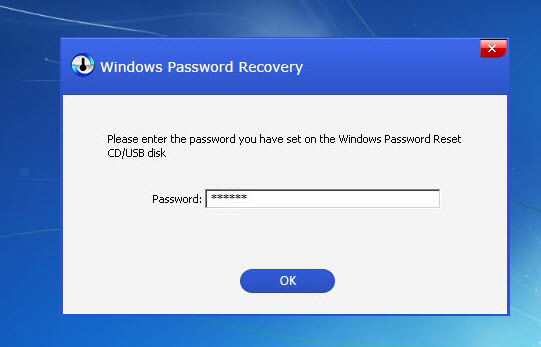 Step 4: After loading. Enter the password and click "OK" to start password recovery. And then select the Windows installation in which you want to reset the password. Choose a user account you wish skip the password for and then click "Reset" to proceed.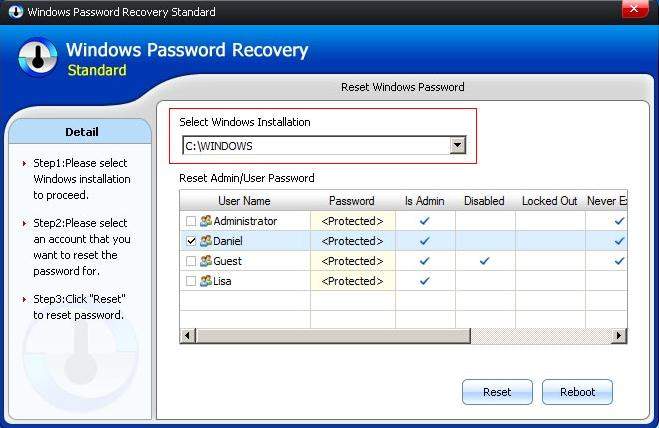 After that, a pop-up dialogue will come up, just hit "OK" to close it. Then click "Reboot" to restart your computer. Now you can login into your PC automatically without any password.
Extend Knowledge:
Setting the computer to automatically login might pose a security risk if you share the computer or there are other people about that can use your computer. They'll bypass Windows 7 password and have same access as whatever user account you have set to be logged on to at start up.
Download SmartKey Windows Password Recovery Standard:
comments powered by