How to Recover and Reset Windows RAID Server Password

April 18, 2017 01:35 pm / Posted by Michael Eric to Windows Tips
Follow @MichaelEric
"Hi, I have DELL PowerEdge t310 server and lost the password for admin. I tried to 'repair the computer' using Bootable CD but there is no operating system is showing while selecting the repair option. Anyone knows how to do windows server password recovery on a RAID?"
RAID (redundant array of inexpensive disks) provides a way of storing the same data in different places and automatic protection against data loss from drive failure. RAID used to be expensive and hard to implement, but now most brands of desktops support it. Recently, some users complained that they lost the RAID server password and cannot get access to their files anymore. Reset password on RAID server is not easy, especially for those who don't have technological background. Luckily, we've found an easy Windows server password recovery tool Windows Password Recovery to reset lost local/domain administrator password for Windows 2016/2012/2008 Raid server with only simple steps.
Free Trial "Windows Password Recovery" software:
Part 1: Restore Windows RAID Server Password with Windows Password Recovery
Free download and run Windows Password Recovery on any Windows computer and insert a blank CD/DVD/USB, click "Burn" to burn the ISO image.
Insert the media device to the computer you lost RAID server password. Enter the password and click "OK" to begin password recovery.
Select the Windows installation in which you want to change the password. Choose a user account and then click "Reset" to reset Windows server 2016/2012/2008/2003 local administrator password quickly.
Part 2: Other Solutions to Reset Server Raid Manager Password on Windows
Solution 1: Reset Windows RAID Server Password with Raid-WinPE
Download Raid-WinPE from the internet and clock F6 to load RAID drive when entering WinPE.
Keep floppy disk with Raid drive in USB floppy drive, then insert it into server and reboot server.
Click F6 to load the drive and enter WinPE, modify or add user name and then modify password provided, restart server and login with new password.
Solution 2: Reset Windows Server Password with Installation CD
Boot computer from the reset disk, click "Repair your computer" on the screen
Select the Operting System to repair on dialog "System Recovery Options" and click "Next".
Click Command Prompt to open command prompt window, change location of two system programs (cmd.exe and utilman.exe) with following command.

MOVE C:\Windows\System32\Utilman.exe C:\Windows\System32\Utilman.exe.bak COPY C:\Windows\System32\cmd.exe C:\Windows\System32\Utilman.exe

Close Command Prompt and let locked Windows server boot from hard drive normally.
Click the "Utility Manager" icon on Windows server login screen and then enter "net user command" to reset Windows server forgotten administrator password.
Now you got to know how to reset server raid manager password after going through the methods introduced above. Windows Password Recovery really can be the easiest way to recover and reset Windows RAID server password, isn't it?
Download SmartKey Windows Password Recovery Standard:
comments powered by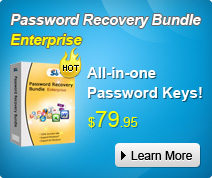 NEXT TOPICS

Office Password & Key
Recover all your Word, Excel, ppt, accesss office files password