How to Disable UEFI Secure Boot in Windows 8.1 and 8

Nov. 12, 2014 11:32 am / Posted by Michael Eric to Windows Tips
Follow @MichaelEric
What's UEFI Secure Boot?
Secure boot can be regarded as the feature enabled by UEFI, which replaces the traditional PC BIOS in Windows 7 and before. Any computer running Windows 8.1 and 8 has secure boot enabled. Secure boot prevents "unauthorized" operating system and software from loading during the startup process. Still, if you want to install other operating system, like the older version of Windows – Windows 7, you have to disable UEFI secure boot on Windows 8.1 and 8 first.
How to Disable Secure Boot in Windows 8.1 and 8?
After disabling UEFI secure boot in Windows 8.1/8, you can freely use third party program, like Windows Password Recovery. Just walk through the following steps to finish it.
1. First access your Charms bar by pressing Windows + C. Click the "Settings" charm.


2. In the Settings charm, click "Change PC Settings".
3. For Windows 8, click or tap on "General", click or tap on "Restart" now under "Advanced startup" on the right pane.



For Windows 8.1, go to PC Settings. Click or tap on "Update and recovery".



Then, click or tap on "Recovery".



Here, go to the "Advanced startup" section on the right, and click or tap "Restart now".


4. After Windows 8 and 8.1 computer restart, a blue screen is displayed where you are asked to choose an option. Click or tap "Troubleshoot".


5. You need to click or tap "Advanced options" under Troubleshoot. Pay attention, there are several options under "Advanced options", including "UEFI Fireware Settings". Choose it.


6. You will be asked to choose "Restart" to reboot your system in UEFI settings.


7. Here you need to access your BIOS by pressing F1, F2, or Esc. During the startup process, find the "Secure boot" option, and turn it to be "Disabled".

Note that you may not find a secure boot option easily. Keep your eyes peeled for anything containing the words "Secure boot" and "UEFI".


8. Then restart your computer by pressing F10.
Thus, you have finished all the steps to turn off UEFI secure boot in Windows 8.1 and 8.
Download SmartKey Windows Password Recovery Standard:
comments powered by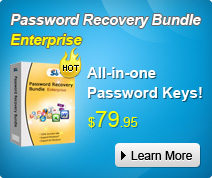 NEXT TOPICS

Office Password & Key
Recover all your Word, Excel, ppt, accesss office files password