Fixed: Bluetooth not Working After Upgrading to Windows 8.1

Dec. 30, 2014 11:23 am / Posted by Michael Eric to Windows Tips
Follow @MichaelEric
"After upgrading to Windows 8.1, my Bluetooth doesn't work."
"My bluetooth device driver doesn't work anymore after upgrading to Windows 8.1 on Dell Inspiron 15r 5520..."
You may find this kind of questions have flooded in Microsoft community. So how to solve this problem? How to restore the function of your Bluetooth devices after upgrading to Windows 8.1? For this task, we have listed 2 methods for you to try to fix the issue.
Reinstall Bluetooth Drivers
Follow these simple instructions below:
1. Press Windows + R combination and then type "services.msc" in there and press on Enter.


2. Go to the "Bluetooth Support Service" and double click on it.


3. Find the "General" tab and from there, change the startup type from "Manual to Automatic".


4. After that, click on "Log On" tab and mark on "This Account".


5. Type your account name or browse to find your account name.
6. Now remove your both hidden password and after that restart your Windows 8.1 PC, laptop or tablet.
7. Proceed with the reinstall of your Bluetooth drivers by going on the website of your maker. Leave your comment with the exact model if you need help.
If your problem has not been solved still after the reinstall, perform a check on the Windows Update tool, as Microsoft usually releases fixes for such situations.
Update Bluetooth Drivers
1. Swipe in from the right to bring up the charms, and select "Settings".
2. Tap or click "Change PC Settings". In the appeared interface, select "Update and recovery", then select "Windows Update".


3. Select "Check for updates". Make sure to look at the "Optional updates" in the results.
4. Check the device manufacturer's site for update drivers.
5. Check the device manufacturer's site for update. Here you can select "Search", and search for "device manager".
6. In Device Manager, expand Bluetooth, and look for a device with Broadcom, Intel, or Qualcomm Atheros. Check the website of your radio manufacturer for driver updates.



Note: If you don't see one of these manufacturers, but instead see Generic Bluetooth Adapter: Click Generic Bluetooth Adapter, select "Properties", select the "Advanced" tab. Then note the number next to Manufacturer ID.

7. Use you have updated your Bluetooth drivers, please try using your device again.
You can try both of them, or you will be successful after trying one of them. If you still have problems in Windows 8.1, click here to get more Windows 8.1 Tips.
Download SmartKey Windows Password Recovery Standard:
comments powered by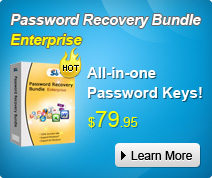 NEXT TOPICS

Office Password & Key
Recover all your Word, Excel, ppt, accesss office files password