How to Remove Startup Password on Laptop with Windows 10

August 01, 2017 10:23 am / Posted by Michael Eric to Windows Tips
Follow @MichaelEric
"I had a password on the Startup of my Windows 10 laptop and I have forgotten it now. Every time when I turn on my computer it will be asked for immediately. I have no idea about how to bypass Startup password screen to get access to the documents in the computer. Please help."
Quite a few of us would like to set a Startup password that is required when we log in our computer in order to protect our privacy data from revealing. It seems that the setting of the password is really important. However, some folks may always forget their Startup password and want to remove/recover the complicated letters and numbers. What to do if you want to remove the laptop startup password on Windows 10? It is not a difficult thing. Here are top two efficient methods to help you get rid of annoyance.
Two Efficient Methods to Remove Startup Password
Method 1: Remove Login Password from Windows 10 Laptop by Manual
Method 2: Remove Forgotten Startup Password on Windows 10 Laptop
Method 1: Remove Login Password from Windows 10 Laptop by Manual
To start Windows 10 laptop without password and break into your laptop directly, you can follow the below steps.
Note: This method requires the password to login to your laptop. If you already forgot password, refer to
method 2.
Type netplwiz in the Start menu search bar. Then click the top result to run the command.
Uncheck 'Users must enter a user name and password to use this computer' and click on "Apply".
Enter the new username and password, then re-enter your password.
Click Ok again to save the changes.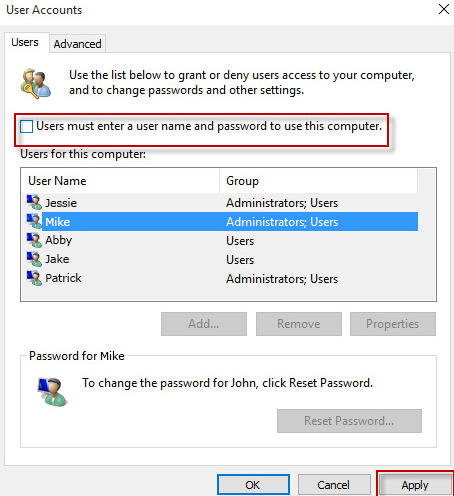 Method 2: Remove Forgotten Startup Password on Windows 10 Laptop
If the first method can't help you well, no worries! Here is an ultimate password remover that will surely solve your problem.
No matter what kind of password you forgot and want to remove the permission, SmartKey Windows Password Recovery can instantly disable Windows 10 laptop login password. It helps you remove Windows password of Microsoft Account, Admin and Login Account so on efficiently and let you login Windows without password. Especially, you don't need to format or re-install Windows laptop/desktop.
Free Trial "Windows Password Recovery Tool":
How to Use SmartKey Windows Password Recovery Standard
Download and install the program on any latop you can access.
Create a CD/DVD/USB with either default or new ISO image.


Insert the prepared CD/DVD/USB to the locked laptop and boot them from CD/DVD/USB.
(Click here to lear how to set BIOS to boot the laptop from CD/DVD/USB)
Select the related account you want to remove password and click "Reset".


When a pop-up window comes out, click on "OK" and then click "Reboot" to restart your computer.
That's it! It is an amazing Windows password remover to help you remover or reset any password at boot up in a really efficient way. If you are locked out due to any forgotten or unknown password, this software can actually help you greatly!
Download SmartKey Windows Password Recovery Standard:
comments powered by