Forgot Windows 10 Tablet Password, How to Fix?

July 15, 2019 10:23 am / Posted by Michael Eric to Windows Tips
Follow @MichaelEric
Hi, I've searched to no avail.
My problem is I have a Linx Win10 Tablet and forgot the local password, not the Microsoft account one. There is no physical keyboard connected to it. I did not create a password re-set file on a flash drive. I have tried to file a request with the Windows Help people but not been able to successfully post to them.
I am desperate, any help would be very welcome.
In fact, no matter you are using Windows 10 PC, Laptop or Tablet, the system working environments are the same. Once you lost local password on Windows 10 Tablet, you may need a reset disk to recover or factory reset the password. What matters is that a Windows 10 Tablet is not support CD, so you might need to use third party software or use reset USB flash drive.
In this article, we are going to discuss a method by using Windows Password Recovery, effective and highly recommended software, which has been tested by thousands of users and successfully reset Windows 10 tablet password.
Free Trial "Windows Password Recovery" software:
Method 1. How to Reset Windows 10 Tablet Password via Windows Password Recovery
To begin this process you should first download and install Windows Password Recovery to an available computer. The installation process is quick, after it is done, launch the program.
Step 1: You can choose "Default ISO Image" or "Create New ISO Image" to create the bootable disk. It is depends on whether your computer can read default ISO image or not.
a. If you choose "Default ISO Image", just choose your CD/DVD or USB flash drive to burn. For that you want to unlock Windows 10 Tablet, we recommend you choose USB flash drive, insert your USB flash drive into computer and click "Burn". Follow its hint and click "Yes", "OK" on the pop-up windows.
b. If you choose to "Create New ISO Image", you are then required to insert your Windows Setup CD, both 32-bit and 64-bit are supported. Click "Browse" to find the BOOT.WIM file. Then click "Next" to continue. And choose USB flash drive to burn.
Step 2: After your bootable USB flash drive has been prepared. Then insert this USB flash drive into your Windows 10 Tablet and reboot your tablet, and you will see Windows Password Recovery is initializing.
Step 3: After loading, you will see the interface below, if you have chosen "Create New ISO Image" and set password, then input the password. If you haven't set this, then you can skip this step.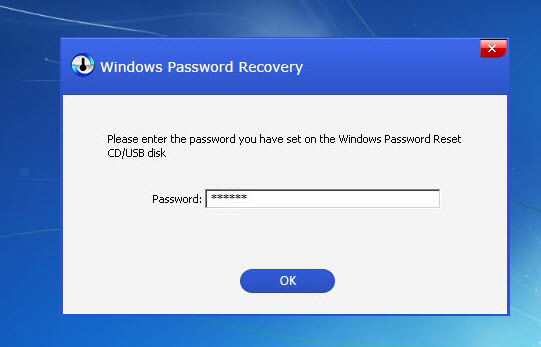 Step 4: Select Windows installation and user account that you want to reset the password.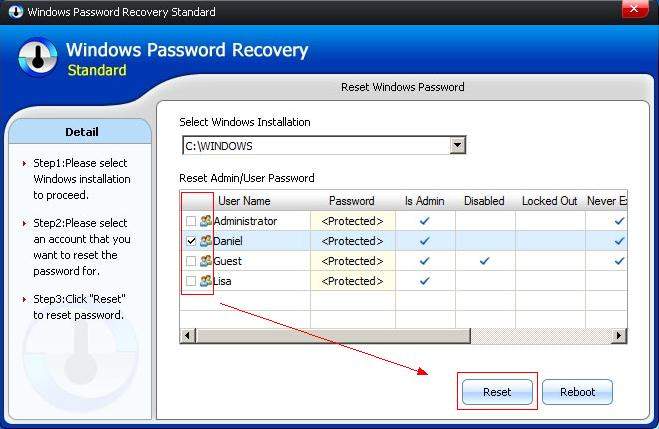 Step 5: After successfully reset the password of your Windows 10 Tablet, you can then restart your Tablet and enjoy the free feeling.
Method 2. How to Factory Reset Windows 10 Tablet Password without Password
Factory reset your tablet is another way to removing password if you do not have important files on your device. Here's a step-by-step walkthrough on resetting Windows 10 laptop, PC or tablet without logging in.
Step 1. From the login screen, click on Power icon on lower right corner, then hold down the SHIFT key and then select Restart.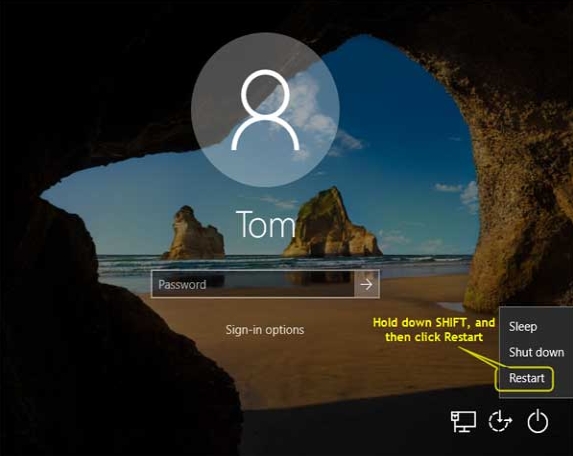 Step 2. Windows 10 will reboot and ask you to select an option. Click Troubleshoot -> Reset this PC -> Remove everything.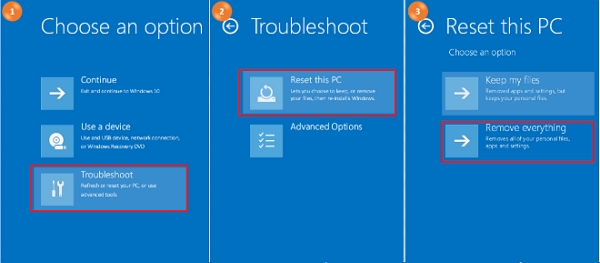 Step 3. Follow the online-screen wizard and finally click on Reset and just wait for the factory reset process to complete. This might take an hour or more.
That's about what to do if you forgot Windows 10 tablet admin password. By using Windows Password Recovery, forgot Windows 10 Tablet password will never be a problem for you. Meanwhile, this software can also help you recover Windows 10 tablet password or factory reset Windows 10/8/7/XP/Vista computer, laptop or tablet without password, kindly give it a download and experience its magic.
Download SmartKey Windows Password Recovery Ultimate:
comments powered by