How to Bypass Forgotten Windows 10 Password

July 12, 2019 10:23 am / Posted by Michael Eric to Windows Tips
Follow @MichaelEric
We usually set a local user password or administrator password for our Windows computer in case somebody abnormally uses our computer and leaks our important privacy data. But there are so many Windows 10 users complaining that they always get headache due to the forgotten password. What if you forgot or lost your local Windows 10 password or Microsoft account password how to do without install CD disk? Fortunately, here will be detailed information for you to bypass forgotten password in Windows 10 or any other password.
When you can't remember your Windows password to get access your computer, you may first think to restore it with a password reset disk or an installation disc. This solution really takes some of your time. So, how to bypass Windows 10 password to reset Windows 10 forgotten password for Microsoft account easily and quickly?
To break the password of your Windows computer, there are always two cases: bypass password when you still can login Windows system; reset forgotten Windows 10 password when you failed to log in your PC.
Case 1. How to Bypass Windows 10 Password when I'm Locked Out
Case 2. How to Bypass Password When You Can Login Windows 10 System
Case 3. How Do I Bypass Windows 10 password from Command Prompt
Case 1. How to Bypass Windows 10 Password when I'm Locked Out
It seems it is difficult to get back password in Windows 10 if you unable to log in computer due to the forgotten password. Fortunately, Windows Password Recovery will make it really easy for you.
SmartKey Windows Password Recovery can help you instantly reset Windows password if you forgot Windows 10 password without reset disk. It will remove Windows password efficiently and let you login Windows without password to log in computer.
Free Trial "Windows Password Recovery Tool":
How to Use SmartKey Windows Password Recovery Standard
Step 1: Download and install, open the program on any PC you have access to.
Step 2: Create a Windows boot CD or DVD with the program.
Select "Default ISO Image" on the top menu. Inset a CD/DVD disk into the CD-ROM drive of the computer. Specify the CD and click "Burn" button.


In the pop-up window, select "Yes" to go on burning and then click "OK" to finish the operation.


Step 3: Reset Windows password with the created CD/DVD.
After the steps 2 are complete, you should take out the password recovery bootable CD/DVD and insert it to your locked computer to reset the lost or forgotten password.
When the CD/DVD boots, you'll see Windows Password Recovery Standard is initializing.


Enter the password and click "OK" button to begin password recovery. If you haven't set password, skip this step.


Select the Windows installation in which you would like to reset the password. Select the user account whose password you want to remove from and then click "Reset" to proceed.


Once you reset password successfully, a pop-up window as below will come out. Please click "OK" to close it. Then click "Reboot" to restart your computer and login Windows system without any password. That's done! You have bypass administrator password Windows 10 when forgot password unable to login now!
Case 2: How to Bypass Password When You Can Login Windows 10 System
If you still can login to Windows 10 system, then you can easily disable Windows 10 password in following passwords:
Step 1: Simultaneously press Win + R keys. When the pop-up windows appears, type netplwiz and press Enter key.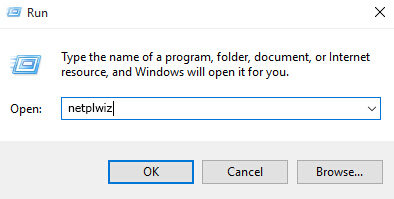 Step 2: Later the User Accounts box opens. Select the account you want to bypass password and uncheck the choice for "Users must enter a user name and password to use this computer". Then click the Apply button.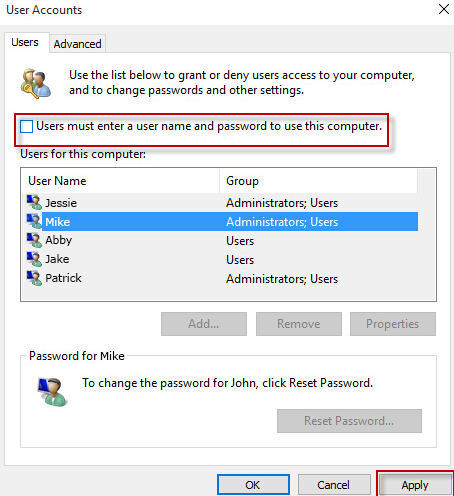 Step 3: There will be Automatically sin in dialog shown. Just type the user name and the right password, and then click OK.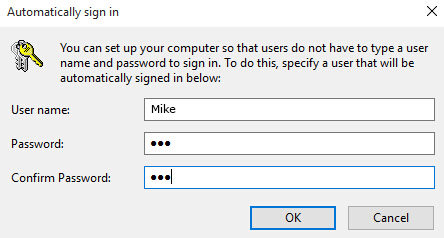 When the three steps are done, you can get access to your Windows 10 without login screen restriction. Really convenient!
Case 3. How Do I Bypass Windows 10 password from Command Prompt
If you have Windows 10 administrator privileges, You can easily reset password for Windows 10 with Command prompt.
Step 1: Press Win + X and select Command Prompt (Admin) in menu.
Step 2: Click Yes on pop-up UAC dialog to run command prompt as administrator in Windows 10.
Step 3: Type the net user command in Command Prompt window and press Enter twice, and the user password will be removed.
net user <username>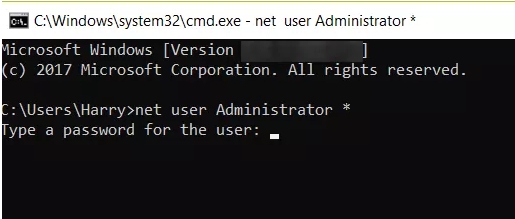 That's all about how yo bypass Windows 10 passowrd. We hope our tips will do help you solve your problem.
Download SmartKey Windows Password Recovery Standard:
comments powered by