Top 3 Free ZIP and RAR Password Recovery Tools

September 13, 2017 2:32 pm / Posted by Michael Eric to Files & Database
Follow @MichaelEric
ZIP and RAR are common archive formats in our daily life, they can help we easily save storage. In order to keep privacy, a lot of users may choose to lock their ZIP and RAR files. However, what if you have lost your password? Here we will introduce you 3 ZIP and RAR password crackers for help.
TOP 1: SmarktKey RAR Password Recovery
The world's best ZIP and RAR password recovery software that you may take an experience. It can unlock any password-protected RAR files no matter how complex the expression or algorithm is used. With RAR Password Recovery, users can 100% recover all versions of ZIP and RAR files.
Download SmartKey RAR Password Recovery:
Key Features:
The 3-step operation ensures you find back your lost password without any technique background.
Quickly recover or remove RAR password with Multi-core CPUs and NVIDIA-GPUs.
Throughout the recovery process, no loss or damage to data.
Step 1: After download the software, users can run the program and click "Add" button to load your encrypted ZIP or RAR files. Then choose an attack mode you like.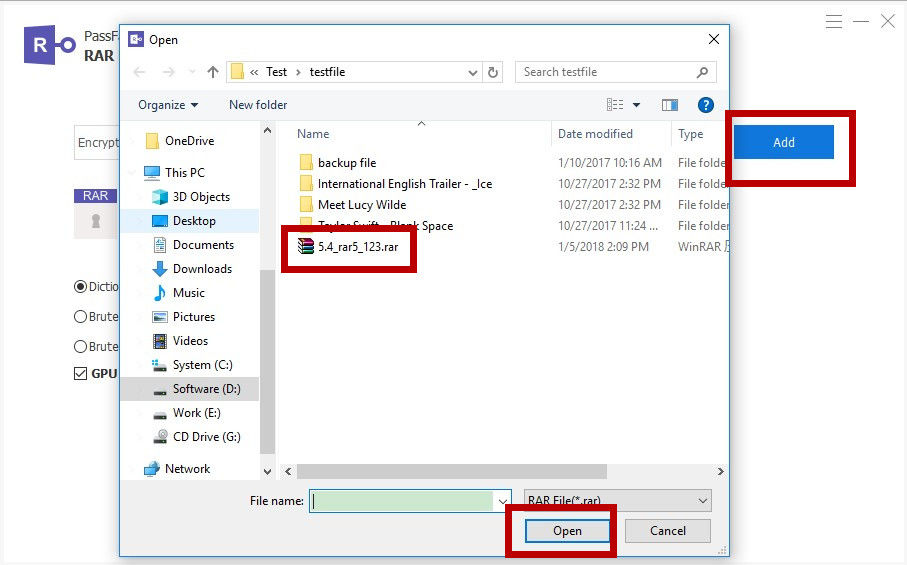 Note:Dictionary Attack - Efficiently recover lost RAR password by trying the combinations in the up-to-date built-in dictionary.
Brute force with Mask Attack - Greatly reduce the recovery time with personalized password settings including password length, special characters, and so forth.
Brute-force Attack - Try all combinations of password when you have no idea of the password.
Step 2: After specifying the attack type and setting, click "Start" to start recovery and you will soon get your password back.
TOP 2: Free RAR Password Unlocker
Free RAR Password Unlocker has options to unlock RAR password and ZIP files. For the recovery modes selection it is muck like what we mentioned in the first software.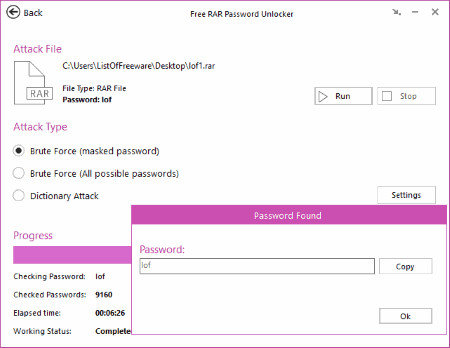 This RAR unlocker software can look for numeric, alphanumeric, and alphabetic passwords without limitation. While running the password trials, it displays the password being checked and the number of checked passwords, and the elapsed time.
Pros:
Free to download and use.
Packed with useful features.
Cons:
Recovering passwords can take time.
Help button does not work.
TOP 3: Ultimate ZIP Cracker
Ultimate ZIP Cracker lets you unlock RAR and ZIP files for free. It has a bunch of RAR password recovery methods, which can be used to unlock RAR files.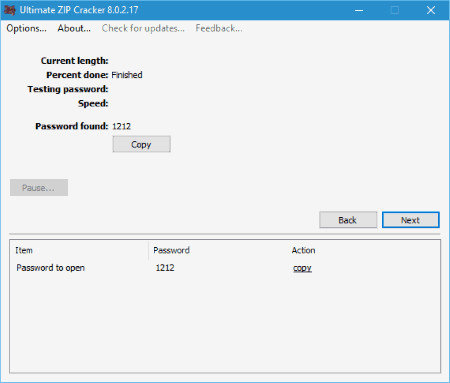 It contains a lots of recovery mode for users to choose, which including: brief scan, brute-force attack, dictionary attack, phonetic attack, date search, free type validation and customized search.
Pros:
Supports various file formats.
The recovery process has a high recovering rate.
Cons:
The process of recovering takes too much time.
One of the drawbacks is the limitation on the free version
That's all about the top 3 password recovery software for ZIP and RAR archive formats. For next time you forget the password, don't hesitate come to this article for help.
Download SmartKey RAR Password Recovery:
comments powered by