RAR Password Removal Tool 2016 Free Download

April 27, 2016 11:38 am / Posted by Michael Eric to Files & Database
Follow @MichaelEric
"I downloaded a RAR file from internet but it has a password protected by the author, and I couldn't open it though I tried to guess the password several times. Is there any RAR password removal software for free to help me open the file?"
We may have the same experience that forget the password of an encrypted RAR file, or can't open a downloaded file which is protected by someone without the right password. It seems that the only way to solve this is trying our best to remember the password, but it is not easy to do. Or else, we need a professional RAR password recovery tool to help us get our password back. There are many kinds of RAR password removal tools on the internet. Here I sincerely introduce the 2016 best password removal software for ZIP/RAR - RAR Password Recovery, which is the most professional RAR password remover on the market so far, holds 3 efficient attack options: Brute-force Attack, Brute-force with Mask Attack and Dictionary Attack. It can help you bypass RAR password on Windows 10/8/8.1/7 quickly and safely. Please read following operating steps after you have downloaded and installed it in your computer.
Download SmartKey RAR Password Recovery:
Steps of Removing RAR Password Protection for Free on Windows
Step 1: Run the software in your computer and choose "RAR Password Recovery" on the interface, choose your locked RAR file in the "Browse". If you forget where it is, you can back to the start page and click "Encrypted File Search", it can help you scan all your locked RAR files.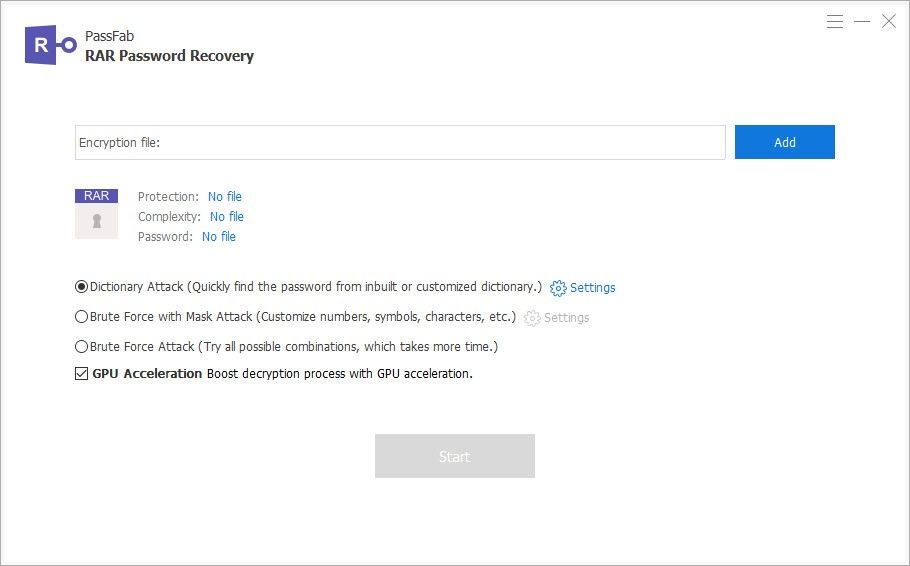 Step2: Select a suitable attack type for password recovery.
1. If you can't remember anything about your password, you can choose "Brute-force Attack" which will try all possible combinations by default.





2. Select "Brute-force with Mask Attack" if you have any clue about the forgotten password. Write down the clues you remember at "Settings" such as Min Length, Max Length and Character Set.





3. If you have a dictionary that is a text file listing common character combinations such as a, ab, and 123 that people may frequently use for passwords, you can choose to recover from "Dictionary Attack".





Step 3: After choosing the attack type and setting, click "Recover" to start. After a few minutes, the password will be removed successfully.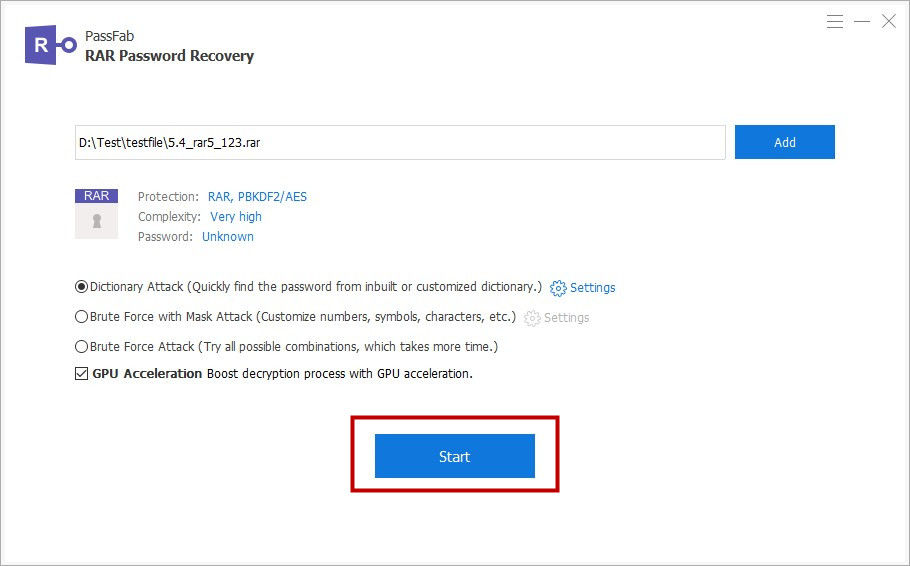 All in all, RAR Password Recovery is a free RAR password remover, which can help you get your forgotten password back or open protected files without a code. Welcome to leave your advice in the comment section.
Download SmartKey RAR Password Recovery:
comments powered by