How to Find Windows 10 Pro Product Key in 2019

March 22, 2018 11:13 am / Posted by Michael Eric to Product Key Tips
Follow @MichaelEric
As a computer system that has gained 350 million users until now, Windows 10 brings many features for us. However, if some users have installed the free Windows 10 for a period of time, they may need to type correct product key in Windows 10 when the computer system notices that Windows is not activated. But part of us have no idea about Windows 10 product key and where to get it. In this tutorial, we are going to go about how to find Windows 10 Pro product key in 2018.
Method 1. Get Activation Key with Product Key Finder
SmartKey Product Key Recovery might be the easiest and beneficial software to find out any lost product keys in Windows computer systems. With this powerful and smart Windows license key finder, there's no need to afraid of losing activation key in Windows, Office, SQL, Visual Studio, Adobe, etc.
Step 1. Free download, install and run this advanced product key finder and continue to the next step.
Download Product Key Recovery to find Serial Numbers for All Microsoft Products:
Step 2. Hit on "Get Key" in the main interface and after a while you are about to see all the serial keys saved in your computer, including Product Name, License Key, Product ID and User.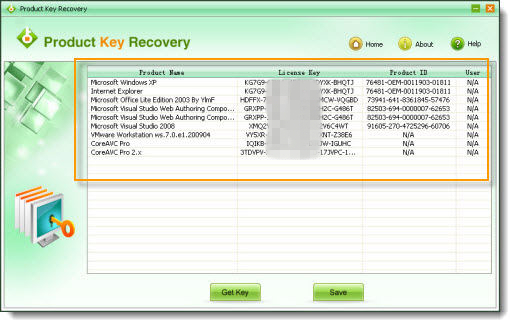 Step 3. Tap on "Save" button to save all the keys to your Windows computer. Finally, you are able to copy Windows 10 Pro activation key to activate Windows 10.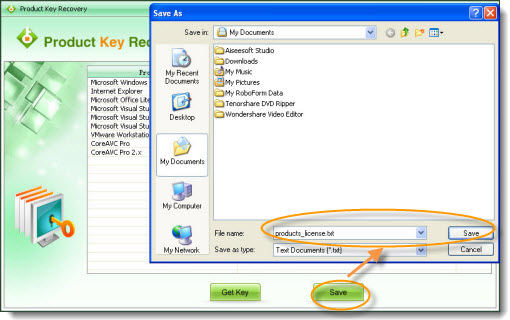 Method 2. Find Windows Product Key with PowerShell
Another handy solution is to make use of Windows PowerShell. The steps are in the following to find out Windows 10 pro key:
1. Run Windows PowerShell screen via Windows 10 administrator privilege and then tap on Enter button.
2. After a moment, the blue Windows PowerShell window will pop up. Now just copy and paste the below command.
powershell "(Get-WmiObject -query 'select * from SoftwareLicensingService').OA3xOriginalProductKey"
3. It will show your Windows license key registered in the computer. Hit on Enter button to close and exit Windows PowerShell.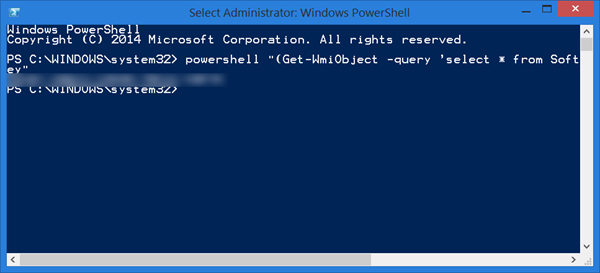 How to Check if Windows 10 is Activated?
Use your mouse to the Start button and then right click it. Hit on "System" from that appeared menu. Then a pop up window will turn out, from that "Settings" screen, you will see whether your Windows 10 is activated or not. How to activate Windows 10 Pro? In this Settings windows, you are capital of clicking "Activate" button to activate it.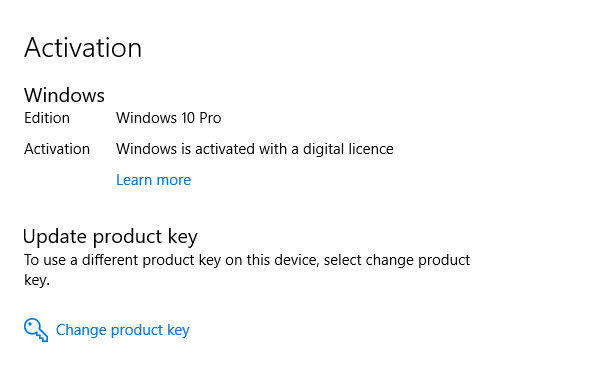 Bonus Tips: Windows 10 Activation Key 2019 Free for You
Still couldn't get your real serial key for Windows 10 Pro? Try to use the below free Windows 10 Pro license key coming from the Internet:

YTMG3-N6DKC-DKB77-7M9GH-8HVX7

BT79Q-G7N6G-PGBYW-4YWX6-6F4BT

VK7JG-NPHTM-C97JM-9MPGT-3V66T

NPPR9-FWDCX-D2C8J-H872K-2YT43

PBHCJ-Q2NYD-2PX34-T2TD6-233PK

NPPR9-FWDCX-D2C8J-H872K-2YT43
From the above mentioned tips and tricks, you are now knowing how to figure out and get product key for Windows 10 Pro Serial key 64-bit and 32-bit version from Microsoft. Take note that such methods are also working for other versions like Windows 10 Home, Windows 10 Enterprise, Windows 10 Education, Windows 8.1/8, Windows 7 and XP, etc.
Free Trial Product Key Recovery to find Serial Numbers for All Microsoft Products:
comments powered by