The Best Product Key Finder for MS Office 2016/2013/2012/2010

May 13, 2016 11:13 am / Posted by Michael Eric to Office Tips
Follow @MichaelEric
It is absolutely headache if you can't find the product key when install Windows or software suites like Microsoft Office. No matter you forgot or lost your product keys for Microsoft software, you are not advised to reinstall your Windows system or waste large sums of money and hours of time to find the lost product key. Here comes an extremely handy utility-- SmartKey Product Key Recovery, which is rated as one of the best product key finder for MS office 2016/2013/2012/2010 to help you get back the lost Microsoft Office product key easily and quickly.
SmartKey Product Key Recovery is an intelligent product key finder program advised by many tech experts. It efficiently provides a great solution to recover your Windows, Office, and Internet Explorer Key in a super fast speed. It is a fantastic product key finder utility that can find product keys for many software programs like Microsoft Windows, Office, Visual Studio, SQL Server, Internet Explorer and etc. Within one click, you can recover your product key even though you are a computer amateur.
Retrieve lost product keys for Windows 10, 8.1, 8, 7, XP and Vista
Find products keys for MS Office programs: Office 2013, 2010, 2007, 2003
Recover product keys for other software like Visual Studio, SQL, etc.
Easy, fast and effective.
Click on the download button below to install this wonderful best free product key finder to have a try.
Download Product Key Recovery to find Serial Numbers for All Microsoft Products:
How to Recover You Lost Window or Office Product Key
Follow the below simple tutorial of retrieving the Microsoft Office product key.
Step 1: Prepare to find product key
Download Product Key Recovery, and follow the wizard to install and launch it. The main interface will be shown as below.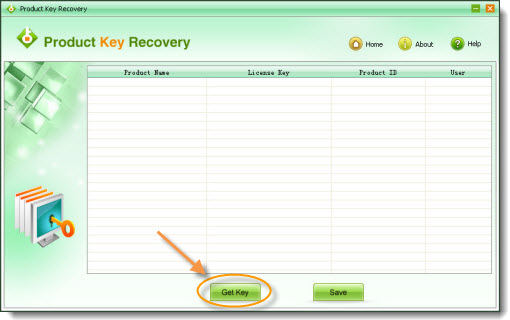 Step 2: Find your Key.
Just hit "Get Key", you will get your product key or serial number for Microsoft Windows, Office, Internet Explorer, etc.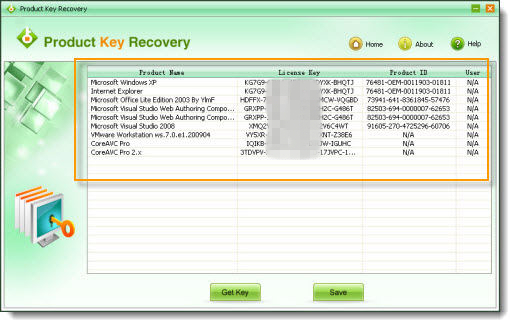 Step 3: Backup Product Key
It is optional for you to save your product key by clicking "Save": specify the location on your PC and save it in a text file.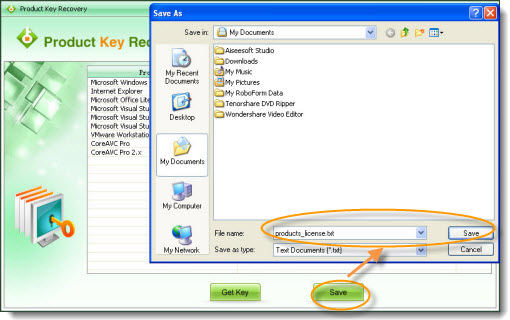 That's done. It is so easy to retrieve your product key for Microsoft Office with this superb product key finder. However, if you will not prefer to recover the office product key with the help of software online, you can follow the instructions below.
Find Your Product Key without Product Key Finder
Go to look at the disc jewel case if you purchased a retail copy of Microsoft Office. You will find the product key that includes 25 alphanumeric characters will be existed in a bright sticker located inside the case with the CD/DVD, or on the back.

In other condition, you can find the MS Office product key on the sticker on the installation disc that accompanied the computer if you bought a PC with preloaded Microsoft Windows.
Two ways have been offered above and hope you have got help to find out your product key. If you have any other valid solution, please comment us and we will appreciate it.
Free Trial Product Key Recovery to find Serial Numbers for All Microsoft Products:
comments powered by