What to Do If the Product Key You Entered Didn't Work

August. 21, 2019 11:13 am / Posted by Michael Eric to MS Windows Tips
Follow @MichaelEric
"The product key you entered didn't work. Check the product key and try again, or enter differenct one. (0xc004f050)".
If your product key is invalid, it will not work properly and you will only see the message: "The product key you entered didn't work. Check the product key or enter a different one. Error code 0xc004f050/0x80070424" - on your screen. There are four methods of solving this problem. Follow the instructions attentively to get the result.
Method 1. One Click to Recover Lost Windows 10 Product Key with Product Key Recovery
If you are reinstalling Windows 10, and automatic activation fails, you can retrieve the key with a professional Product Key Recovery and try to activate it again. If you don't have much time or special knowledge for working with the previous methods, you can try the Product Key Recovery. This is the easiest way to get rid of the error code 0xc004f050 if the product key you entered didn't work. It can easily get your lost Windows 10 product key back to help you activate it.
Download Product Key Recovery to find Serial Numbers for All Microsoft Products:
Download and install the software on your PC. Run Product Key Recovery and click on the button that says Get Key to start fetching the product key for your OS.
Once fetching's done, you can see your Windows 10 product key on your screen. Click on the Save button in the app and you will be able to save the keys as plain text in a folder on your PC.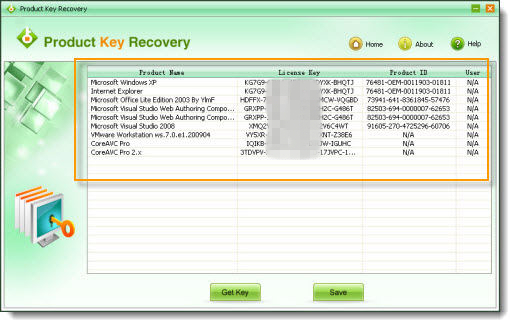 Method 2: If You Upgrade Your Windows 7/8/8.1 to Windows 10
A Windows 7 or Windows 8/8.1 product key cannot activate Windows 10. Windows 10 uses its own unique product key. Use the installation disk with the older version of Windows and clean install it on your PC. The copy must be activated.
Now, start downloading all the necessary updates until the notification "Windows 10 Upgrade" appears. You can also use the Windows Media Creation Tool. Push the button Upgrade This PC to receive the Window 10 immediately.
After the Upgrade is finished, visit the Activation Status. It must be fully activated. The error codes shouldn't bother you any longer. You can find the Activation Status here: Computer – System Properties – Windows activation section.
Method 3: Use Microsoft Chat Support
Install Windows 10 on your computer and press Windows + R. Type "slui" in the Run window and click OK.
1. Now, the activation wizard is launched. Choose your region/country, and then press Next. Call the Toll free number you will see on the Installation ID screen to contact your local operator.

There are some other ways to do it:

1. Go to the Start menu and choose Contact Support among All Apps.

2. Use the virtual assistant in your web browser.

3. Find the newest app called Get Help.

Go to Services & apps then choose Windows. The Setting up option will let you find Chat online with a Microsoft Answer Tech. You will be connected with the call agent. Explain your problem correctly and tell him that you want to reactivate Windows 10. When you are asked to provide your product key, send the key you have generated in the activation wizard earlier. After this ID is verified, you are going to get the Confirmation ID. Activate your Windows 10 with this key and don't forget to inform the agent about your success and to close the chat window.

4. Visit the Microsoft Contact Us page and push the button called "Get started".

When you are asked to describe your problem in the chat, type the word "test" and send it to the operator. Then press "No" two times and choose the "talk to a person" option. It will appear when you decline all the automatic suggestions.

Method 4: Work with the Change Product Key tool

Re-inserting your product key is also a good way of solving the problem. Go to the Start menu, then to Computer, and then to System properties.

Visit Windows activation and push the Change product key button. Type the administrator password if you are asked to do it. Then choose Continue.

Now, you are in the Product key section. Type the key before clicking Next.

The Windows Activation Wizard will ask you to follow some steps. This is exactly how you will complete the activation of Windows 10.

Method 5: Wait for a While

Activation servers might be overwhelmed at times because of the volume of upgrades, so give it some time if you get an error message such as (0XC004E003, 0x8007000D, 0x8007232b, or 0x8007007B.) Windows 10 will eventually activate as long as you upgrade using the appropriate method.

All in all, this problem can't be solved in just a few seconds. There is always a possibility not to get the necessary result at once. You will have to repeat all the described actions again and again. Nobody can give you the guarantees that you are going to succeed at all.

Forget about the problems with losing keys with the Product Key Recovery. Please, feel free to ask the questions if you have some.

Download Product Key Recovery to find Serial Numbers for All Microsoft Products:

comments powered by