Top 3 Free SmallPDF Alternatives of 2019

June 22, 2017 11:45 am / Posted by Michael Eric to Files & Database
Follow @MichaelEric
SmallPDF is a website that lets you do all sorts of tasks with your PDF files on the world wide web. All you have to do is open their website in a browser on your PC and then choose the action you want to perform on your PDF file and the site will help you do that.
Some of the many things you can do with SmallPDF are the ability to compress PDF, PPT to PDF conversion, PDF to PPT conversion, merge and split PDF, rotate PDF, and even protect PDF. There are also a number of other conversions you can do on the SmallPDF website.
While many users out there like what SmallPDF does, some may want to try out the other alternatives. Fortunately, there are some other websites that work like SmallPDF and help you perform a number of actions on your PDF files.
Here we show you top 3 free SmallPDF alternatives of 2017:
1. iLovePDF
iLovePDF seems to be in love with PDF files as it allows you to perform a number of actions on your PDF files. The site lets you merge PDFs, split PDFs, compress PDFs, convert many popular document types to PDFs, watermark PDFs, and the list goes on.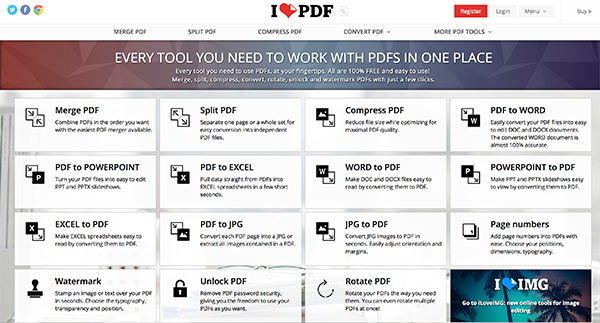 To use the site, all you need to do is open the website in one of the browsers on your PC and then click on appropriate action you want to perform and give the site your PDF file and it will take care of the rest for you.
iLovePDF is a really great alternative to SmallPDF in both terms of usability and features.
2. PDF Candy
I just love the interface of PDF Candy as it's so intuitive and easy to use that it makes me fall in love with it. This one is also a web based service that you can open in any of the browsers on your PC.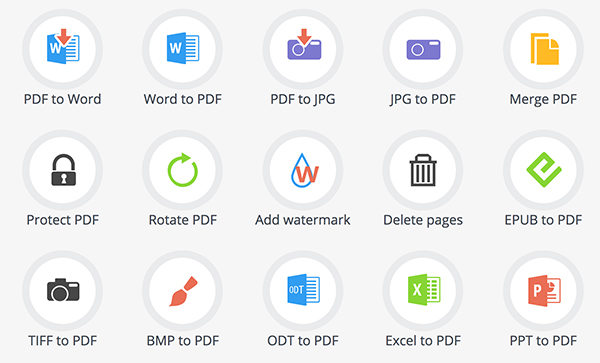 When you launch the website, you will see a list of actions you can perform on your PDF files. Simply select the one you want to perform and you will be taken to the page asking you to upload your PDF file. It will do the rest of the things for you.
3. ZonePDF
While ZonePDF might not have as many features as the above ones, it does its work really great in the features that it offers. Some of the features that ZonePDF offers are merging PDF, PDF to other file type conversions, split PDF, other file types to PDF conversion, and so on.

The site has got a minimalistic look and it is really easy for everyone to use it and do their tasks with their PDF files.
Extra Tip: How to Recover the Password of PDF Files?
While you can upload any of the PDF files you have stored on your PC to the above sites and do whatever you want, you will not be able to upload the files that are password protected. That means, if a PDF file is password protected, you will first need to enter the correct password to open the file. Otherwise, you won't be able to do any of the actions on your file.
If you don't remember the password, you will need to use an app that can help you with recovering the password. One of the apps that helps you recover PDF passwords is PDF Password Recovery and the following guide shows how you can get the app and use it to access password protected PDF files on your PC.
Download SmartKey PDF Password Recovery:
Download and install the app on your PC. Open the app and click on the Add button to add a password protected PDF file to the app.
Once a PDF file's added, choose an attack from the list available to you. Then, click on Start to start recovering the password for your PDF file.
After a while when the password has been recovered, you will see it on your screen as the following image.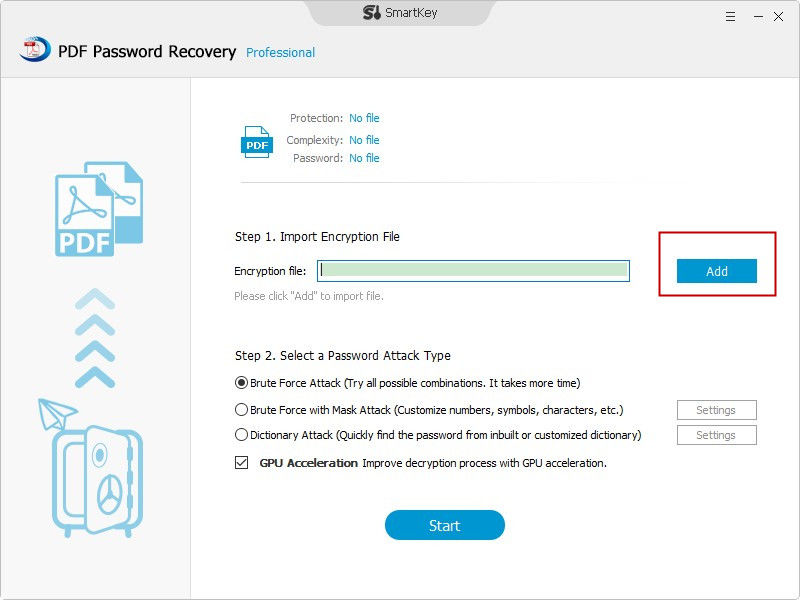 Now go ahead and open the PDF file and enter the above password and you will be able to view the file on your PC. If you have any other recommended free alternatives to SmallPDF, please share it with us at the comment area.
Download SmartKey PDF Password Recovery:
comments powered by