[Solved] How to Remove Password from PDF 2019

May 10, 2017 11:45 am / Posted by Michael Eric to Files & Database
Follow @MichaelEric
PDF file is a very useful official tool in people life. For people who want to protect the copyright or save private content, a password protect can be important. Whereas, a locked PDF files may not be that good for sharing and will not be easily access to others. How to remove PDF password protection? Now let's check the best ways.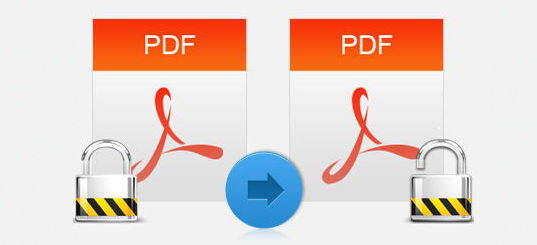 Part 1: Remove PDF File Password by Google Chrome
This can be a super easy way to remove PDF password, for computers have Google Chrome, you can quickly learnt that.

Step 1: Open your password protected PDF file in Google Chrome, you can make it by dragging into a new tab. Or you can right click the PDF file and select Google Chrome as open option;
Step 2: After the file is open, choose "Print" or press "Ctrl" and "P";
Step 3: Select "Save as PDF" to your computer, and then you will get a new PDF file without password.
Part 2: Using Adobe Acrobat to Delete Password from PDF
Since Adobe Acrobat has a 30-day trial version, you can use this to free remove password from PDF file.
Step 1: Launch Adobe Acrobat, open the password protected PDF. Select: Tools >> Protect >> Encrypt >> Remove Security, you can find them under menu bar;

Step 2: If your file has only open password, click "OK" to remove the password. If your file has a permissions password, you should input it first, and then confirm your decision.
Note: The above two solution only for those PDF files which you have password in hand.
Part 3: Recover and Remove PDF Password via PDF Password Recovery
But for a part of the users who accidently forget the password will be much more eager to recover the password protection of PDF files. If you want to use the above two ways, you are required to enter the password, but how can you find your password back?
PDF Password Recovery, which can help you recover as well as remove the restrictions of encrypted PDF files. Easy and fast to use, it can surely save you lots of time in dealing the password issue.
Download SmartKey PDF Password Recovery:
Step 1: Open the program, after you see the interface below, click "Add" to import your password protected PDF file;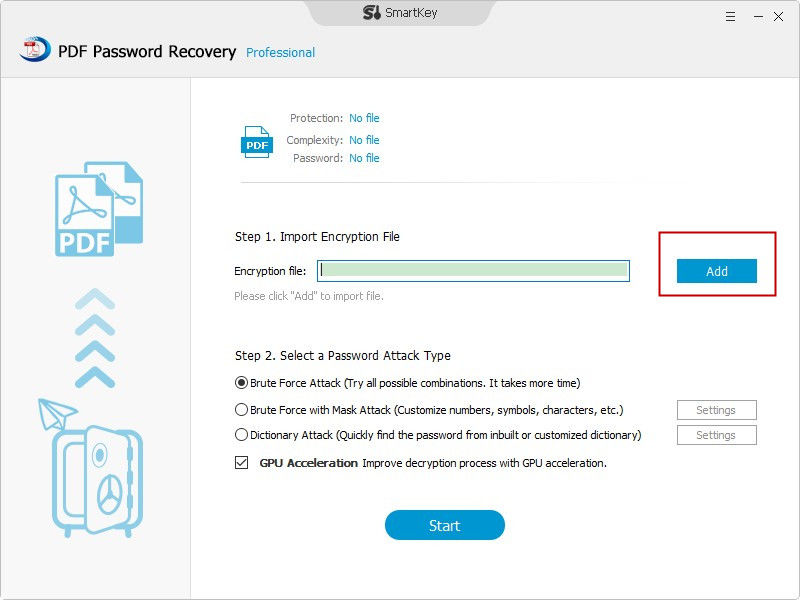 Step 2: Then you are required to select the password attack type, there are three types as follow, choose the one you like, and click "Start" to recover the PDF password;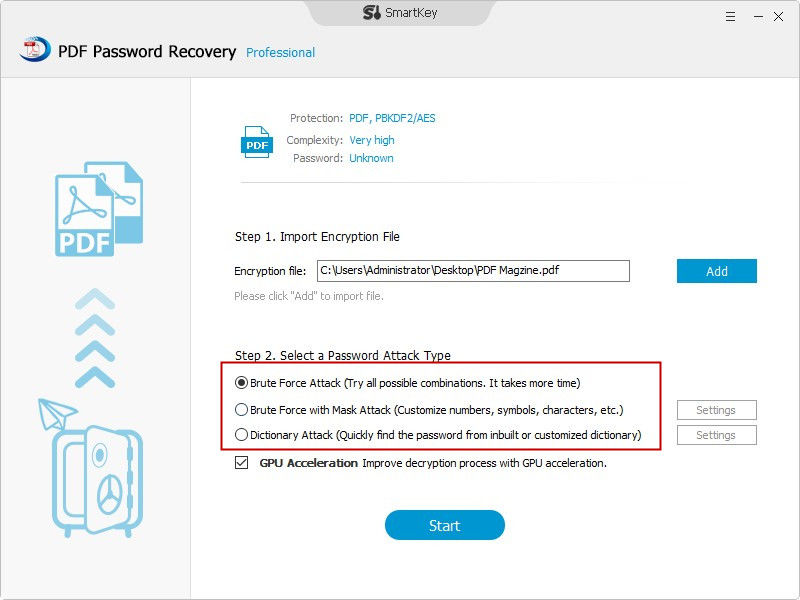 Step 3: Write down the password which PDF Password Recovery has recovered for you, and then you can jump to the above two ways to unlock PDF protection by password and to remove the passcode.
That's all about how to remove password from PDF files, if you have any question, don't hesitate come to us, we will always provide the best solutions for you.
Download SmartKey PDF Password Recovery:
comments powered by