How to Open and Edit PDF Files in Microsoft Word 2013

Aug. 12, 2014 11:45 am / Posted by Michael Eric to Files & Database
Follow @MichaelEric
It's really depressing when having difficulty of getting rich content out of a PDF document. PDF is designed for viewing rather than editing. If you want to copy and paste table rows from a PDF viewer into Word, you have to apply a PDF editing tool.
However, opening and editing PDF files can be achieved in latest Word 2013. A new feature you may not know in Word 2013: You can open a PDF right in Word or edit it just like you do with a regular Word document. There is no need to install a separate app.
Note that not all Word can unlock and open PDF file. If you want to unlock the password-protected PDF file and open it all the time, you can choose PDF Password Recovery to decrypt the password.
Open and Edit PDF Files in Microsoft Word 2013
First, you can have a further understanding of PDF Reflow, which is built directly into Word 2013 so you can access your PDF like any other Word documents. See the detailed steps as below:
Step 1. In the ribbon, click FILE tab.


Step 2. Go to the Open tab in the Backstage view.


Step 3. Navigate to the PDF location and select the file you would like to convert.


Step 4. A dialog box will appear confirming whether you want to convert the PDF file into a Word document. Click OK.


Step 5. If the selected PDF file has content that Word is unable to convert, another dialog box may appear. Click OK.
Step 6. The PDF file will appear in the Word window as an editable document. You can now make any changes you want.


Step 7. When you're ready to save, locate and select the Save command on the Quick Access Toolbar.


Step 8. The Save As dialog box will appear. Select the location where you wish to save the document. If you want, you can enter a new file name.
Step 9. Click the Save as type: drop-down box, then select a file type. You can choose to save the document as a Word Document or as a PDF file.
Step 10. Click Save.


Step 11. After these steps, you have not finished converting your PDF into Word document in Word 2013. You still have to choose whether to save the file as a PDF file or a Word document.

According to each format's advantages, you can choose the proper one:

PDF file: If you don't need to change it anymore, and just save it for viewing, you can save it as a PDF file.

Word document: If you still want to make changes on it, then keep it as a Word document. You can always save it as a PDF file when you're done making changes.
As so far, you can edit a PDF document in Word 2013 successfully. If you have problems with your Word 2013, click here to know more information about Word tips.
Download SmartKey PDF Password Recovery:
comments powered by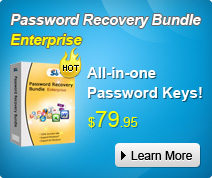 NEXT TOPICS

Office Password & Key
Recover all your Word, Excel, ppt, accesss office files password