How to Convert Password Protected PDF to Word

July 03, 2017 11:45 am / Posted by Michael Eric to Files & Database
Follow @MichaelEric
There are many electronic documents format that people use, each with its advantages and disadvantages, but we can safely say that PDF is one of the most popular formats. The reason is that PDF provides users with the ability to keep the document formatting no matter where it's opened. It's like printing hard copy document but to the electronic format while still maintaining the ability to edit it. Users can also add password protection to PDF documents so they can't be opened by those who don't have the privilege.
Another popular document format is Word, Microsoft's proprietary Office document's format that has been around for almost forever. It's more editable than PDF but less consistent regarding keeping the formatting between different computers.
Sometimes you receive a password-protected PDF document but don't need the consistency and just want to edit the document to your heart's content. You need to convert the PDF to Word format. What can you do to convert password-protected PDF to Word?
There are two steps that you need to do to convert password-protected PDF to Word. The first step is to get through the protection. But the problem arises when you don't know the password for the file. To be able to pass the protection, you need the help from applications that can overcome the lock.
Step 1: Remove Password From Your Encrypted PDF Files
If you want to bypass the password protection, then you need the help from PDF Password Recovery. The app will help you unlock restricted PDF documents by removing printing, editing and copying restrictions. It removes passwords protecting PDF files created with all versions of Adobe Acrobat or any other PDF application.
Open PDF Password Recovery. Click "Add" to import the encrypted PDF file on your PC.
Choose a type of attack from Brute-force Attack, Brute-force with Mask Attack and Dictionary Attack to decrypt the PDF file.
Start to reset Adobe PDF password by clicking "Start". Within minutes, your desired password will be recovered successfully with displayed in the File Opening Password Box.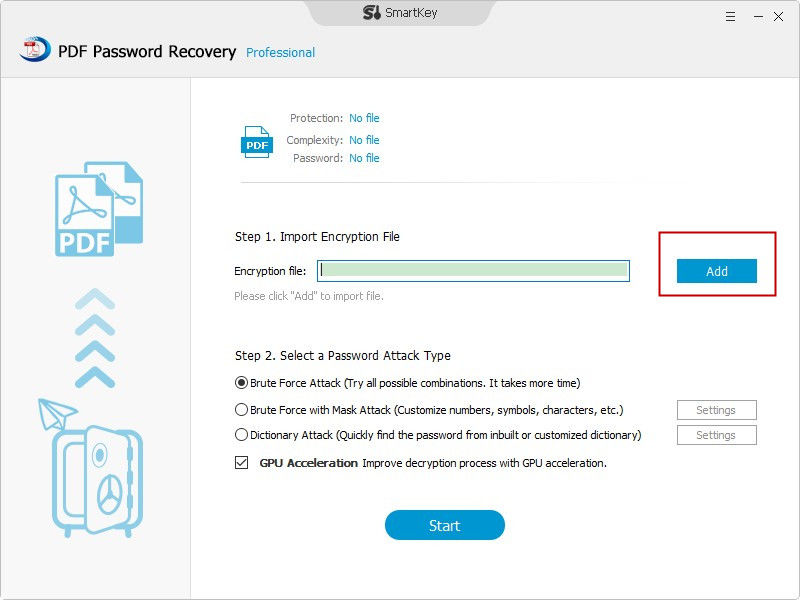 Step 2: Convert the PDF Document to a Word Document
The next step is to convert the document to the format that you want, in this case, it is Word document. If you want to do it in an easy way, you could just copy and paste the content of unprotected PDF documents into the Word file. Using this method, you could get the content but will likely lose the formatting.
If you want to preserve both the content and the formatting, y you can use PDF Converter. Tenorshare PDF Converter is the most powerful and practical tool for you to convert all PDF files to Microsoft Word, Excel and PPT with one-click and vice versa. It has high performance with advanced features.
Download and install the app on your computer. Launch the app and click on Add Files to add your PDF files for conversion.
Click on the Options menu and then it will let you specify the output format. Then, click on the Browse button and select a folder where you would like to save the converted file.
Click on Convert to start converting your PDF files to Word format. When the process is done, you should find the converted files in the output folder.

So that's how you can convert password protected PDF files to Word format. Just follow our steps and start converting immediately.

Download SmartKey PDF Password Recovery:

comments powered by