How to Stop Outlook 2010/2013/2016 Asking for a Password on Startup

May 19, 2017 11:43 pm / Posted by Michael Eric to Office Tricks
Follow @MichaelEric
You were expecting for an important email, however, when you opened Outlook, all you've got is a prompt asking for Outlook account password. You press F5 or Send/Receive button, still no mail received. You entered the username and password, and press Enter. Again, it asked you for a password. You are 100% sure that the password you just entered is correct. It just makes you frustrated. How to stop Outlook password prompt?
If Outlook asks you for a password (or both password and username) every time you start Microsoft Outlook, there are basically 2 solutions to fix this issue. 
Solution 1: Save Outlook Password in Account Settings
Solution 2: Deleted Caches from Credential Manager
Solution 1: Save Outlook Password in Account Settings
In order to prevent Outlook asking for password every time when opening, make sure you've set to save the password.
1. Open Outlook and go to File à Account Settingsà Account Settings.
2. Click on Data files. Click to highlight the data file whose password you will save and then click Settings tab.
3. When you're prompted with the Outlook Data File Password dialog box, enter your password in the Password dialog box, and check the option saying Save this password in your password list. Click OK to save the change.
4. In the next window that prompts, click OK. Done!  
TIPS:
If you forgot your Outlook password, you need to figure out the correct password before you can save Outlook password in Account Settings. In this case, you'd better seek help from an
Outlook Password Recovery
program which is professional in finding Outlook account password and pretty easy to handle.
1. Download this program and install it on your Windows computer.
2. Launch it and from the program interface, selected "Email Account Password" tab and click on "Start Recovery".
3. The password cracking process will take minutes or hours according to the complexity of the password. Finally, you will be displayed the password that could be used to stop outlook asking for a password on startup
Solution 2: Clear Caches from Credential Manager
Outlook would ask for password repeatedly if ached credentials stored in your computer is not correct, especially when you've changed the domain user account. Before your password changed, you saved your credentials. The stored credentials are not overwritten when Outlook triggers the authentication prompt even if you enable the Remember my credentials option.
To stop outlook express asking for password, you need to remove the corrupted credentials.
1. Go to Start à Control Panel à Credential Manager. If View by is set to Category, click User Accounts before clicking Credential Manager.
2. Locate the set of credentials that has Outlook in the name.
3. Click the name to expand the set of credentials, and then click on Remove from Vault. Repeat step 3 for any additional sets of credentials that have the word Outlook in the name.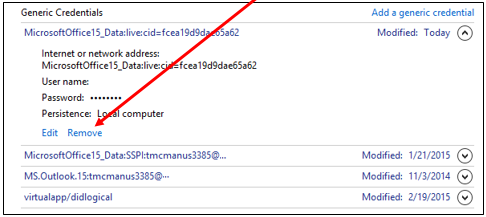 Once done, close the Windows credential manager and open Outlook. When Windows security box prompt you for your new credentials, enter your new password and check the box beside "Remember my credentials". This will add the credentials back to Credentials manager, and this will keep you from having to enter your password each time you open outlook.
More Information
Besides Bad internet connection might result in connection error, and Outlook may lose connection to the mail server. To avoid this, switch to a stable network. Antivirus software and shared calendars might also have something to do with Outlook password. Try to temporarily turn off antivirus software and shared calendars and see if the issue is gone.
Download SmartKey Outlook Password Recovery:
comments powered by