How to Reset Microsoft Forgotten Outlook Password

July 7, 2016 11:43 pm / Posted by Michael Eric to Office Tricks
Follow @MichaelEric
"Outlook is the free email and calendar service that helps you stay on top of what matters and get things done." Apart from email services, it gives you more to connect with your friends. Therefore, to secure your account with a strong, unique password is always a good idea, right up until the point where you forgot Outlook password, for the number of passwords we modern users bear in mind is increasing every day, worse still, most people are not used to writing the passwords in a secure place to protect the information from loss.
But what if Microsoft Outlook password was forgotten, how to reset it?
Hence, here I would like to provide you with three comprehensive ways on how to reset forgotten and lost Microsoft Outlook 2013/2010/2007/2003 password. (Tips: Email accounts ending in @outlook.com, @hotmail.com, @live.com, or @msn.com are powered by Outlook.com. So the tutorial also works for hotmail/live/MSN outlook password reset problem.)
Way1. Recover Lost Outlook Password through Microsoft Account Reset
Way2. Get Back Old Outlook Password via Password Recovery Buddle
Way1. Recover Lost Outlook Password through Microsoft Account Reset
Click here and follow the instructions to reset your Microsoft password. This will then apply everywhere you sign in with your Microsoft Account—from Office to MSN to Skype—they work together through a single sign-in, including to recover Outlook password. When you sign in to Outlook.com with your Microsoft account, you also get access to Skype, OneDrive, and Office Online, all from your inbox. Right in your browser!
Way2. Get Back Old Outlook Password via Password Recovery Buddle
Apart from Way1, there is a better way for you to reset Microsoft Outlook account password out of its comprehensive and ultimate recovery for your programs. Try on the professional third party tool Password Recovery Buddle and it won't let you down surely. Apart from Microsoft Outlook password recovery, as the multi-functional password recovery software, it recovers all your password issue on PC, like password hack in Windows10/8.1/8/7/XP/Vista, Excel, Word, Access, PowerPoint, PST, Outlook, Outlook Express, RAR/WinRAR, ZIP/WinZIP, PDF, IE Browser, SQL, Email, online websites, etc. What's more, three versions (Standard/Professional/Enterprise) are provided, and here I take Standard one as an example.
Download SmartKey All-in-one Password Recovery Bundle:
Step1. Choose "Email and Internet Browser Password Recovery" menu in the main interface, then go to "Outlook Password Recovery" to recover lost passwords for Microsoft Outlook email accounts.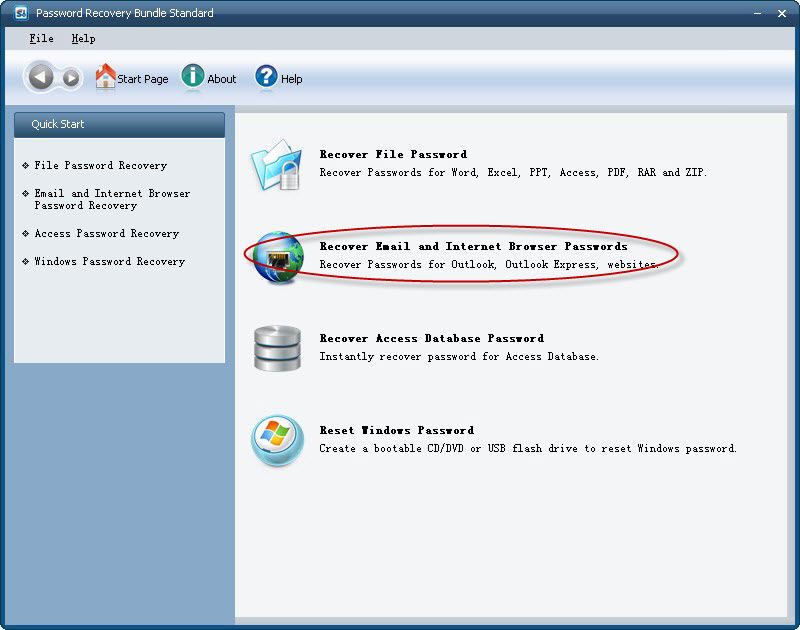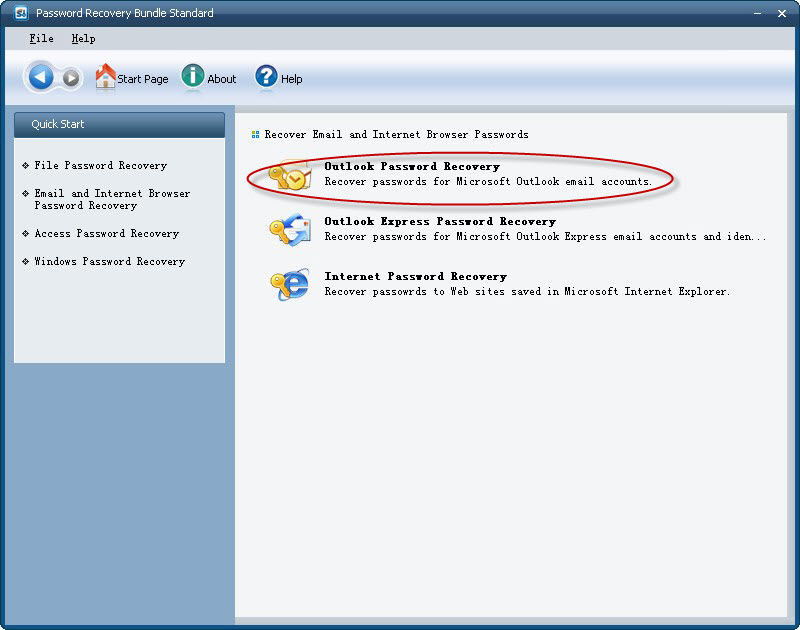 Step2. Click "Start Recovery" button. The password will be retrieved immediately. You will see all detailed information of the Outlook account, namely, Email address, user name, password, server address and protocol.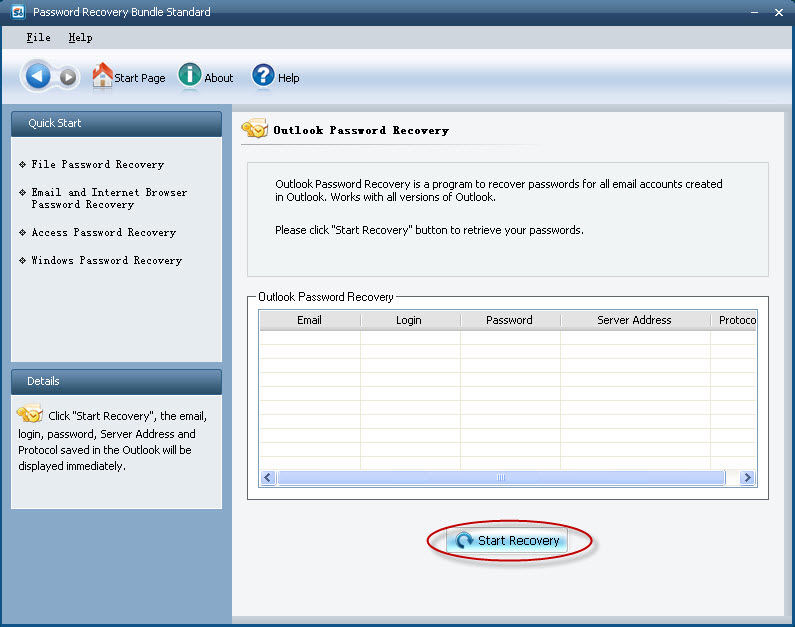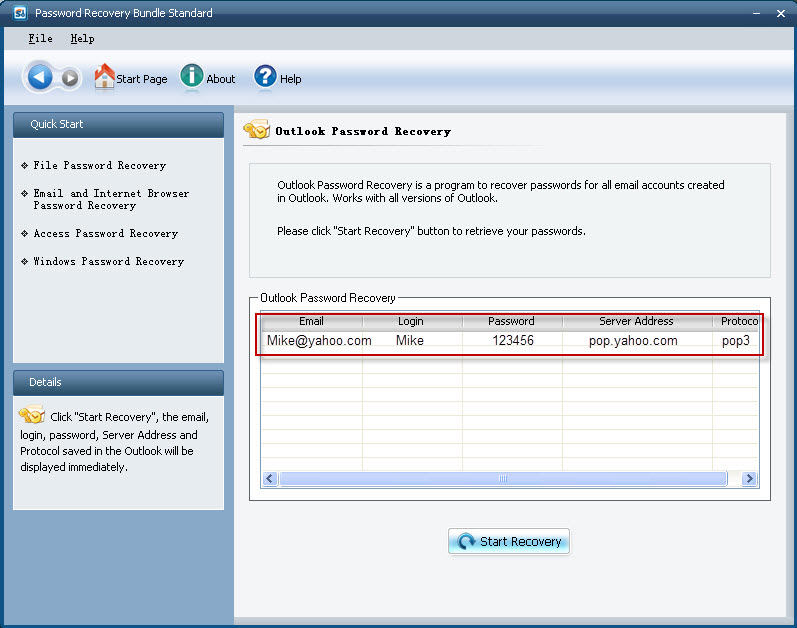 Above are two selected ways for you to retrieve forgotten Microsoft Outlook mail password. For more details, please go to our websites. If you still have any problems or questions, please leave it on the comment section below.
Download SmartKey All-in-one Password Recovery Bundle:
comments powered by