How to Recover Yahoo Password without Phone Number and Alternative Email

October 18, 2017 23:30:05 / Posted by Michael Eric to Online Website
Follow @MichaelEric
Nowadays, more and more email service providers are around us, and for some reasons, we may happened to think of some Email address but find no ways to remember its password. What would you do if you forget your Yahoo email password and cannot recover from phone number and alternative email? Here we prepared some tips for you to follow and to recover Yahoo password in the most convenient way.
Part 1: Traditional Method to Recover Lost Yahoo Email Password
Part 2: How to Reset Yahoo Password without Phone Number and Alternative Email
Part 1: Traditional Method to Recover Lost Yahoo Email Password
Basically, to recover old Yahoo password, you must first go to the official Yahoo account sign in section. And after that, you have to click on the Sign-in Helper in the Yahoo account which will redirect you to the next section for password recovery.

Step 1: Click I don't remember password.
Step 2: Enter your Yahoo Email ID
Step 3: Click on options for password Recovery
Then users will find there are a) Recovery Using Phone Number, b) Alternate email address Method, c) Recovery using the Secret Question.
User can choose the one available to help them recover the old Yahoo password.
Part 2: How to Reset Yahoo Password without Phone Number and Alternative Email
But for certain users who have abandon the old phone number and cannot find back the alternative email address, here we will provide you the world's best method to get your Yahoo password recovered - Password Recovery Bundle, it is a powerful 22-in-1 password recovery toolkit for Windows, Excel, Word, Access, PowerPoint, PST, Outlook, Outlook Express, RAR/WinRAR, ZIP/WinZIP, PDF, IE Browser, SQL, Email, online websites, etc.M
Download SmartKey All-in-one Password Recovery Bundle:
Step 1:Download and install this software to your computer, find and click " Email and Internet Browser Password Recovery" in the main interface.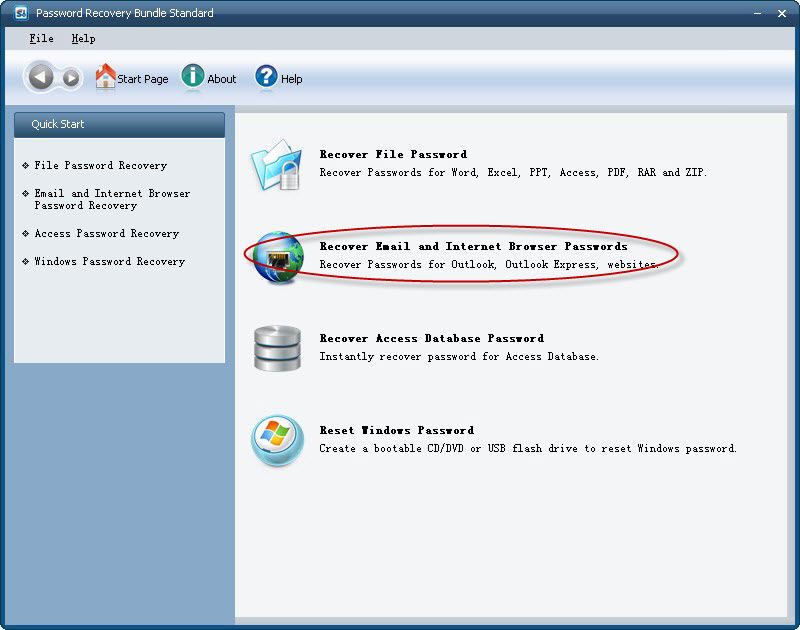 Step 2:  Click "Outlook Password Recovery" to recover passwords for Yahoo email accounts. On the following interface, you need to click "Start Recovery" button, and the password will be recovered immediately. You will see all detailed information about the Yahoo email account.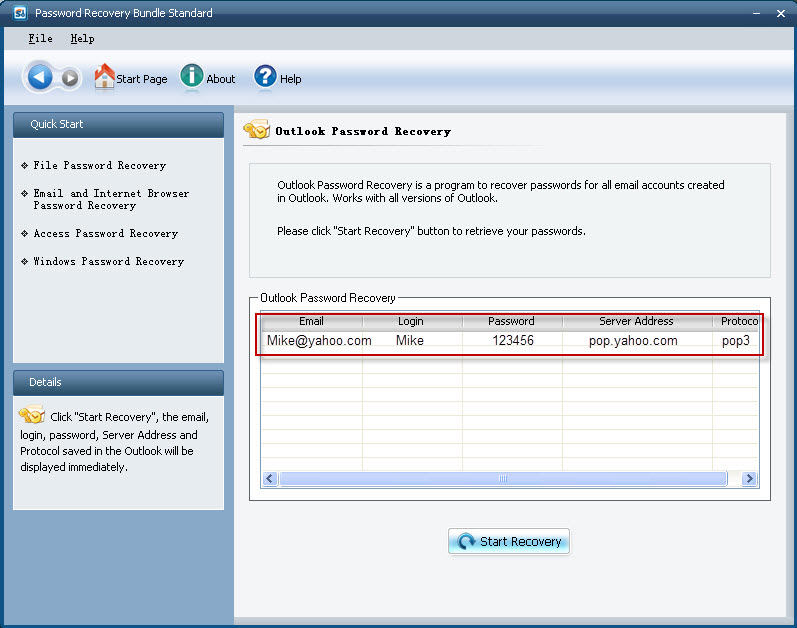 Then you can keep the password for Yahoo, go and find your files and data in your emails. Besides, this all-in-one software can help to instantly recover passwords for over 80+ types of files, you should never miss it!
Further Tips
Email accounts are also one of our values, thus we suggest users to take care of each email address you have applied. To keep them in cloud or write them down can be useful. Don't forget to update your account information like phone number and alternative emails if you have changed them. A good habit can help reduce the rate of losing important files.
That's all about how to recover Yahoo password without phone number and alternative email. And these methods can also be used to reset Yahoo password. We hope that all your questions have been solved, if you have other question, don't hesitate come to us!
Download SmartKey All-in-one Password Recovery Bundle:
comments powered by