iPad 5 Release Coming: Rumored to Have iPad Mini-like Design

Feb. 28, 2013 2:35 pm / Posted by Michael Eric to News
Follow @MichaelEric
Previous rumors came that the fifth generation iPad will be released on October, 2013. However, there is new report that this date will be in early Q2, claimed by Piper Jaffray analyst Gene Munster.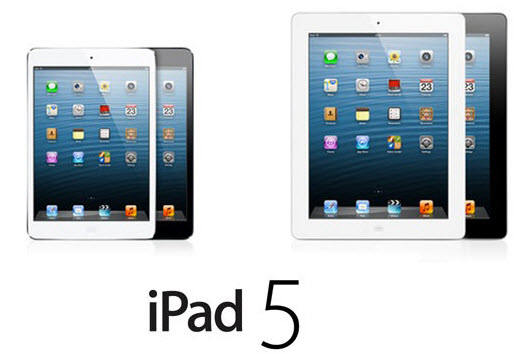 The iPad 5 is rumored to have no bezels, leaving only enough space on the top and bottom to fit the FaceTime camera and Home Button. And it features the 9.7-inch display. Horowitz believes this design indicates that Apple will be calling on Sharp's IGZO screen technology.
Download SmartKey iTunes Backup Password Recovery:
IGZO display technology is not only thin and tough, but it can even handle higher screen densities than Apple's Retina Display, which is visually stunning on its own. IGZO displays can reportedly handle display densities north of 330 ppi; for a quick comparison, the new iPad 4 can only achieve 264 ppi.
One of the better advantages of IGZO display technology is its lower power consumption. Most Apple products, including the iPad 3 and 4, require cartoonishly big batteries to achieve just eight hours of power -- this is because current-gen Retina displays are extremely power hungry. If Apple wanted its iPhone 6 to not only last longer during the day but also charge faster when plugged in, IGZO seems to be the way to go for the next generation of iOS devices.
Meanwhile, tech giant Apple recently started selling the upgraded version of the iPad 4 with 128GB storage last February 5. This newest gadget includes a 9.7-inch retina display and 128 GB. The iPad 4 is basically the same as its predecessor, the only improvements being its storage size and retina display. However, the device costs $100 greater than the original version.
Piper Jaffray analyst Gene Munster stated that the next iPad also had a potential release date -- April. He further wrote about how the iPad 5 will be similar to the iPad Mini as well.
"We believe Apple could update the full-sized iPad to a body style similar to the iPad Mini," Munster wrote. "Additionally, we believe that the iPad Mini could get a Retina display, although that may happen later in the year given the supply constraints Apple faced on the Mini in the December quarter."
Overall, most reports note the iPad 5 will be redesigned to resemble the features of the iPad Mini, but what isn't clear is the launch date. Apple did reveal the iPad 3 in March 2012 and the iPad 4 in October 2012, and most speculation points to there being a first-half 2013 launch.
Well, with the upcoming release of the new generation iPad, the long-beloved iPad 2 is expected to retire soon with honor.
Tips for Recover Data from iPad
iPad users all know that it is easy to lose data from iPad, therefore it is of great importance to backup iPad with iTunes. But what if you forgot the backup password? iTunes Backup Password Recovery is such a tool that be of help, which helps you recover lost iTunes backup password and give you access to iTunes backup.
Download SmartKey iTunes Backup Password Recovery:
comments powered by