iOS 10/9/8/7 Jailbreak is Available, Should I Download it

Dec. 27, 2013 11:25 am / Posted by Michael Eric to News
Follow @MichaelEric
Evasi0n has released untethered jailbreak for iOS 7.0 to 7.0.4 over the weekend, including red iPhone 7 Plus/7/SE/6S/6/5S/5C/5, and the latest iPad Air and iPad mini with Retina Display. Most users and reports suggest this Evasi0n jailbreak, released by Evad3rs group. However, due to the malware of the Chinese app store – TaiG which apparently contained pirated iOS apps and other possible issues, we recommend that you shouldn't download and install it just yet. Two reasons are given to explain why.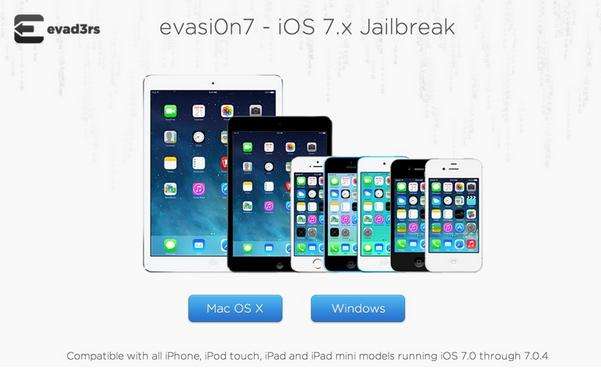 Reason 1: Unofficial Chinese App Store – TaiG Contained in iOS 7 Jailbreak
The Evasi0n iOS 7 jailbreak installs the TaiG Chinese App Store instead of Cydia if the language set on your device is Chinese. Despite evad3rs team's clarifications, there are serious privacy and piracy related concerns that have been raised about the Chinese App Store.
The creator of Cydia app store – Jay Freeman remarked on his Twitter on 22 Dec 2013 that the version of Cydia included in the jailbreak is not official and therefore untested. Evasi0n will need to push an update to their tool after all the testing is complete.
Reason 2: iOS 7 Device Stuck on Apple Logo, Endless Reboots and Other Evasi0n 7 Jailbreak Problems
Even it's a big surprise for iOS 7 device users, it can bring troubles during the process of jailbreaking your iPhone, iPad, or iPod Touch. Check them all and be cautious.
Stuck on Apple logo
A lot of folks reported that their device was stuck at the Apple logo after the jailbreak process gets completed. The evad3rs team says that this happens if you had updated to any version of iOS 7 over-the-air.
Endless Reboot loop, tweaks not working
Endless reboot loops could be caused by tweaks not functioning properly. The issue, specifically, is with MobileSubstrate, a library most jailbreak tweaks depend on, which isn't fully compatible with Evasi0n.
Evasi0n Progress Stuck
Evasi0n often gets stuck in the middle of the jailbreak process. The jailbreak process typically takes 4-5 minutes, but if it takes too long, the evad3rs team says it is safe restart evasi0n on your PC, reboot your device and perform the jailbreak process once again.
iOS 7 Jailbreak Tweaks on 64-bit A7 Chip
It is also said that jailbreak tweaks might have issues on devices with 64-bit A7 chip. That's, the iPhone 5S, iPad Air and iPad mini with Retina Display.
Considering the scrutiny that the Evasi0n jailbreak is under right now, you can still keep eyes on it. As for the current version of Evasi0n jailbreak for iOS 7, it's not recommended to download and install. However, if you have decided to try iOS 7 jailbreak, make sure you do a full backup of your iOS device before jailbreaking. Or you can click here to learn how to backup your iOS device for your information.
Download SmartKey Windows Password Recovery Ultimate:
comments powered by