IE 10 Coming to Windows 7 PC

Mar. 09, 2013 2:35 pm / Posted by Michael Eric to News
Follow @MichaelEric
Last Tuesday's Microsoft released the Internet Explorer 10, aimed at PCs running on Windows 7 -- the most used version of Microsoft Corp.'s flagship operating system for PCs. Today we will detail some features and the IE 10 bugs reported.
A preview version of Internet Explorer 10 has been available for Windows 7 machines since mid-November. The final version of Internet Explorer 10 will be automatically sent to all Windows 7 computers set up to get updates. And Microsoft's stock gained 18 cents to $27.55 in morning trading Tuesday.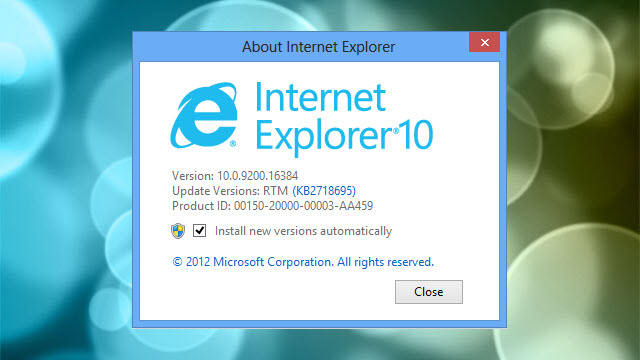 Download SmartKey iTunes Backup Password Recovery:
What's New in IE 10
Internet Explorer 10 for Windows 7 packs some handy-dandy usability features, including integrated spell checking and auto-correct features. The improvements continue under the hood as well. The browser offers better support for Web standards such as HTML 5, and Do Not Track—which asks websites not to track the users' browsing history in order to serve targeted ads—is enabled by default. Internet Explorer 10 also reduces strain on CPUs and batteries.
Perhaps most importantly, Internet Explorer 10 is just plain faster than Internet Explorer 9. Microsoft claims that improved JavaScript performance and other technical trickery help IE 10 hum along at up to 20 percent faster speeds than IE 9. Internet Explorer 10 for Windows 7 certainly feels more responsive than IE9 in our brief time trying out the final release this morning.
IE & Chrome, which is More Popular
"Tens of millions" of people downloaded the preview mode on Windows 7, Gavin said. About 90 percent of Windows PCs have been programmed to get the automatic updates, Gavin said. It could take several weeks before the Internet Explorer 10 updates are sent to all those computers. Internet 10 doesn't work on XP, Vista or other older versions of Windows.
Microsoft, which is based in Redmond, Washington, is counting on Internet Explorer 10 to reverse recent trends in the Web browser market. By some estimates, Google Inc.'s Chrome browser has supplanted Internet Explorer as the world's most popular browser.
Other research firms still assert that Internet Explorer remains the most widely used, although all measures show it has been losing market share to Chrome, Mozilla's Firefox and Apple Inc.'s Safari.
Microsoft believes the barrage of new products will prove it remains on the cutting edge of the latest technology trends, 38 years after the company's founding.
The push hasn't swayed Microsoft's stock, which is hovering around the same price as when Windows 8 came out in late October.
I believe that time will finally prove us which of the 2 browsers enjoys a larger popularity.
Tips for Internet Explorer Password Recovery
Ever worry about losing password saved in IE browser? I guess there must be such occasions if you are a frequent user of IE browser. When such thing happens we could have IE password recovery software recover passwords for websites saved in Microsoft Internet Explorer. You could use the program to easily recover all the passwords saved in your IE browser including FTP, Email, forum, blog password etc.
Download SmartKey Internet Explorer Password Recovery:
comments powered by