Asus Zenbook Infinity to Arrive with Gorilla Glass Lid at Computex 2013 in June

May. 24, 2013 10:15 am / Posted by Michael Eric to News
Follow @MichaelEric
Asus plans to unveil a brand new ultrabook called Zenbook Infinity at the coming Complutex 2013 in Taipei. The Zenbook Infinity is a slimmer, lighter, and more attractive update to previous Zenbooks. More importantly, the Zenbook Infinity will be the "world's first Ultrabook with a lid made form Corning Gorilla Glass 3", measuring in at just 15.5mm thick, which a full 14 percent thinner than previous Zenbooks.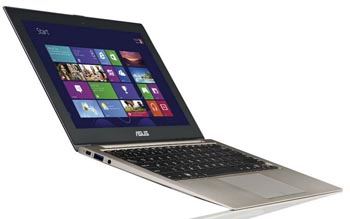 Next-generation Gorilla Glass will cover the outer lid and the keyboard surround, although you can expect to see that familiar concentric circle pattern beneath the protection. The Asus Zenbook Infinity will arrive with an aluminum and glass case, and it will also boast Corning Gorilla Glass 3 on the lid itself in addition to being used around the keyboard.
Gorilla Glass has stand out for the durable, damage-resistant kind of glass which normally sees action on devices such as smartphones and tablet displays. However, PC manufacturers seldom take advantage of Gorilla Glass. Still, more and more PC manufacturers are using Gorilla Glass as their secret weapon to churn out thinner and lighter notebooks these days. Asus claims that the Zenbook Infinity will measure approximately 15.5mm thin, which would surely make this one of the thinnest ultrabooks in the market. Unfortunately, any other details concerning the Asus Zenbook Infinity remain unknown as at press time.
ASUS gives out little specifications of hardware. The notebook is more than likely to use Intel's next-gen Core processors, based on Haswell architecture, just as we're expecting to see crop up in new MacBook models from Apple tipped for a WWDC 2013 reveal.
The Zenbook Infinity is expected to launch during Q3 2013. Detailed information concerning this ultrabook remains unknown.
Troubleshooting for Asus Ultrabook Password Recovery
With the help of Microsoft, Asus as well as other PC makers assures the security of information stored on your computer or tablet by providing the Windows login password protection. However, this password sometimes locks you out of your PC if you forget the Windows password. If you happen to lose your password, seek professional help from Windows Password Recovery which will accurately recover or remove your password, giving you access to your PC and all the data stored on your PC within minutes.
Download SmartKey Windows Password Recovery Ultimate:
comments powered by