iPad Air, iPad mini 2 and More Launch at the iPad Event

Oct. 23, 2013 09:10 am / Posted by Michael Eric to News
Follow @MichaelEric
Apple has hosted a huge media event at Yerba Buena Center for the Arts in San Francisco, California on 22nd October, to announce a plethora of new products. As expected, Apple has announced new iPad models, which are iPad Air and iPad mini 2 and other products. Let's view the detailed information for these new products respectively.
What You Must Know about iPad Air and iPad mini 2?
iPad Air
Apple introduced its fifth-generation full-size iPad, which is not call iPad 5 but rather iPad Air. The release date for the iPad Air is set for Friday, Nov. 1.
All-new design: The 9.7in (24.6cm) computer is 7.5mm (0.3in) thick and weighs 1lb (469g), which the firm claims is the lightest full-size tablet on the market.
Retina display: With a 2048-by-1536 resolution and over 3.1 million pixels, photos and videos pop with detail and text looks razor sharp. Pixels are indiscernible. So all you see is what you want to see.
Incredible performance: It is powered by the same A7 chip found in the company's iPhone 5S. It can provide you with twice the CPU speed and graphics performance for everything you do and up to 10 hours of battery life to study, play and create whatever you want.
Great apps included: It comes with apps that help you do the everyday things you love to do, like check your email, talk to Mom over FaceTime, or consult Siri to settle a bet.
iCloud: iCloud keeps all your content synced across all your devices — automatically. Keep your iPad Air backup file in handy all the time.
P.S.:
Alternatively you can use iTunes to backup iPad. iTunes backup can be encrypted with a password to prevent from someone malicious. Assuming that then you get your iPad Air in high spirits and try to restore iPad Air from old iPad backup, but find that you lost the password for your old iPad backup. What can you do then? You need to use
iTunes Backup Password Recovery
to decrypt it firstly and then restore iPad Air from old backup.
iOS 7 with iPad Air: Since iOS 10.3/9.3/9/8/7 was designed for iPad Air, everything not only looks beautiful, it runs beautifully.
Pricing and availability:As with past models, iPad Air will come in both Wi-Fi and cellular version that support LTE. It's price will start at $499 and range up to $929.
| | | | | |
| --- | --- | --- | --- | --- |
| | 16GB | 32GB | 64GB | 128GB |
| Wi-Fi | $499 | $599 | $699 | $799 |
| Cellular | $629 | $729 | $829 | $929 |
iPad mini 2
The iPad mini 2 is called iPad mini with Retina. Its screen measures in at exactly the same size as the year old iPad mini.
Retina display: It receives the retina display and A7 processor of its bigger sibling. And it's with 64-bit architecture.
More storage: The iPad mini 2 with Retina comes in the standard 16, 32, and 64GB models. What's more, Apple now offers the new iPad mini 2 in a 128GB model.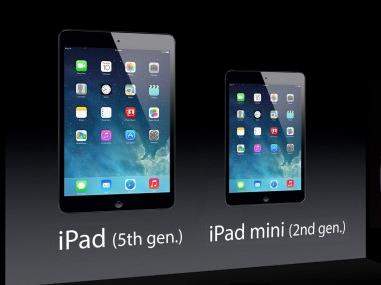 Pricing: Prices start at $399 for the Wi-Fi only 16GB versions, with it being an extra $130 to get 4G connectivity.
Release date: While iPad Air is launching on November 1, the iPad mini 2 will see an unspecific "later" November release.
With the iPad mini 2 and updated specs, the iPad Air becomes a little less dominant in this space. Its similarity to the $399 iPad Mini with Retina Display makes us wonder if Apple is cannibalizing iPad sales for the smaller, cheaper device. Which one would you like to prefer?
What Are Others New in Apple iPad Release Event?
Apart from the new iPad Air and iPad mini with Retina, this release event also unveiled other new products, including updated MacBook Pros, their new Mac OS X Mavericks and the release date for the upcoming totally redesigned Mac Pro.
MacBook Pro
New design and performance: The 13-inch model now weighs 1.5kg and is 1.8cm thick, and has been fitted out with Intel's Haswell CPUs and Iris integrated graphics. The 15-inch MacBook Pro stays the same on the outside, but also gets a speed bump to Intel's "Crystalwell" CPU and Iris Pro graphics, as well as an Nvidia GeForce GT750M for gaming.
Longer battery life: Both laptops have longer-lasting batteries, with the 13in increasing from 7 hours to 9 hours, and the 15in increasing from 7 to 8 hours.
Pricing and availability: The 13in MacBook Pro will retail from $1,299 and the 15in will retail from $1,999. They are available from 23rd October.
Mac OS X Mavericks, iWork and iLife
Availability: Apple's operating system, Mavericks, is available free for anyone with a compatible Mac. The OS works with iMacs and MacBook Pros from 2007, with MacBook Airs, MacBooks and Mac Pros from 2008, and with the Mac Mini from 2009.
Additionally, iWork productivity suite and its iLife media suite are both available for free with any new Mac or iOS device.
Mac Pro release date
The Mac Pro, which was first announced in July and has been teased since 2012, was given a shipping date: December. It will retail for $2,999.
That's all the information for the Apple release event on 22nd October. Choose what you like and what you like to have.
Download SmartKey iTunes Backup Password Recovery:
comments powered by