How to Reset Microsoft Surface without Password

August 31st, 2016 11:13 am / Posted by Michael Eric to Windows Tips
Follow @MichaelEric
We need to reset Microsoft Surface to factory the time we prepare to sell it to others and there is a great need to wipe all personal information in a convenient way. Or when we forgot the Microsoft account in Surface, we want to remove the forgotten password and the lock pattern as well; also when Surface is affected by virus, we want a hard reset to get a clean system on Surface. In this article we would concentrate on how to restore Microsoft Surface to factory settings without password/without logon. Read on and find the best solution for your Surface.
Part1. Hard Reset Microsoft Surface
Part2. Reset Microsoft Surface without Password via Windows Password Recovery
Part1. Hard Reset Microsoft Surface
When you forgot the Microsoft Surface password, then you can try to hard reset it. Follow the tutorials below.
Step1. Get a Touch Cover, Type Cover or USB Keyboard attached to the Surface. (Or Tap on Ease of Access icon on the lower left of the screen and open the On-Screen Keyboard)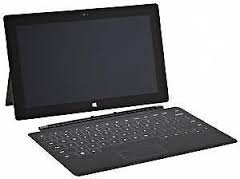 Step2. Get your Surface started. Press and hold the Shift key on the logon screen.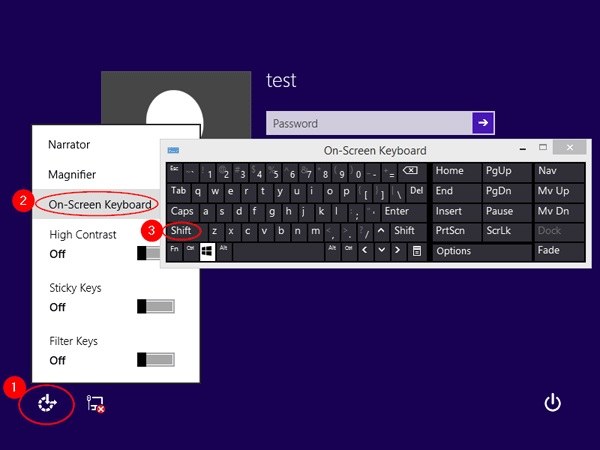 Step3. Click on Restart button >> Click on Troubleshoot >> Choose "Reset your PC".
Step4. Follow the prompts to finish. A prompt will pop up and inform you that you are in reset situation. Click on Next >> Another prompt would appear to ask you whether to make sensitive information irretrievable. Click Clean the Drive Fully or Just Remove My Files according to your real situation.
Step5. When the surface tells you All Ready to Go tap on Reset, then wait for restart.
Note:
Hard reset your Microsoft Surface would wipe all your data, so if you want the data to be stored, it would be more secure if you have developed a habit of backing up your data.
Part2. Reset Microsoft Surface without Password via Windows Password Recovery
SmartKey Windows Password Recovery can crack Microsoft Surface without password in few steps when you are locked out of Surface Pro 4 /Pro 3 /Pro 2 /RT, without any data loss. So it would be the best choice when you want to get into Microsoft Surface without password.
Step1. Download and install Windows Password Recovery Standard.
Free Trial "Windows Password Recovery Tool":
Step2. Burn the software to CD/DVD. Windows Password Recovery Tool offers the default ISO image file to help you burn a bootable CD/DVD. (If it does not work for your Surface , try to create new ISO Image.) select "Default ISO Image" on the top menu. Inset a CD/DVD disk into your Surface. Then specify the drive, and click "Burn" to start burning.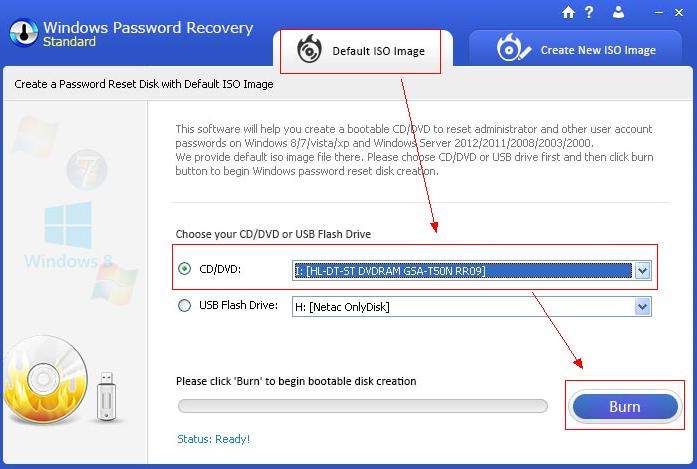 Step3. Reset Your Surface Password. Insert the newly-created CD/DVD to the Surface and reboot the computer.
Select the user account whose password you want to get rid of and click "Reset". After successful Windows password recovery, click OK and get into your Surface without restriction.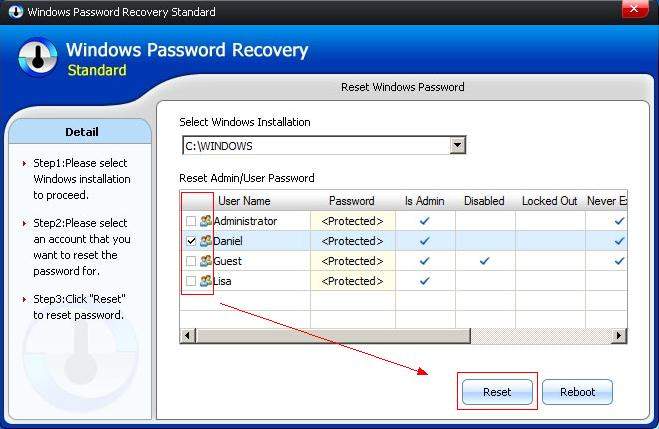 Here are two ways I recommend for you to reset Microsoft Surface. If you have other better tips or tricks, please do not hesitate to leave it on the comment section below. Thank you and have a lovely day!
Download SmartKey Windows Password Recovery Ultimate:
comments powered by