How to Encrypt/Decrypt iTunes Backup for iPhone/iPad/iPod

July 14, 2016 2:32 pm / Posted by Michael Eric to iTunes
Follow @MichaelEric
If you care much about personal privacy and data security of your iPhone backups, you may want to learn how to encrypt iTunes backup for iPhone/iPad/iPod touch. Aside from being more secure, an encrypted iPhone backup is the only way you can bring over certain data to a new device. But now comes the question, if you lost password to decrypt encrypted iTunes backup, is there way that can be done to decrypt the iTunes backup? To help you solve this problem, this article will share you the tips and tricks to encrypt and decrypt iTunes backup for your iDevice.
Part 1: How to encrypt iTunes backup for iPhone/iPad/iPod
Step 1: To encrypt iTunes backup, you first need to connect your iPhone to your computer.
Step 2: Turn on the iTunes on your computer as usual. Meanwhile, select your iPhone if there are more than one device.
Step 3: On the drop down menu on the left side of the screen, choose Summary bar. You will see a large section called Backups. Put a check on the Encrypt iPhone Backup box.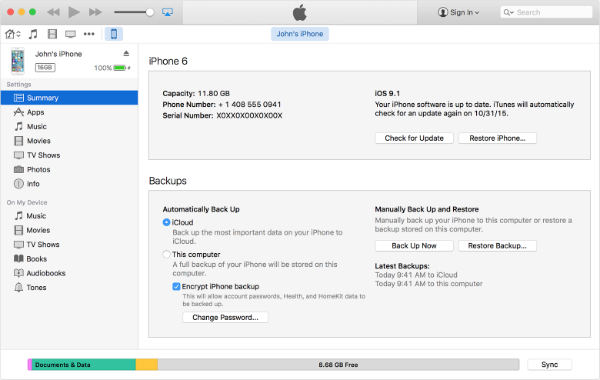 Step 4: After confirming that you want to encrypt your iTunes backup, you will be asked to create a password.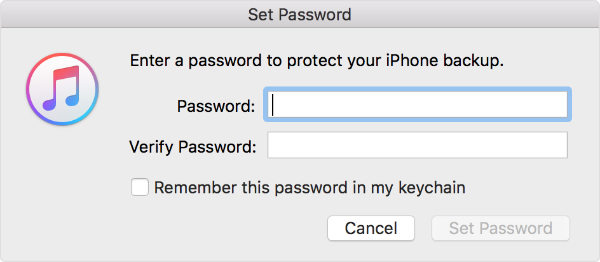 Step 5: Once you have done all the previous steps, iTunes will encrypt all your data backup immediately. Make sure to double check that the data was encrypted. Choose Preferences/Devices from the iTunes bar. You will see a lock icon next to the data that has been encrypted iTunes backup.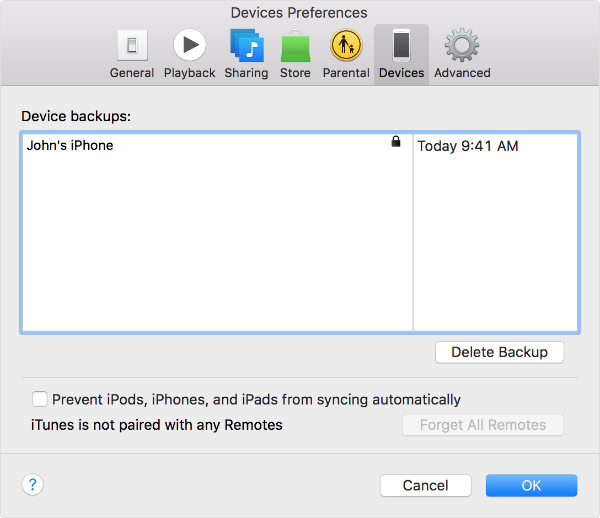 Part 2: How to Decrypt iTunes Backup with iTunes Backup Password Recovery
After you have encrypted iTunes backup, you suddenly can't remember the backup password that you have set? Without it, you can't be allowed to make use of the backup data or unlock what you had previously encrypted. What could you do? Here is a third-party unlock tool that you really should try to help unlock encrypted iTunes backup named iTunes Backup Password Recovery, specialized in decrypting iPhone backup via three optional password-crack solutions.
Just follow the step-by-step tutorial below which would guide you to decrypt encrypted iTunes backup.
Step 1: Load Encrypted File
Download, install and launch this software on your PC. After launch this software, you will enter into the main interface like below. Click "Open" to navigate the file you need to recover: that's manifest.plist file. The default folder where this file is stored varies depending on the computer's operating system.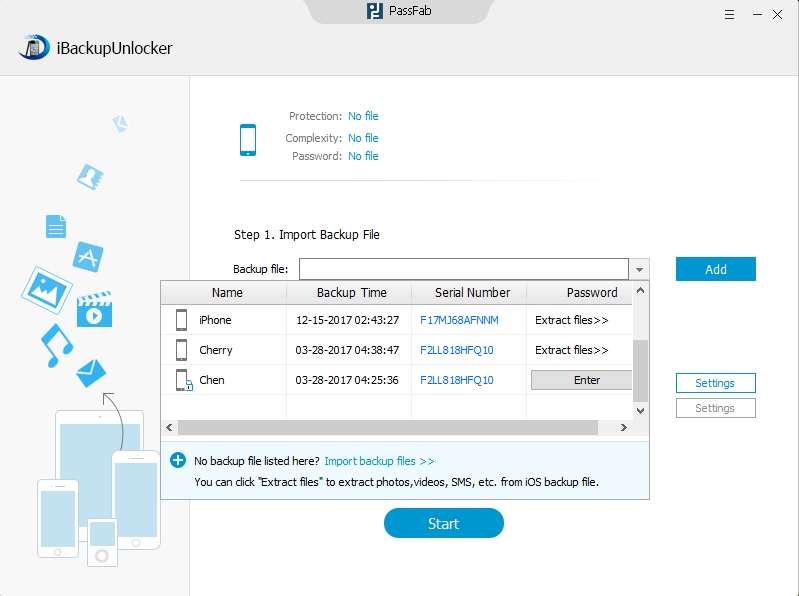 Step 2: Select an Attack Type
There are 3 kinds of attack providing in this software: Brute-force Attack, Brute-force with Mask Attack, Dictionary Attack. Each attack type has its requirements and limitations, and you can select the most appropriate solution to effectively and correctly retrieve iTunes backup file password according to your memory of the backup password and click "next".
Note: For detailed info about these three attack type, just click here to learn more.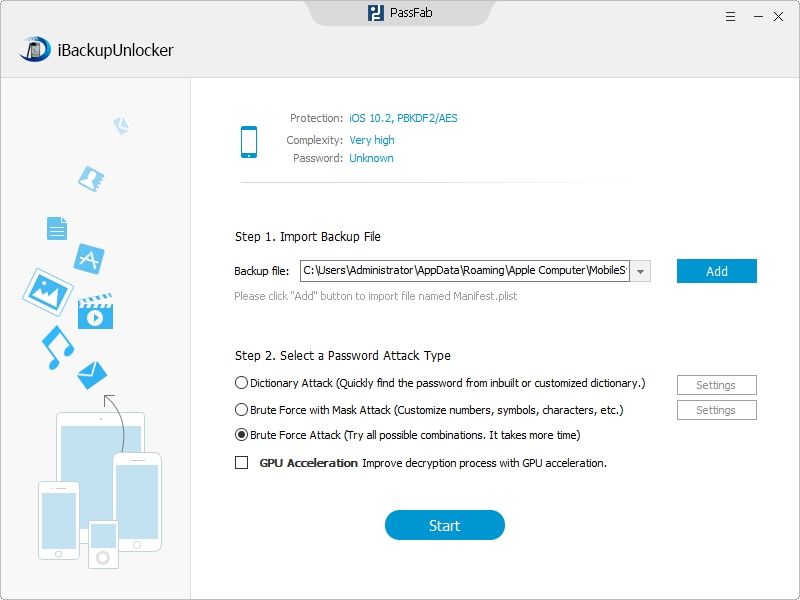 Step 3: Start Recovery
Click "Start" to start unlocking the password and wait for a few minutes, the encrypted iTunes backup password will be recovered successfully.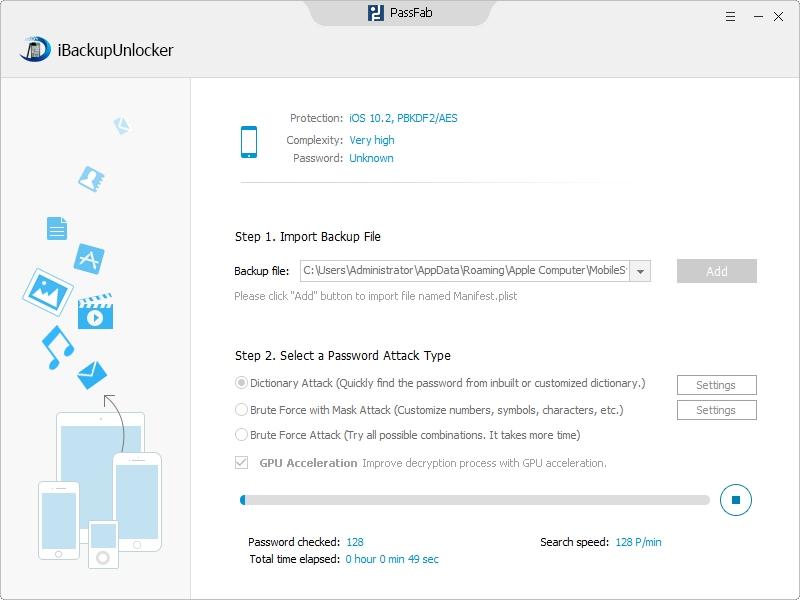 Step 4 : Decrypt Encrypted iPhone Backup
Connect your iPhone to computer and iPhone general option would be open in iTunes on PC. Select Summary option, and click on "Restore Backup". In pop-up dialog, copy iPhone backup password and paste it in the dialog. Click OK and iPhone backup can be decrypted.
If your friends and family have any questions about how to encrypt or decrypt iTunes backup for iDevice, please recommend them to get iTunes Backup Password Recovery for help.
Download SmartKey iTunes Backup Password Recovery:
comments powered by