Top 3 Free iTunes Backup Password Recovery 2019

Mar. 15, 2017 10:13 am / Posted by Michael Eric to iTunes
Follow @MichaelEric
iTunes is one of the amazing apps develoepd by Apple that lets you do a plethora of things on your computer. From helping you store and organize your music tracks to letting you create backups of your iOS devices, iTunes does all the things you would ever need to manage your iOS devices.
One of the things iTunes does is it lets you create backups of your iOS device. That way, when you are going to do something on your iOS device, you can first create a backup and then do whatever you want. If that makes your device stable, you can restore your device with the backup you first made and that will get your phone going.
There is also an option to password protect the iTunes backup files so they don't go in the wrong hands. If you have password protected your iTunes backups but you do not know the password, then you need to use some of the tools mentioned below to recover the password and to be able to access the backup's contents.
Top 1: iTunes Password Genius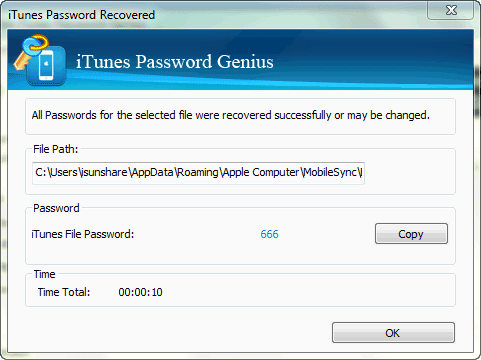 The iTunes Password Genius, as the name says, is a tool that lets you recover passwords for the iTunes backups located on your computer.
You just need to download and install the tool on your computer and then give it the backup file you want the password for and then it will do the rest of the job for you.
You can download it from its official website.
Download iTunes Password Genius
Top 2: Jihosoft iTunes Backup Unlocker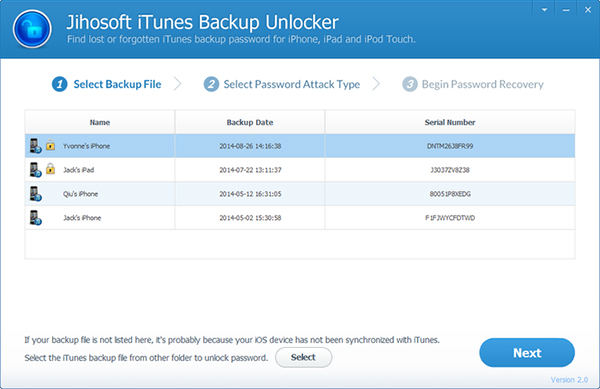 Jihosoft iTunes Recovery is yet another tool that lets you extract iTunes backups' contents and and even remove passwords from them.
The tool should help you find the password for your backups so you can use these passwords to then access the backups and use their contents.
You can download the tool from its official website.
Download Jihosoft iTunes Backup Unlocker
Top 3: Elcomsoft Phone Breaker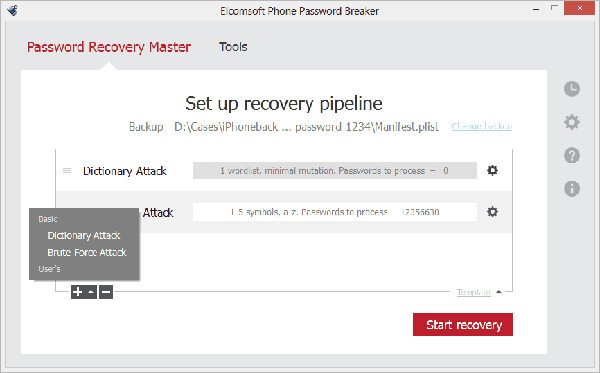 The Elcomsoft Phone Breaker tool allows you to break the passwords of the iTunes backup files available on your computer.
The tool lets you choose from multiple attack types you can perform on the backups to recover the password.
It can be obtained from its official website.
If you gave a try to all of the above tools to recover the password for your iTunes backup file but to no avail, then you can use the below mentioned tool that is sure to get the job done.
Download Elcomsoft Phone Breaker
The Best iTunes Backup Recovery for iPhone, iPad, iPod on 2019
 iTunes Backup Password Recovery,the best iTunes backup encryption unlocker 2017, can crack/hack the backup password easily with 3 powerful attack method and enables you to get access to password-protected backups for iOS devices including iPhone X/8/8 Plus/7/7 Plus/6s/6/5s/5/4s, iPad and iPod. Certainly, it supports all iTunes versions, inclulding iTunes 12.7/12/11/10, etc. Moreover, it is compatible with iOS 11/10/9/8/7, etc.
Download SmartKey iTunes Backup Password Recovery:
Download and install the app on your computer.  Open the app once it's installed on your computer. Click on the Add button to add an iTunes backup file to the app.
After adding a backup file, select an attack type from the three options provided to you. And click on the button that says Start to start recovering the password for your backup file.
Within a few minutes, you will have your backup's password with yourself.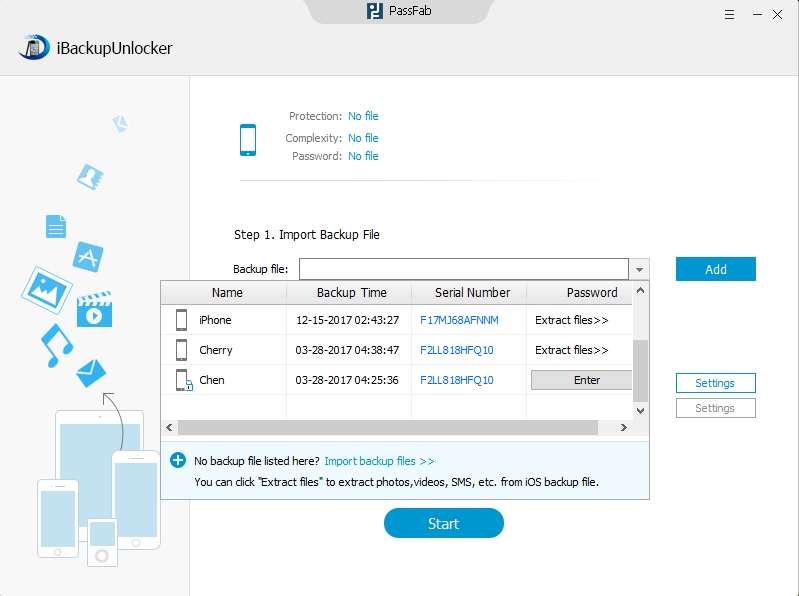 So, that was how you could recover the password of an iTunes backup file on your computer. Now get this best 2017 iTunes backup password unlocker to recover forgotten iPhone/iPad/iPod backup password instantly.
Download SmartKey iTunes Backup Password Recovery:
comments powered by