How to Quickly and Effectively Recover Lost iTunes Backup Password for iPhone 7/7 Plus

November 16, 2016 10:13 am / Posted by Michael Eric to iTunes
Follow @MichaelEric
You are optional to encrypt the backup when backing up your (RED) iPhone 7 and 7 Plus, well, an encrypted iTunes backup can include information that unencrypted iTunes backup do not contain: Your account passwords, heath data, website history and Wi-Fi settings.
Once you encrypted your iPhone backup in iTunes, Apple suggests that you'd better remember the password as you cannot restore your iPhone without knowing the backup password. And you are going to lose all files. Luckily, there are solutions available when it comes to recovering forgotten iTunes backup password. Read on and learn how to recover iTunes backup password for iPhone X, iPhone 8/8 Plus, iPhone 7/7 Plus, iPhone SE, iPhone 6s/6s Plus/6/6 Plus/5s/5/4S, as well as iPad and iPod touch.
Part 1: Turn off encrypt backup when iPhone backup password is still remembered
If you've set up a password for your iPhone backup, the "Encrypt iPhone backup" is ticked. You can disable iPhone backup password by removing the tip of "Encrypt iPhone backup" in iTunes. iTunes will require you entering the password to verify it.

Part 2: How to unlock iPhone 7/7 Plus backup without knowing the password
If you have forgotten iPhone backup password, Apple cannot help you remove the encryption without knowing the backup password. Fortunately you can use iTunes Backup Password Recovery software to recover lost iPhone 7 backup password. It supports all iOS versions, iOS 11/10/9/8/7, etc.
Download SmartKey iTunes Backup Password Recovery:
Install this iPhone backup password unlocker on your computer, and follow the steps to quickly unlock your password-protected iTunes backup.
Step 1. Import the encrypted .plist file Click "Open", this program will locate the .plist file in encrypted iTunes backup automatically. Choose the .plist file and click Open button to import the encrypted file.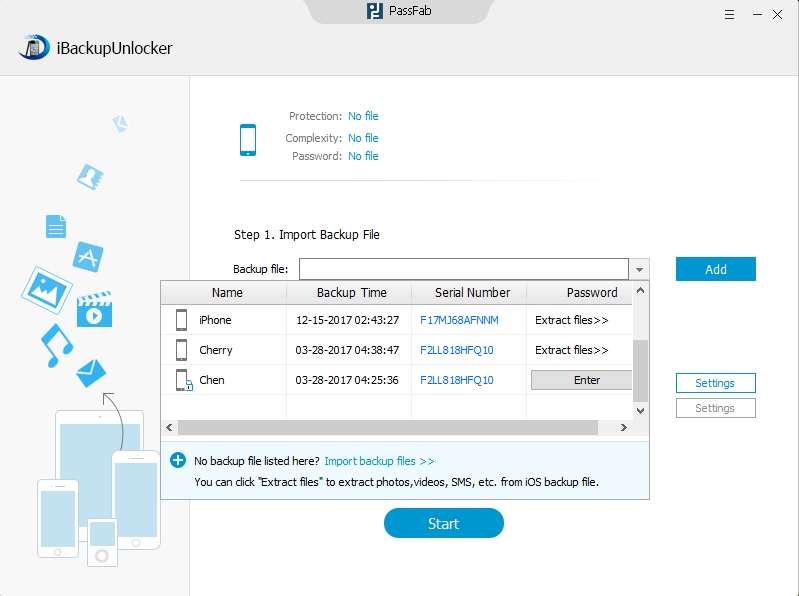 Step 2. Choose an attack method There are three attack options available for iPhone backup password recovery. You can choose one of them, or try all methods in order to break the password quickly.
Brute-force Attack: This is the most time-consuming method as it will try all possible combinations.
Brute-force with Mask Attack: If you remember part of the password, such as length and affix, you can set up these symbols and speed up the password decrypting.
Dictionary Attack: This is the recommended method. This software installs with a default dictionary which contains the most common used passwords that people are likely to use. You can also create your own dictionary to find the correct password that can unlock your iPhone backup.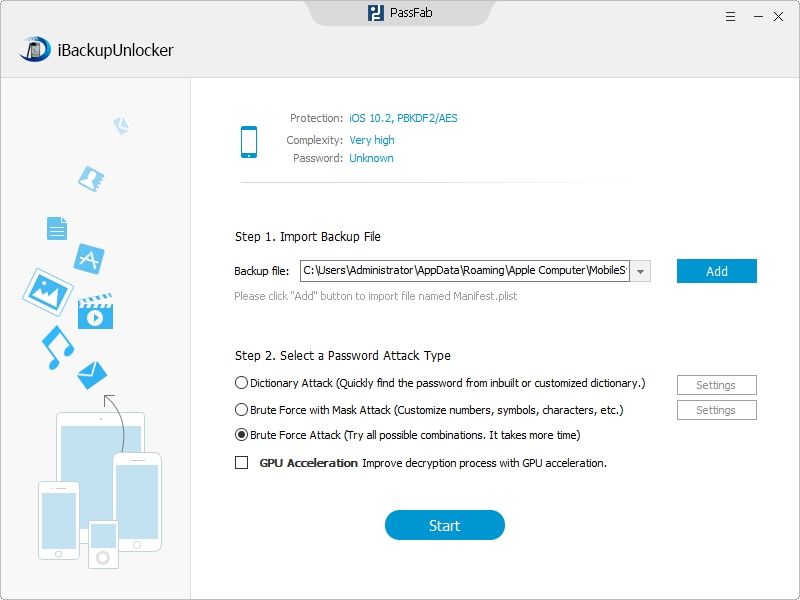 Step 3. Start recovering backup password for iPhone 7/7 Plus After selecting the proper attack method, click Start button to start with password recovery process. The time depends on your password complexity and attack settings. According to my test, a 4 digits password can be found after 6 hours with brute-force attack.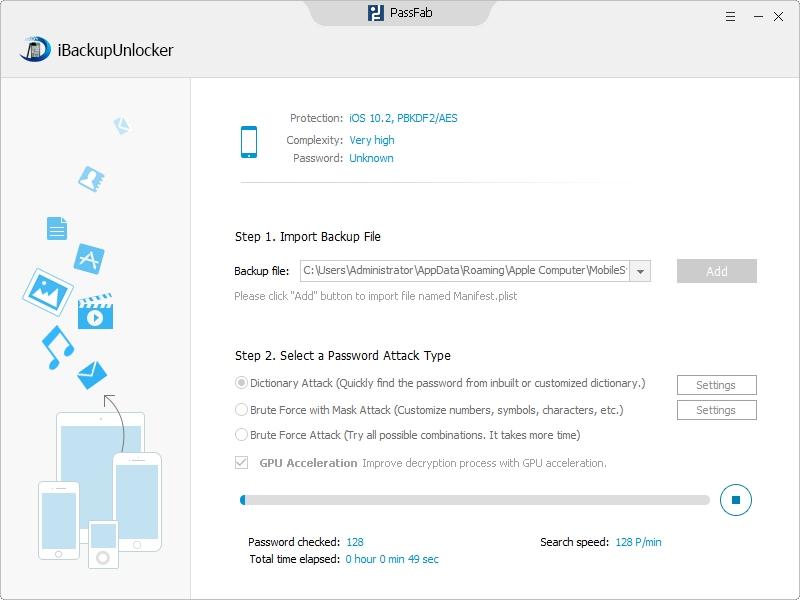 When your iTunes backup password is recovered successfully, you can then go to iTunes to restore your iPhone 7 from the backup by entering the correct password.
Download SmartKey iTunes Backup Password Recovery:
comments powered by