File Password Recovery Solutions

Demeber 21, 2017 23:30:05 / Posted by Michael Eric to Online Website
Follow @MichaelEric
Microsoft office files and compressed files are very popular in our work and life, as it is used widely in several work related issues, we are accustomed to protect it with a password, but what if you cannot remember what you used for a password, how to bypass or override the password of Word/Excel/PowerPoint/ PDF/ RAR/Zip files? Now in this post, we will show you detailed file password recovery solutions to cope with different kinds of password forgotten situations. Let's take a look together.
Part 1: Word Password Recovery
Microsoft word document is one of the most familiar document file type when it comes to writing textual documents. Once you make a password-protected your MS word document, whenever you open the MS document, you'll be asked to enter the correct password you set before. But if you forgot or lost the Word document protection password, how to open it without damage. Whatever the reason or situation maybe for you forgetting your password, luckily these days you are able to recover or remove the password easily with a powerful word password recovery program—Word Password Recovery, which is capable of instantly unlocking Word documents created with Microsoft Word 2016/2013/2010/2007 and previous versions:
Free Trial "Windows Password Recovery" software:
Step 1: Download and install Word Password Recovery, click "Add" button on the main interface to import your password-protected Word document.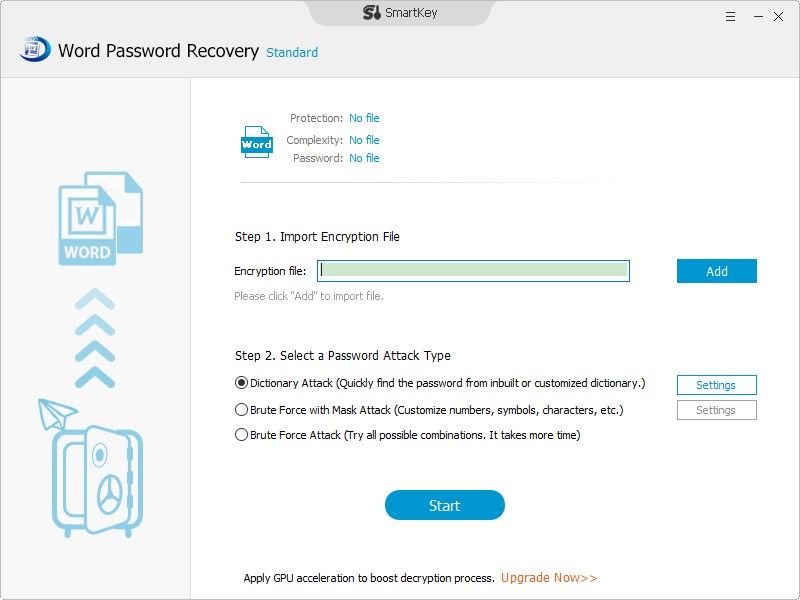 Step 2: Select any one password attack method from Brute-force with Mask Attack, Brute-force Attack and Dictionary Attack based on your requirement, then Deploy Settings.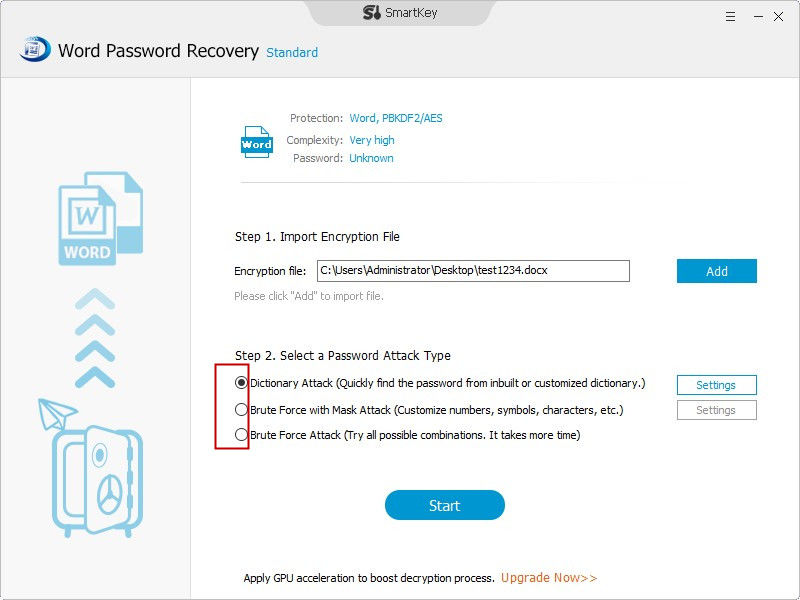 Step 3: After that, Click "Start" to start password recovery, there will be a dialogue window presented in front of you showing your password in the File Opening Password Box.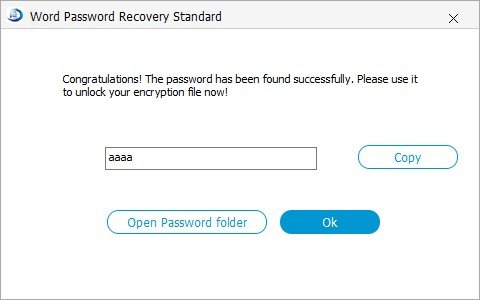 Part 2: Crack Excel Password
If you're stuck with an XLS file with a password that you need to break or crack, you can try out a small little utility that just might be able to get you back into your Excel file.
Excel Password Recovery is a program that you can use to remove/crack/break/unlock a password on an Excel 2016- 2003 or earlier workbook or sheet on both Windows and Mac.
To get started, free download this Excel XLS/XLXS password recovery to crack excel password on your computer first.
Download SmartKey Excel Password Recovery:
Step 1: Open this Excel Password Recovery and then click "Add" to import the locked Excel spreadsheet whose password you want to recover.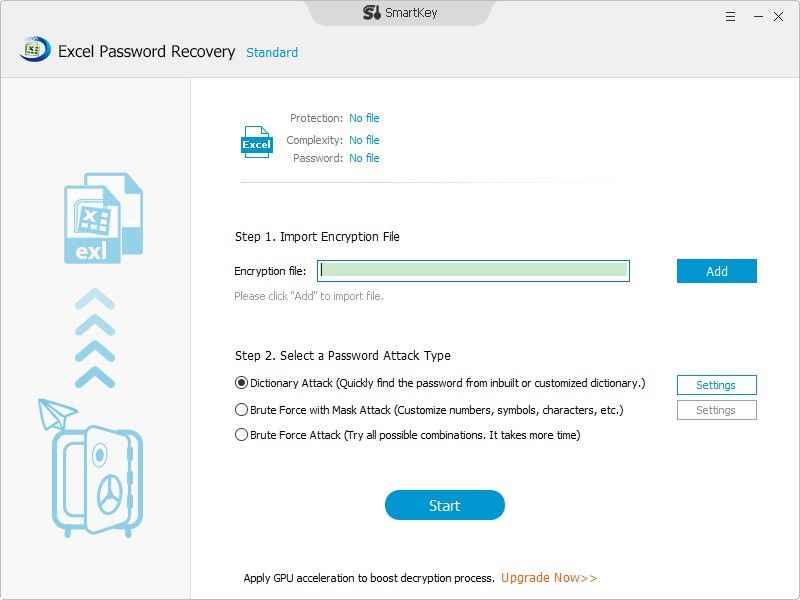 Step 2: There are 3 types of attack available: Brute-force Attack, Brute-force with Mask and Dictionary. Choose Attack Type and Set its Parameters accordingly.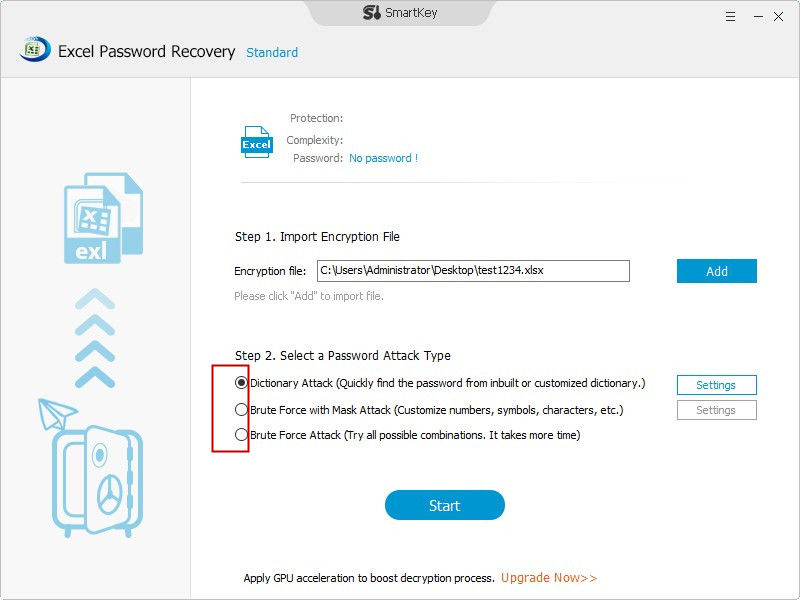 Step 3: Start to recover the lost protected password for your Excel file by clicking "Start". Within these 3 steps, you can get your lost Excel password back.
Part 3: PowerPoint Password Unlocker
Forgot your PowerPoint password and cannot access your PowerPoint file? How can you unlock password-protected PowerPoint Presentation? PowerPoint Password Recovery can help you effectively recover or bypass the lost or forgotten password for Microsoft PowerPoint 97-2016 files. Follow this tutorial to get to know how to recover PowerPoint password with this PowerPoint password unlocker in just a few steps. Get PowerPoint Password Recovery downloaded and installed.
Download SmartKey PowerPoint Password Recovery:
Step 1: Click "Add" to load encrypted PowerPoint File.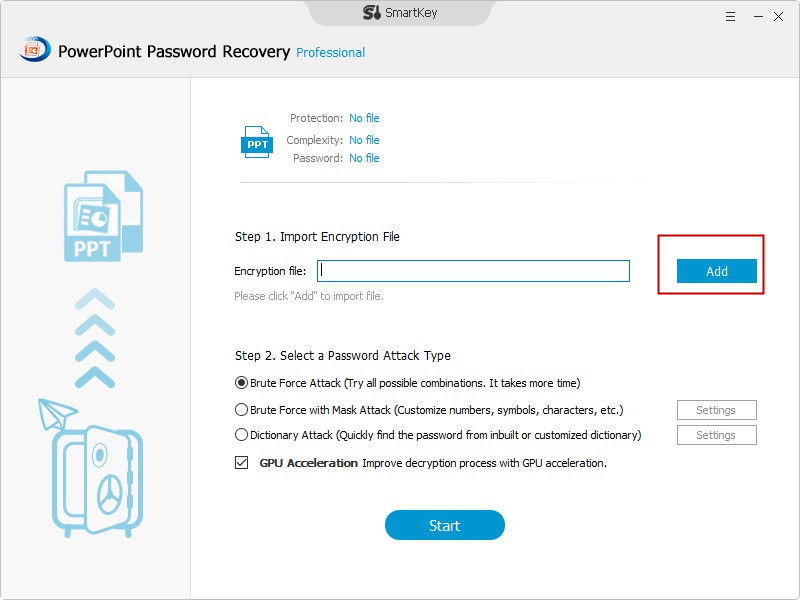 Step 2: Then select any one of attack mode from these 3 provided.
Step 3: Click "Start" button to start recovering PPT password. Within seconds, your password will be recovered and displayed in the File Opening/Editing Password Box. Next, just close the box and exit the program, then use this password to access to the target or locked PPT file.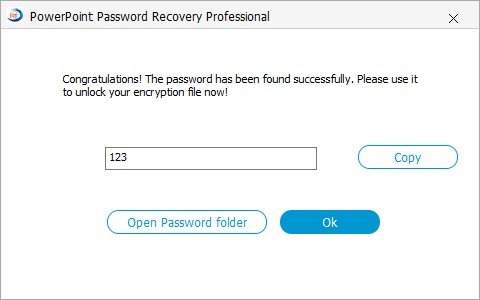 Extra Tips: How to Unlock Read-Only PowerPoint presentation
Microsoft PowerPoint's "Mark as Final" feature makes your business presentation read-only to prevent accidental changes. If you can open a PowerPoint presentation but cannot edit or copy it, it indicates the document is read-only. In such a situation, follow the steps below to unlock a read-only PowerPoint presentation.
Step 1: Open the read-only PowerPoint presentation and click the "File" tab.
Step 2: Click on File>>Info>>Protect Presentation>>Mark as Final.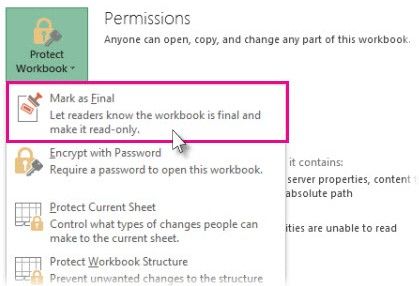 Step 3: Then press "Ctrl+S" to save the presentation with the Mark as Final feature disabled t. Now you can edit and copy the presentation.
Part 4: Decrypt PDF Password
You have the legal right to view the PDF, but don't have the password (there's a variety of situations that could apply here). Then you have to decrypt the PDF password first. The process is relatively straightforward and includes different levels of workarounds for two possible password-protected scenarios.
Method 1: Remove PDF file password using Web Browser
You will be quite surprised to know that you can actually use your web browser to decrypt PDF password. The main advantage of this trick is that you require no extra software to remove PDF passwords. Now do the following
Drag and Drop the PDF file into a new tab to open the PDF file in the web browser. Or you can right click on the PDF file and click Open with option. Then select your browser from the list.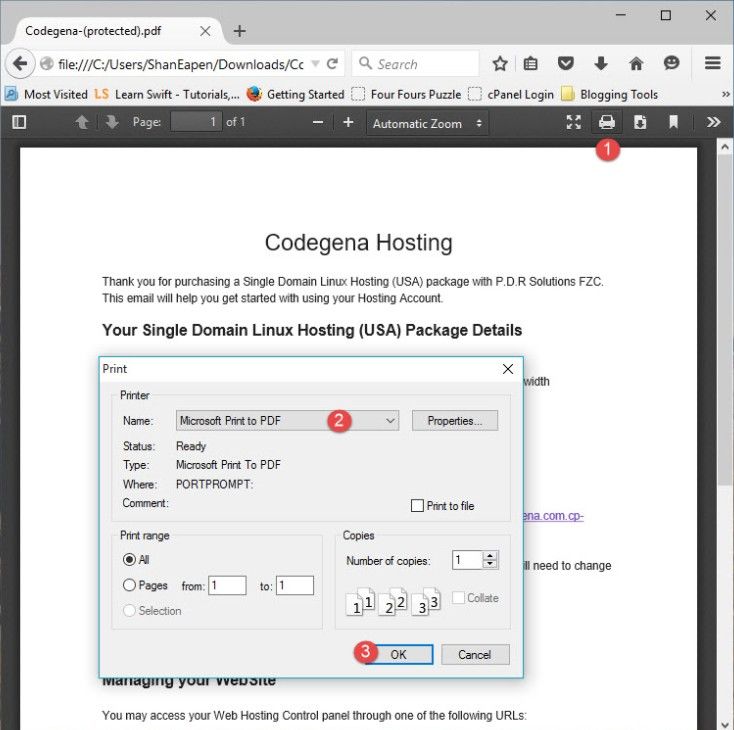 After that, the PDF file should be downloaded with no passwords.
Method 2: Decrypt PDF Password with PDF Unlocker
If the method above doesn't work for you, then you can take advantage of a PDF password recovery tool like PDF Password Recovery, which can satisfy all your cravings for unlocking password-encrypted PDF files. Below is how it works:
Step 1: Download and install SmartKey PDF unlocker software in any Windows computer. This program works well in Windows 8, 7, XP, Vista, Windows Server 2012, 2011, 2008, etc.
Download SmartKey PDF Password Recovery:
Step 2: Launch the program and click "Open" button to input password secured PDF documents.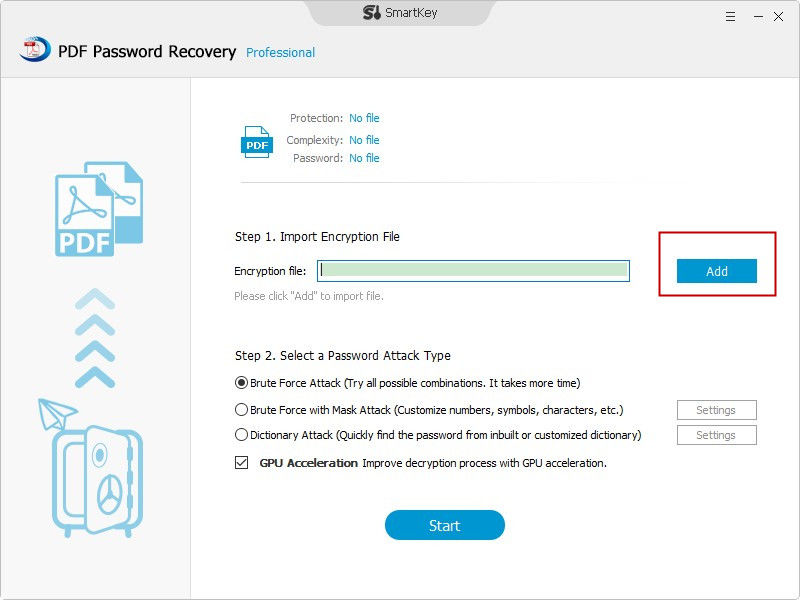 Step 3: There are three types of password crack options: Brute-force attack, Brute-force with Mask Attack and Dictionary. Please select the most appropriate one and set the proper parameters the type. Then click "Start" to begin password crack.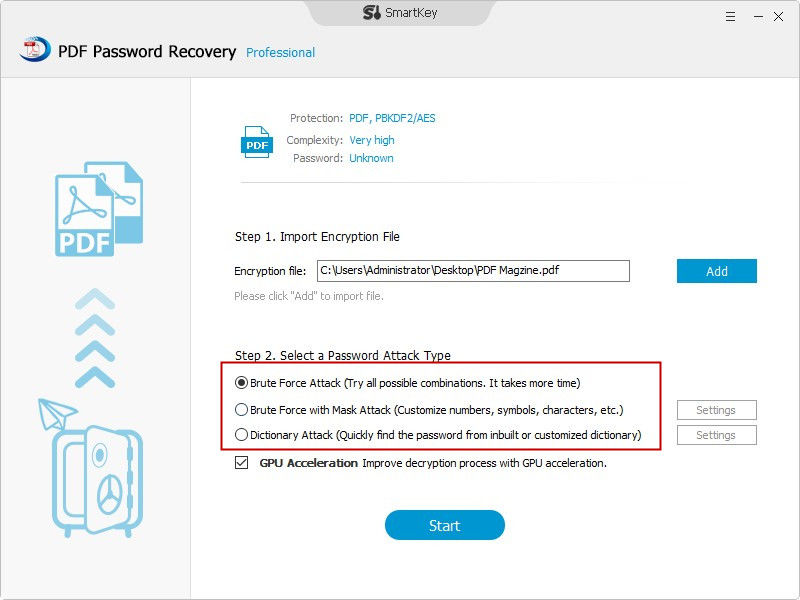 Step 4: When you have successfully found the password, a window will pop up with the found key. Copy it and use it to unlock PDF file for print or edit. Then you can reuse PDF files with no limitation.
Part 5: RAR Password Cracker
RAR makes it easy to compress multiple files all into a single RAR archive which is smaller and more portable for transportation and distribution. To protect the data security, you can add a password to it. If you are fed up with typing password each time, then the following might be workable for you
Method 1: Remove RAR File password using Command Prompt
It's very easy to remove password of RAR file using notepad, you do not require any extra software. As notepad comes pre installed on all PC. Just follow the steps to recover RAR file password.
Step 1: First open the encrypted RAR archive of which password you want to remove. Then click on "Extract To" option on the left upper section. Next, please define where you want to put your RAR archive without password protected.
Step 2: Input RAR file name and press Enter to type RAR file path. Go to RAR file properties and remember its name and path.
Step 3: Then check the destination path, you will find a new file folder without password protected.
Method 2: Recover RAR Password with RAR Password Recovery
But if you forgot the password that you have set. There are many programs which break the password of a RAR file. Here I want to recommend the RAR Password Recovery, which is s a professional RAR password cracker to recover lost or forgotten passwords for encrypted RAR archives. To do so:
Download, install and run PDF Password Recovery on your computer.
Download SmartKey RAR Password Recovery:
Hit "Add" to import the encrypted RAR file to this RAR password recovery tool.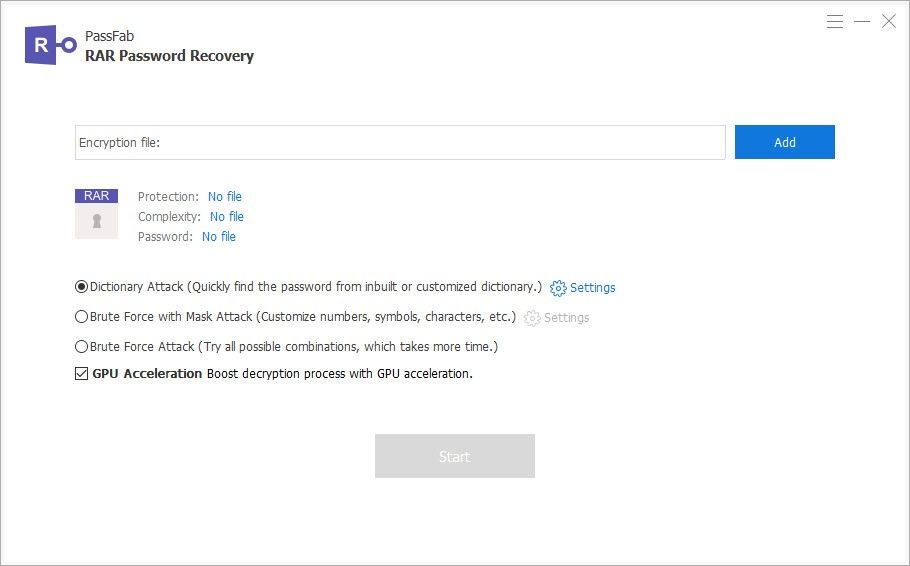 Then select any one of attack type for password recovery from three choices provided based on your own needs.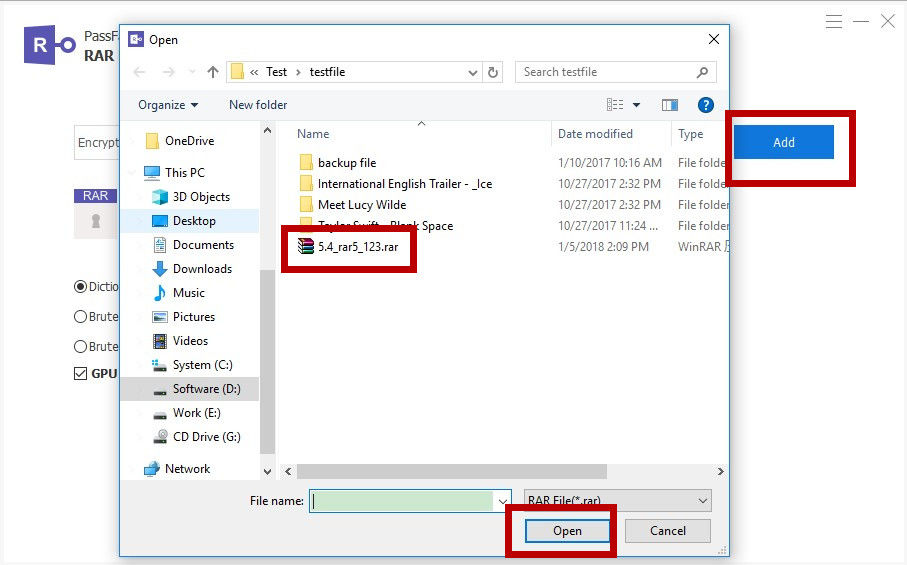 After specifying the attack type and setting, click "Start" to start password recovery.
Once you got the password, you can remove the password following the method introduced above.
Part 6: Unlock Zip Password
ZIP files are a great way to store your data. Files can be heavily compressed with zip file formats using software such as WinZip. And these Zip files can be password protected and encrypted to store sensitive information. But sometimes it may cause trouble when you forget the password. If the password lost and forgot, how to find back it? Luckily enough, here comes a powerful Zip password unlocking tool, Zip Password Recovery, a magic tool to decrypt locked WinZIP/ZIP/PKZip files in minutes.
Download and install Zip Password Recovery to your computer.
Download SmartKey ZIP Password Recovery:
Launch it and choose the zip file, then click "Add" to import the password protected zip to the software.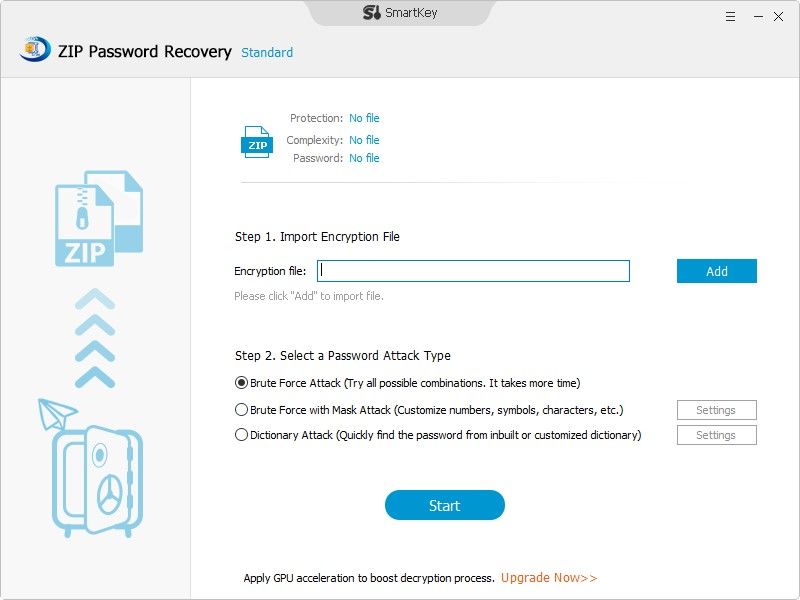 Select any one attack mode based on your needs and tick all the possible options from the below set of options and finally click start.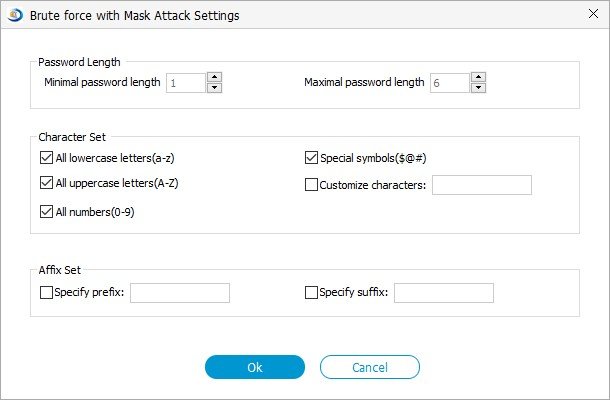 Wait for the program to finish the password recovery process. If successful, it may pop a dialog with the password. Click copy to copy the password from the dialog.
This is all about various kinds of file password recovery solutions, hope these tips and tricks are helpful when have met the similar situations. If you have any other workable methods, please kindly let us know by leaving comments in the comment section below.
Download SmartKey All-in-one Password Recovery Bundle:
comments powered by