Free Download Straxx Excel Password Remover 2019

January 23, 2018 10:32 am / Posted by Michael Eric to Office Tricks
Follow @MichaelEric
Have you ever imagined this situation happened to you? You create a personal password to protect an Excel workbook or spreadsheet so that other users can't get access to it without your permission, but one day you lose the password mistakenly. OMG! That's really a big disaster! Without the password to decrypt Excel, you couldn't open and amend a mass of data in that file. So you search "Excel Password Remover" on Google and wish to get a workable tool such as Straxx Excel Password Remover.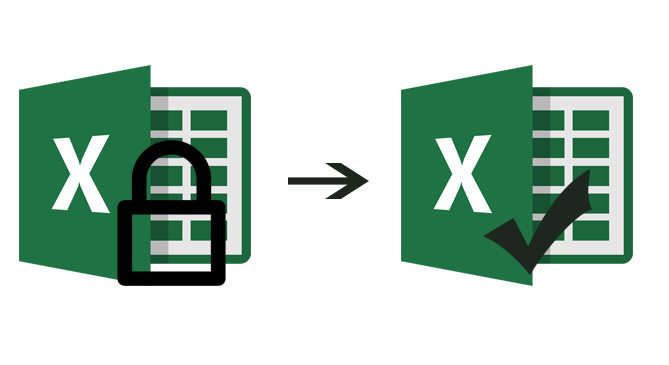 Free Download Straxx Excel Password Remover
Straxx Excel Password Remover is a freeware for personal users to remove password-protected Excel spreadsheet. It's said that this Excel add-in software is able to remove passwords no matter how long and how many characters' combination in them.

Straxx Excel Password Remover FREE Download 2018
1. After downloading and installing, hit on to open password.xla add-in. You will see it on the task bar on your opened Excel with a pop-up window as below in the meantime.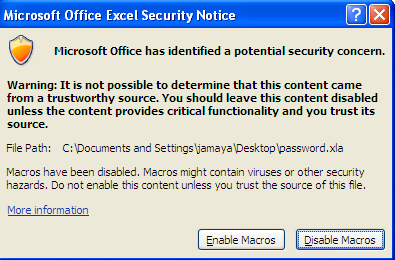 2. If you get another message, it is likely that you have to lower security settings. If current settings are "High", change it to "Medium". Then hit on "Enable Macros" and you are about to be noticed that Macro is loaded.

3. Hit on "Straxx" option and choose "Unprotect Sheet", "Unprotect workbook" or "Unprotect all" from the sub options.
4. As long as the password is removed, it pops up a screen and prompt to donation for this program or purchase PRO version.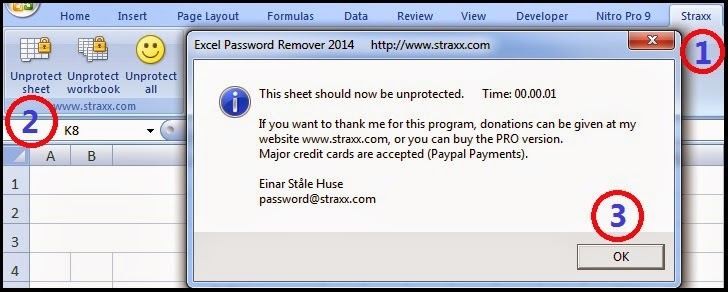 Attention: Free version only supports Excel 2007 and 2017. For other versions like Excel 97, 2003, 2011, 2013 and 2016, you have to get help from Pro version, which is currently $26-$28.
Straxx Free Excel Password Remover Alternative
Straxx Excel Password Remover not working? At this time, you need an alternative for Straxx Excel Password Remover such as SmartKey Excel Password Recovery software. This is an advanced yet extremely fast password remover and recovery tool for Microsoft Office Excel 2003-2016 workbook installed on Windows system. User step guide is in the following:

Step 1. Free download SmartKey Excel Password Recovery and install it to the Windows personal computer that exists your locked Excel file.
Download SmartKey Excel Password Recovery:
Step 2. Run this program and prepare to import encrypted Excel workbook by taping "Add" button.

Step 3. Select a password attack type from" Dictionary Attack", "Brute Force with Mask Attack" and "Brute Force Attack".

Step 4. Click on "Start" button and figure out your Excel password. It enables you to copy the password and unlock Excel file in a successful way.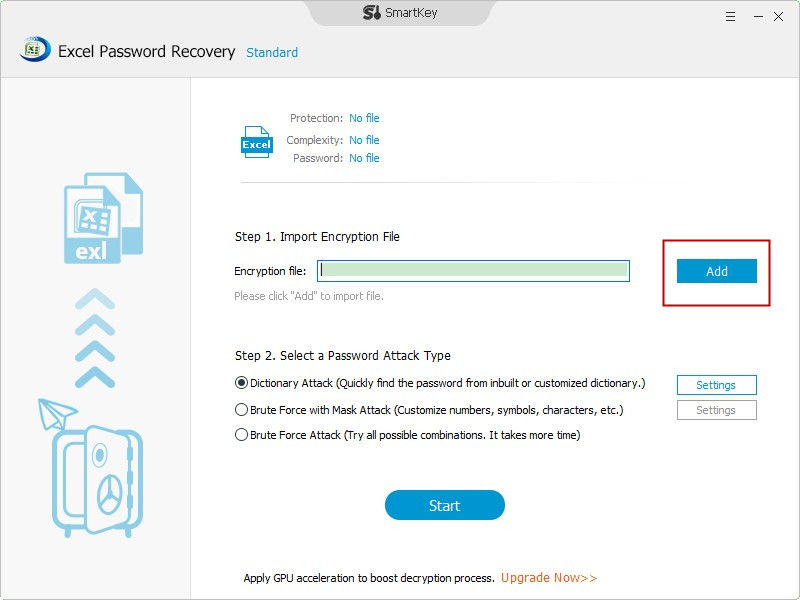 Hope Straxx could do you a favor. By the way, which is your best Excel password unlocker until now? Straxx Excel Password Remover or SmartKey Excel Password Recovery or any other tools? Leave your personal opinions in the discussion area. Enjoy!
Download SmartKey Excel Password Recovery:
comments powered by