Forgot Password for XLSX File? Get the Best XLSX Password Recovery Software

Apr. 24, 2015 10:32 am / Posted by Michael Eric to Office Tricks
Follow @MichaelEric
"I've got a file with .xlsx file extension and it is password protected. Someone has set the password but forgot it. I wonder if there is an easy way of cracking the password. I am using Office 2007."
Forgot XLSX password? Unable to open password protected .xlsx? It is often urgent to get back your forgotten XLSX file password. If are stuck in such a dilemma now, you can spend a few minutes to read this post and get some suggestions.
What is the Best XLSX Password Recovery Tool
It is never easy to recover XLSX password. And this is why I am here to introduce the best XLSX password recovery tool, which is also called SmartKey Excel Password Recovery. It works fast on your locked Excel (XLS and XLSX) file. And due to its fast and smart scanning process, it smoothly retrieves your lost and forgotten Excel password within few movements. Password recovery for Excel 97 - 2013 files are all supported.
Detailed Steps to Crack XLSX Password with the Best XLSX Password Remover
One of the advantages of this XLSX password cracker tool is its fast and simple operation. Now simply follow the steps on how to use the best .xlsx password recovery tool. To get started, download the software and install it on your Windows computer.
Download SmartKey Excel Password Recovery:
Step 1: Import the password locked .xlsx file.
Run this software and select "Excel Password Recovery" on the main interface. Then click "Browse" to load the file whose password you want to recover.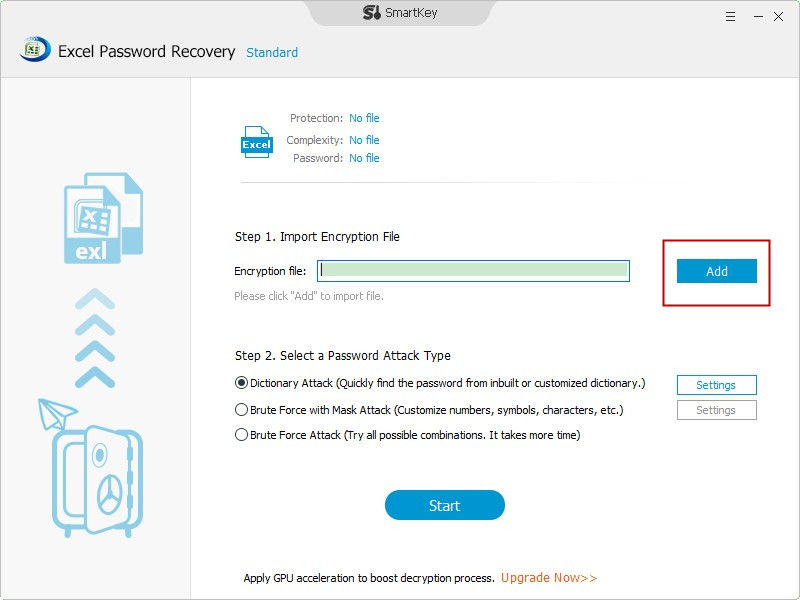 Step 2: Select an attack type.
This tool provides 3 attack types: Brute-force Attack, Brute-force with Mask Attack and Dictionary Attack. Choose the one that suits you the most.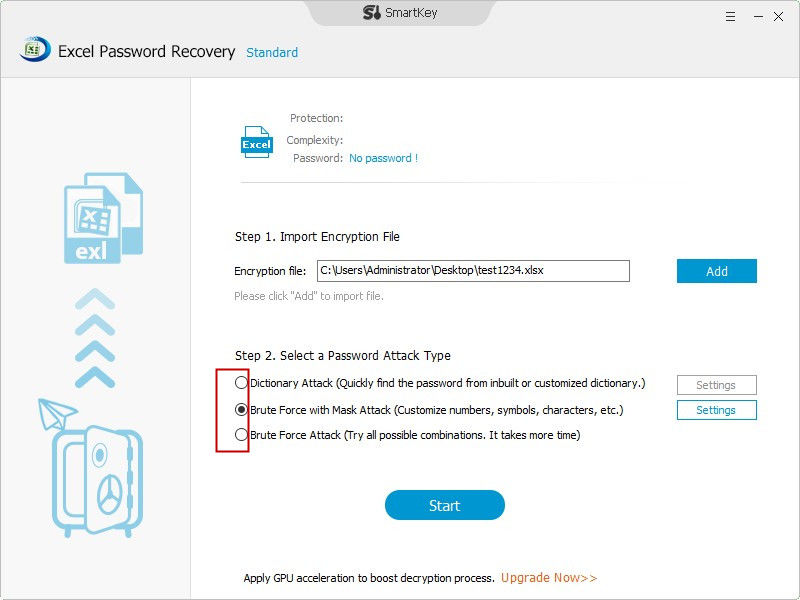 Step 3: Start to recover password.
Click "Recover" to start the recovery process. Please wait patiently until the password is found.
Within the above-mentioned 3 steps, you can easily unlock the password for your .xlsx file, so that you would feel free to share Excel workable online.
Added Info: What is an XLSX File?
A file with the XLSX file extension is an Excel Microsoft Office Open XML Format Spreadsheet file.
XLSX files are created using the Open XML standard, which was introduced in Microsoft Office 2007. They are stored as a compressed Zip archive, which contains a collection of individual files.
XLSX files can be opened in Excel 2007 or later. They are also backwards compatible with earlier versions of Excel via Open XLM component support.
Download SmartKey Excel Password Recovery:
comments powered by