How to Remove a Password on a ZIP File If You forgot ZIP Password

2013-04-12 11:26:54 / Posted by Michael Eric to Files & Database Topics
Follow @MichaelEric
Forgot your password for your ZIP files? Don't be sorry. It is really a common problem troubled many ZIP file users. In many cases, you may want to create a password for your ZIP files to protect your private and confidential information.
However, after a long time without using it, you may easily forget the password you once created. If you want to decompress the encrypted ZIP file, the easiest way is take a use of ZIP password remover software to remove your forgotten or lost ZIP password.
ZIP file password remover is a widely recognized and only way to remove password from ZIP files. It can remove or crack forgotten passwords for ZIP, WinZip, and ZIP Archive easily. Even the latest encryption technologies-AES encryption used in the recent versions of WinZip, WinZip password remover can easily unzip protected files.
How to Remove lost ZIP Files Password with ZIP Password Remover
Although ZIP file password remover software is widely used nowadays, some people are still not quite familiar with the operation of it. Below I will offer a simple guide on how to open protected ZIP files with ZIP password Remover.
1

Step 1: Ready to recover lost ZIP password

Download ZIP password remover. Double click the ".exe" file to install it following the prompts. Launch the software after the installation.

Download SmartKey ZIP Password Recovery:
2

Step 2: Load your encrypted ZIP file

Click "Open" button to load the password-protected ZIP file you forgot the password.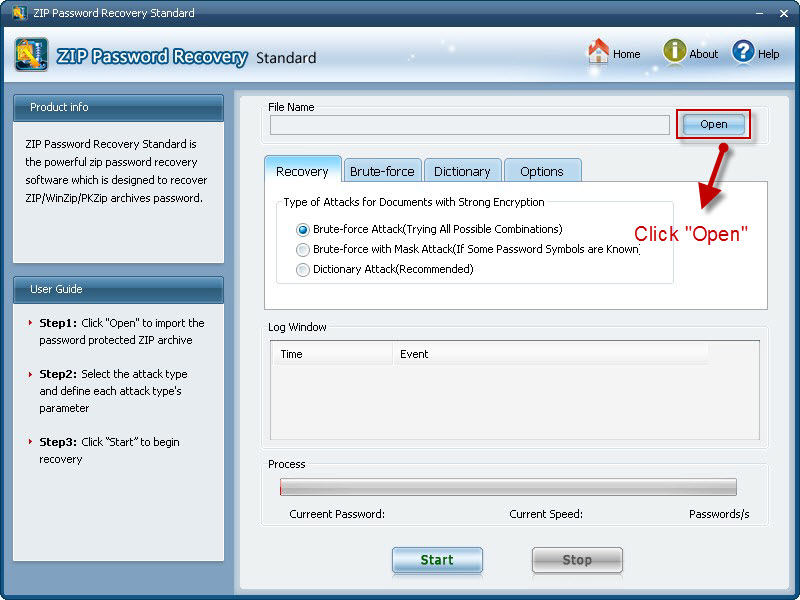 3

Step 3: Determine an attack type and set the parameters

Three attack type (Brute-Force with Mask, Brute-Force Attack and Dictionary) available to select. Select an appropriated one to recover ZIP password.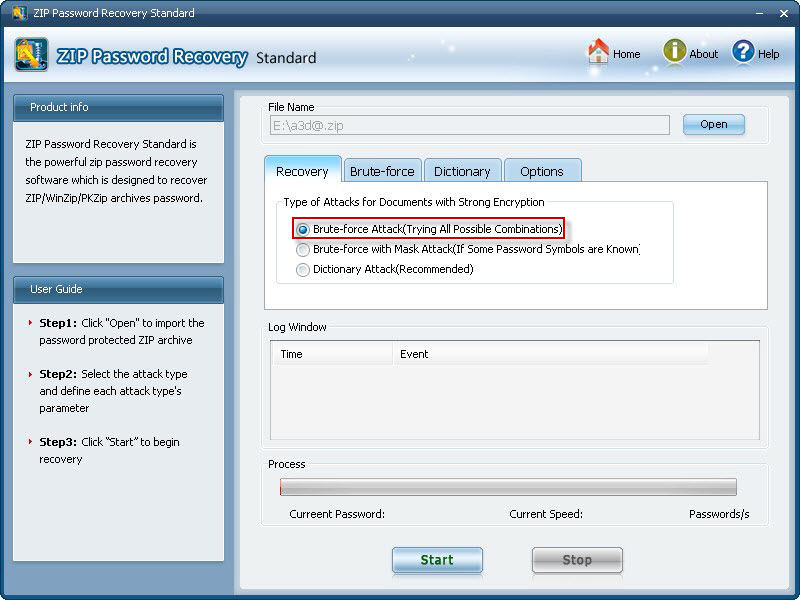 4

Step 4: Start to remove ZIP password

Click"Start" to begin the recovery. After several minutes, your lost ZIP password will be recovered and displayed in the File Opening Password box of the pop-up dialogue box.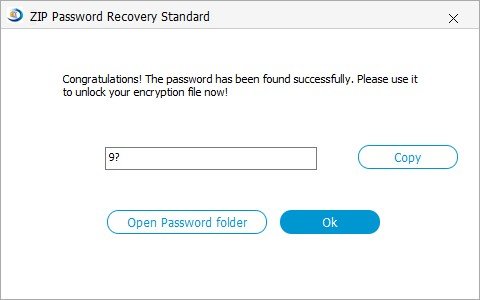 With these simple four steps, you can easily get back your lost password from your ZIP files, if you think that you no longer need the password, you can easily remove it following the three steps below.
Step1: Open WinZip and the encrypted ZIP file you want to remove the password.
Step2: Type the password you just got back and extract the ZIP files.
Step3: Select the files and create a new ".ZIP" file without the password protection. Delete the older encrypted ZIP file and the new ZIP file has no password.
Remove password from ZIP is an easy thing with a powerful ZIP password remover tool. So you don't have to painful about forgetting password for you ZIP files, just use this wonderful tool to remove ZIP password with your own hands.
Download SmartKey ZIP Password Recovery:
comments powered by