3 Ways to Reset Windows 8 Login Password

2013-09-07 14:21:57 / Posted by Michael Eric to Windows Tips
Follow @MichaelEric
Question about Windows 8 Login Password Forgotten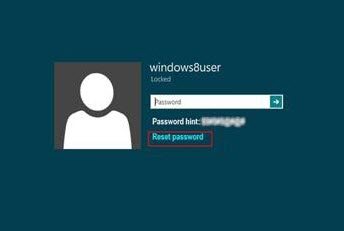 "What to do if I lost my Windows password? How to reset my Windows 8 login password?"
Windows 8 password was set to protect other malicious people from accessing your information. It is a consideration of security concern. However, if you forgot the login password, it will be a hassle since you locked yourself out of your own PC.
Nevertheless, every solution is after the problem. Here we will introduce several solutions for Windows 8 password reset to you. And we recommend the best Windows 8 password reset tool for you. Check them now.
Answers to Windows 8 Password Reset
1
Way 1. The Best Windows 8 Password Reset Tool
Windows Password Recovery is the best Windows 8 password reset tool to reset Windows 8 administrator password and other account password. All it takes is several minutes and a few clicks.
Here are the full instructions for you to reset Windows 8 password with Windows Password Recovery:
Free Trial "Windows Password Recovery" software:
Step 1. Download and install Windows Password Recovery on your PC.
Step 2. Burn a bootable CD/DVD or USB flash drive.

Note: You have two ways to burn Windows Password Recovery. Click here to learn the other one: Create a bootable CD/DVD to a new image.
Step 3. Insert newly created CD/DVD/USB drive to the locked computer. Set BIOS to boot from the CD/DVD/USB drive.
Step 4. Reset Windows 8 password
Like you know, there are always some else solutions for one problem except for the best one. They can reset your Windows 8 admin password and other user's password somehow. But they are not reliable all the time due to their weaknesses.
2
Way 2. Use a Windows 8 Password Reset Disk for Windows 8 Login Password Reset
This method requires you have created a reset disk before you lost your Windows 8 password. But if you have no reset disk created before, pass this method.
Step 1. Insert the password reset disk into your locked computer.
Step 2. When you input the incorrect password in Windows logon screen, the "Reset Password" option will pops up, click it.
Step 3. When you click the "Reset Password" link, a "Password Reset Wizard" will come up for you to reset the forgotten password.
3
Way 3. Use Windows 8 Admin Account to Reset Windows 8 Password
You can use another account which has administrator privilege to reset Windows 8 password. The premise is that you should share your PC with another admin user.
Step 1. Logon your laptop with another user account which has admin privileges.
Step 2. Press "Windows + R" to open "cmd" and press enter.
Step 3. Command screen appears, type in "net user" "user name" "new password", press enter.
Compared with these 3 solutions, Windows Password Recovery is definitely the best Windows 8 password reset tool. It has no prior skills or requirements. Moreover, it supports Windows 8.1, Windows 7, Windows Vista and XP.
Download Windows Password Recovery to instantly reset Windows password:
comments powered by