Windows 7 Password is Incorrect – How to Bypass it

2013-10-15 14:54:25 / Posted by Michael Eric to Windows Tips
Follow @MichaelEric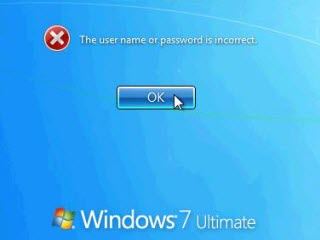 Case: Windows 7 username or password is incorrect when booting up in Windows 7
Usually when booting up in Windows 7, you are presented with the normal login screen if you created a password for your Windows 7. However, if the password you put in is incorrect, you will get a windows 7 password incorrect message in the screen like this.
Thus, you have to figure out what's going on and try to fix it. Then get back the access to your Windows 7 system and confidential files.
Method 1: Make Sure Windows 7 Password is Correct when Windows 7 Password is Incorrect Prompts
When you got the Windows 7 password incorrect messages, this means your username or password is incorrect in Windows 7. Thus, you have to do the following steps first.
1. Check the Caps Lock and Num Lock button on the keyboard. You password is probably complex and contains letters and numbers. Make sure you have put in the precise password.
2. Make sure the password you enter corresponds to the current account the login screen shows.
Method 2: 3 Windows password recovery tools to crack incorrect Windows 7 password
However, if you entered the precise password and the Windows 7 password incorrect message still appears, I'm afraid you have to crack Windows 7 password. Here are methods for you to reset Windows 7 password as below:
1. Windows Password Recovery tool is the best choice to solve the problem for Windows 7 says the password is incorrect. It can crack Windows 7 admin password or other account password with only a few clicks.

Here is the detailed tutorial for you to use this password recovery tool.

Free Trial "Windows Password Recovery Tool":

Step 1. Install and run Windows Password Recovery tool on any accessible computer.
Step 2. Burn this Windows Password Recovery software to a CD/DVD/USB on the computer. Click "Burn" to start burning an ISO image file to the device.

Step 3. Insert this newly created CD/DVD/USB to your locked Windows 7 computer. Specify the device and start to set BIOS to boot from the device.
Step 4. Select the target user account you want to crack and click "Reset".

2. Use a created password reset disk to fix the issue for Windows 7 password incorrect during startup. If you don't have this password reset disk, turn back to Windows Password Recovery tool to crack the lost password.
3. Use free Windows password recovery software – Ophcrack when you got Windows 7 password incorrect message. To be honest, this software is not so easy-to-handle. And if your password is greater than 14 characters, it can't be cracked.
For the comprehensive comparison for the three Windows password recovery tools, Windows Password Recovery tool is no doubt the best one for you to crack the lost password with no limitation.
Download SmartKey Windows Password Recovery Standard:
comments powered by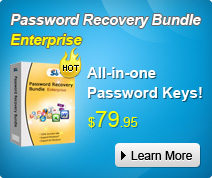 NEXT TOPICS

Office Password & Key
Recover all your Word, Excel, ppt, accesss office files password