3 Tips if You Want to Unlock a Computer Password

2013-07-13 03:18:54 / Posted by Michael Eric to Windows Tips
Follow @MichaelEric
Using a password to protect your computer is the most common and yet the easiest way to ensure the safety of confidential and sensitive information. However, people may lose computer password and be locked out of your PC for various reasons. How can you unlock computer password when you run into such misery?
In fact reinstalling Windows is not the only way. The tips below describe 3 methods that you can use to unlock computer account and regain access to your Windows operating system, including one using Windows Password Recovery program.
Free Trial Windows Password Recovery Tool Ultimate:
Tip 1. Unlock Computer Password with Created Windows Password Reset Disk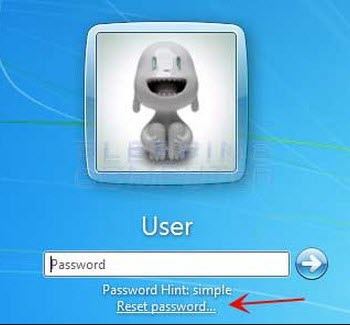 A Windows password reset disk is a specially created floppy disk or USB flash drive that can be used to gain access to Windows if you've forgotten your password. Once you have created a Windows password reset disk before you forgot the login password, you can apply this tip.
Click "Reset password" if Windows says password is incorrect. Then you'll get the screen saying "Welcome to the Password Reset Wizard", click "Next".
Insert your previously-created Windows 7 password reset disk, choose it, and click "Next".
Now you could see "Password Reset Wizard" window, enter a new password, enter it again to confirm, and then click "Next".
Click "Finish" and you could use the password you just entered to unlock PC password.
The program in Tip 3 also creates a Windows password reset disk to help you unlock computer password. This disk is created by the program. However, the disk used in this method needs to be created before you forget your computer password. If you haven't created this password reset disk, you could turn Windows Password Recovery for help.
Tip 2. Unlock PC Password with Command Prompt
It is likely that you have another user account which has admin privileges, in this case using "lusrmgr.msc" or "Command" may help you with "Windows XP forgot password" problem.
1. Logon Windows as administrator. Then click Start, press "Win+R" keys to open Run Box, and then type in the Run box "lusrmgr.msc" in the Search Box or Run Box.

2. In "Local Users and Groups" dialog open "Users" folder, right-click a user account and select "Set Password".
3. When a dialog pops up, type a new password, confirm this password and click "OK".
Tip 3. Unlock a Password Protected Computer with Windows Password Reset
If both the above 2 methods couldn't unlock your computer password, you can resort to Windows password reset tool, which is called Windows Password Recvoery. It is a program that allows Windows users to unlock password protect computer running Windows 8.1, 8, Windows 7, Windows Vista and more. Besides your password locked computer, you need to have a computer that you have free access to, an USB or CD/DVD to do the password recovery. We take how to unlock a Windows 7 computer's password in the tutorial.
1. Insert a CD/DVD or USB flash drive to burn a Windows 7 password recovery boot disk/USB from the program. This is done on the computer you have access to rather than the password locked PC.

Note: You have two ways to burn Windows Password Recovery. Click here to learn the other one: Create a bootable CD/DVD to a new image.
2. Insert the newly burned Windows 7 password recovery boot disk/USB to password locked PC, set bios to boot from it. Choose target Windows system (Windows 7) to which you lost admin password.
3. You now should be looking at a list of administrator and users accounts, then choose the target account and click "Reset".

4. Wait for the program to complete the process, click "Reboot". When the computer restarts our computer password could be unlocked.
Many people prefer the first method as this method is applicable to all Windows password including administrator password and standard user password. You can try all the method and choose the most suitable to unlock compute password.
Download SmartKey Windows Password Recovery Ultimate:
comments powered by