Forgot Chromebook Password, How to Reset

2014-03-28 14:39:20 / Posted by Michael Eric to Windows Tips
Follow @MichaelEric
"I forgot my Chromebook password, how can I reset the forgotten password and get back the access to my Chromebook?"
"I put a password on a chomebook before, but I can't remember it now. Chromebook is locked out completely. Any idea to perform chrombook password change or recovery?"
In our daily life, more and more people have chosen Chromebook (Google OS) instead of a Windows PC. Like Windows computer, it's often protected with a login account password as well. As you know, Chromebook is always associated with your Google account. So if you forgot Chromebook password for Samsung, Acer or other brands, you will be locked out of your device. Thus, the only thing you can do is reset Acer/HP/Dell/Samsung/Toshiba/Lenovo Chromebook password.
Following are the two methods to hack Chromebook password. Check them now.
Method 1: Reset Forgotten Google Account Password when You Forgot Chromebook Password
As mentioned, Chromebook is protected with your Google account password. Once you need to reset forgotten Chromebook password, reset your Google account password first.
Here enables you to get Chromebook password recovery with a phone number recovery option. But the requirement is that you have added this recovery option before.
To enable the text message recovery option:
1. Sign in to your account.
2. In the Security section, click Update recovery options.
3. Select your country from the drop-down menu and enter your mobile phone number. (Don't worry about the format of the number. Dashes, spaces, and parentheses are optional.) You may enter your number with or without the country code.
4. Click Save at the bottom of the page.
To send yourself a recovery code:
1. Open password-assistance page (https://www.google.com/accounts/recovery), enter the username.
2. After completing the word verification, select the option to receive your password via text message. Click Continue.

3. Check your phone for a text message from Google.
4. Enter your recovery code and click Submit recovery code.
5. Type your new password.
Method 2: Factory Reset Chromebook when You Forgot Chromebook Password
You can clear all local user data stored on your Chromebook by resetting it to its original factory state, also known as powerwash. This can be a good idea to reset Chrome password as well.
Note: All data stored on your Chromebook such as downloaded files, photos, owner permissions, and saved networks, will be deleted for all accounts when performing a factory reset. After clearing this data, you'll be guided through the initial setup again. Resetting your device will not affect your accounts themselves, or any data synced to these accounts.
Obviously, to use the Chromebook, you can only set it up with other Google account. You can only use the Chromebook as a Guest to clean your device.
Follow the steps below to reset your Chromebook to its original factory state:
1. Click on status area in the lower-right corner, where your account picture appears.
2. Select Settings and click Show advanced settings at the bottom of the page.
3. Find the "Powerwash" section and click Reset.

4. In the dialogue box that opens, select Restart.
You can also reset your Chromebook from the sign-in screen, simply press Alt+Ctrl+Shift+R and tap the Restart button. Doing so brings up the Powerwash prompt, which you can choose to wipe the device clean within a few minutes.
Tips: If you are signed in to your Chromebook, sign out first.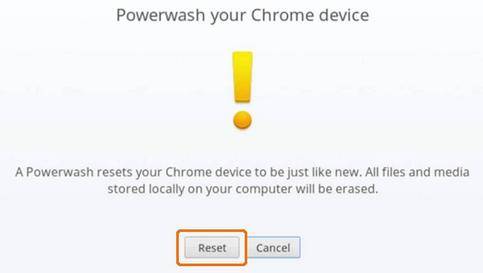 Performing chromebook password removal can be easy as long as you choose right way. Considering your own situation, choose from the two methods introduced above to restore forgotten Chromebook password.
Download SmartKey All-in-one Password Recovery Bundle:
comments powered by