The Best Way to Recover Forgotten, Lost Windows 8 Login Password

2013-11-15 10:45:07 / Posted by Michael Eric to Windows Tips
Follow @MichaelEric
Forgot your Windows 8 administrator or other account password and be locked out? Without the password, you can't get into your Windows 8 operating system, let alone install software, update drivers. So is there anything to recover Windows 8 password? The answer is absolutely yes. Here will list the best way and other different ways to do Windows 8 password recovery. Check them as below right now.
Part I: The Best Way to Recover Windows 8 Password – Windows Password Recovery Tool
If you don't have a password reset disk beforehand or another admin account, go straightly for Windows Password Recovery tool. It's doing well on Windows 8 to recover administrator password and other account password. Moreover, it has no limitation and requires no prior skills. The only thing you need to do is perform a few clicks.
Here is the detailed tutorial to use Windows Password Recovery to recover Windows 8 lost password.
Free Trial "Windows Password Recovery Tool":
Step 1. Download and run this Windows Password Recovery Tool on an available Windows computer.
Step 2. Burn the software to a bootable and blank device such as CD/DVD/USB on this computer. Click "Burn" to start burning an ISO image file to it.
Step 3. Insert this newly created bootable device on your locked Windows 8 PC. Start to set BIOS to boot from it.
Step 4. Select the password you want to recover and click "Reset".
Part II: Other Ways for Windows 8 Password Recovery
There are actually some other ways to recover forgotten Windows 8 password. However, they have disadvantages.
1. If you have created a password reset disk before you lost your Windows 8 password, you can use it to recover your Windows 8 forgotten password.
2. Use another administrator password to crack the forgotten Windows 8 password. The premise is that you have shared your Windows 8 PC with another person who has own admin account.
No matter in which situation, you can choose the suitable way for Windows 8 to recover lost password. However, Windows Password Recovery tool is definitely the best choice to recover Windows 8 password.
Download SmartKey Windows Password Recovery Standard:
comments powered by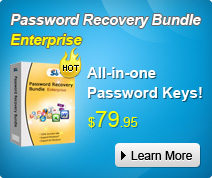 NEXT TOPICS

Office Password & Key
Recover all your Word, Excel, ppt, accesss office files password