How to Refresh or Reset Windows 8

2014-02-12 13:12:35 / Posted by Michael Eric to Windows Tips
Follow @MichaelEric
Tired of formatting all the files on your Windows computer every time you get in troubles? Then you can change another way without formatting using the new Refresh and Reset features present in Windows 8.1/8. Here is a simple look at how to refresh or reset your Windows 8 PC.
How to Refresh Your Windows 8.1/8 PC?
Refresh option gives you a quick and easy way to start with a clean slate. It will restore your PC settings to the defaults while keep some your personalization settings and files remain. Let's see how to refresh Windows 8 PC (including Windows 8.1) in the following part.
Step 1. Insert your Windows 8 installation disc in your computer.
Step 2. Launch the Start Screen and search for reset and click on Reset your PC under the Settings section.
Step 3. Click the "Get Started" button under the Refresh Your PC option to initiate a Refresh.

Step 4. Click "Next" when you see a screen informing you of what will be changed with the Refresh feature.

Step 5. Click the "Refresh" button to restart your PC and start the refresh process.

Step 6. It will start preparing your system for a complete Refresh. When Windows 8 restarts, you will see boot screen with refresh process progress at the bottom.
Step 7. When the refresh process is over, you will go back to Windows Start Screen.
Tip: It is recommended to have a backup of programs which fetch data directly from Windows native utilities to restore them later.
How to Reset Your Windows 8.1/8 PC?
Windows 8's Reset option gives you an easy way to completely wipe your programs and data off the computer and start from a fresh Windows install. See how to reset Windows 8 as below.
Step 1. Click Setting on the Charms bar in Metro and select More PC Settings.
Step 2. Select General on the Control Panel window, and then click Get Started under "Reset Your PC and Start Over".

Step 3. Windows will show you what will happen with the Reset option. Click Next to continue.

Step 4. Select the method to remove your personal files: Thoroughly or Quickly. Thoroughly is more secure while Quickly is less secure but files might be recoverable.
Step 5. Click "Reset" when you are asked if you're ready to reset the PC.

Step 6. Your system will reboot a couple of times while it wipes all data on your hard drive and installs a clean version of Windows 8. At the bottom, you will see "Resetting your PC progress".
Step 7. Enter the Product license key and click "Next" once the resetting process is finished. You can also click Skip to enter the license key later.
Step 8. Select Accept to accept License terms and proceed further. It will start loading Windows 8, and you will see Personalization window.
Step 9. Follow the on-screen instructions, enter details where required, and let Windows 8 prepare a fresh desktop for you.
Tip: Backup of your important data in advance is recommended as everything will be removed from your PC.
After learning the instruction on how to use Refresh or Reset on Windows 8, you can also click here to learn more tips for Windows.
Download SmartKey Windows Password Recovery Ultimate:
comments powered by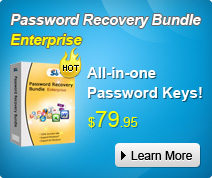 NEXT TOPICS

Office Password & Key
Recover all your Word, Excel, ppt, accesss office files password