3 Ways to Disable Windows 8 Login Password

2013-07-24 10:23:45 / Posted by Michael Eric to Windows Tips
Follow @MichaelEric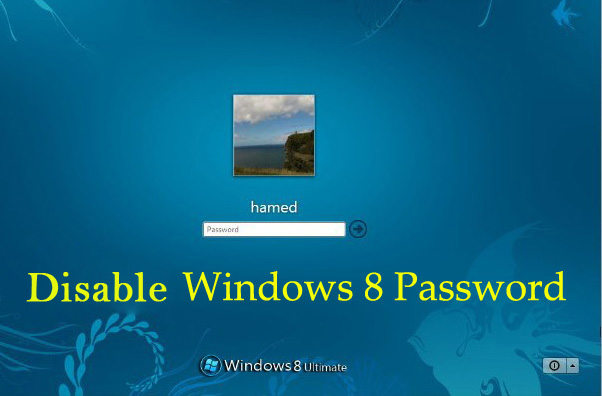 Questions about Disabling Windows 8 Login Password
"I really need to disable Windows 8 password since I lost my login password for Toshiba Satellite C850-BT3N11."
When you come across things like this, don't panic. Try to get help here. We will give you 3 solutions to disable password protection Windows 8 as below.
1

Solution 1. Use a Windows Reset Disk to Disable Windows 8 Password

This method requires you have created a reset disk before you lost your password. Or you should pass this method and try others below to Windows 8 disable password login.
1) Insert the password reset disk into your locked computer.

2) When you input the incorrect password in Windows logon screen, the "Reset Password" option will pops up, click it.

3) When you click the "Reset Password" link, a "Password Reset Wizard" will come up for you to reset the forgotten password.
2

Solution 2. Use Windows 8 Administrator Account to Disable Windows 8 Login Password

You can use an account which has administrator privilege to disable Windows 8 login password since admin account can create, change a password for any account. But if you are the only administrator user in your Windows 8 laptop, just skip this one.
1) Click "Start" button, type "lusrmgr.msc" in the Search box and press "Enter" key.

2) Double-click the Users folder, and all user accounts will be listed. Then right-click a user account which you want to reset its password and select "Set Password".
3

Solution 3. Use Windows Password Recovery to Turn off Windows 8 Password

Windows Password Recovery is amazing software no matter you want to disable administrator password Windows 8 or other accounts password.

Free Trial "Windows Password Recovery" software:
1) Download and Install

Download Windows Password Recovery and install on your PC.

2) Burn a Bootable CD/DVD or USB Drive

3) Disable Windows 8 Password

Choose the account you want to disable the password.
Compared among these methods, you must acknowledge that Windows Password Recovery is the best choice to disable login password in Windows 8.
Additional Info: Disable Windows 8 Password Expiration
In addition, many users can't get access to Windows 8 laptop because they need to disable Windows 8 password expiration. Here also shows you the solution:
Note: When booting up to the logon screen, Windows may notify you that your password will expire in a number of days and ask whether you want to change it now. Previously, the default interval that users were notified of password expiration was 14 days before expiration.
1) Start your Windows 8 virtual machine.
2) Open the Run command box on Windows
3) Type the following words in run box.
control userpasswords2
4) Click on Advanced tab in the user account.
5) Click on Advanced button in the Advanced user management window and it will open Local User and Group.
6) Double click the Users Folder in the Local User and Group.
7) Select your username on the lists and right click > select Properties
8) It will open another window, click on General tab and check the option of Password never expires.
9) Click on Apply and then click on OK button.
For all, choose the best tool to disable your Windows 8 password. What's more, you can keep this wonderful software -- Windows Password Recovery on your computer in case you forgot your Windows 8 password.
Download Windows Password Recovery to instantly reset Windows password:
comments powered by