How to Disable Required Password on Wakeup in Windows 7

2014-03-06 09:16:14 / Posted by Michael Eric to Windows Tips
Follow @MichaelEric
Like you set to auto login to Windows 7 computer to avoid of entering the login password every time you log on your Windows computer, you may also find it annoying that you still need to enter a password when your PC comes out of sleep mode. Read this article and get the quick fix.
How to Disable (or Enable) Required Password on Wakeup in Windows 7?
Method 1: Through Power Options
1. Open the Power Options Advanced Plan Settings.
2. Click on the Change settings that are currently unavailable link.
3. If prompted by UAC, then click on Yes.
4. To Disable Required Password on Wakeup.

5. To Enable Required Password on Wakeup, change the Require a password on wakeup settings to Yes, and click on OK.
6. Close the reset of the windows you have opened.
Method 2: Through System Settings
This method will change the password protection on wakeup setting in all power plans in your user account.
Method 3: Through an Elevated Command Prompt
1. Open an elevated command prompt. (Click Start button, enter cmd.)

2. To Disable Require Password on Wakeup.

Note: If you've created custom power profiles you'll have to get the GUID for the one you want to change from powercfg –I first and substitute it for the parameter in these commands below.

In the elevated command prompt type these commands below and press enter following each one.
Thus, you have acquired three quick options to make Windows 7 not require a password on Wakeup. Choose the proper one for you.
Download SmartKey Windows Password Recovery Standard:
comments powered by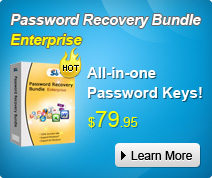 NEXT TOPICS

Office Password & Key
Recover all your Word, Excel, ppt, accesss office files password