How to Crack Forgotten, Lost Windows 8.1 Login Password Instantly

2014-02-25 11:36:17 / Posted by Michael Eric to Windows Tips
Follow @MichaelEric
"How to crack my Windows 8.1 password? I forgot the login password, and locked out of the Windows. I have tried all of the possible passwords that the password hint reminded me. But I keep getting the rejection message. Really urgent to find a way out."
It is very common to forget Windows log on password since you have too many passwords and messed them up. Luckily, there are several methods for you to crack your Windows admin and other user account passwords: the best Windows Password Recovery, a password reset disk you created before, or change the password in command prompt. Choose the proper one according to your own situation.
Method 1: Use Windows Password Recovery to Crack Windows 8.1 Password
Windows Password Recovery program is an outstanding tool to crack Windows 8.1 admin password, as well as crack Windows 8.1 user account password. This all-in-one Windows 8.1 password cracker program can finish the process of forgotten password resetting in only few clicks. Moreover, no more prior skill or requirements needed.
Free download and install Windows Password Recovery tool on any accessible computer (not the locked one).
Free Trial "Windows Password Recovery Tool":
Insert a blank CD/DVD or USB flash drive to this accessible computer. Specify the device and click "Burn" to start burning an ISO image file to your chosen media.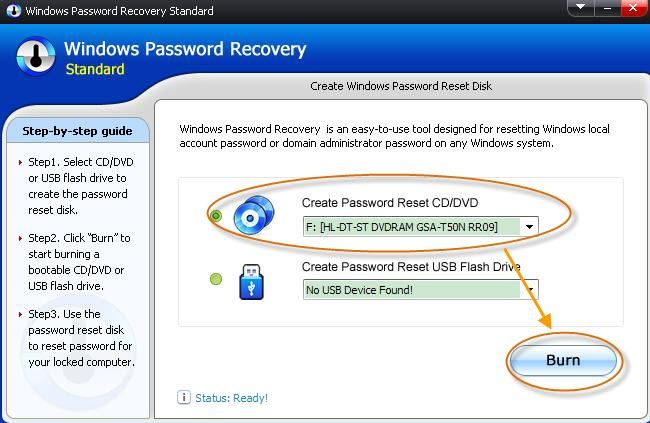 After burning, pull out the Windows 8.1 password cracker USB or disk and insert it into the locked Windows 8.1 computer. Start to set BIOS to boot from the device.
Then the target Windows system and user account you want to reset and click "Reset".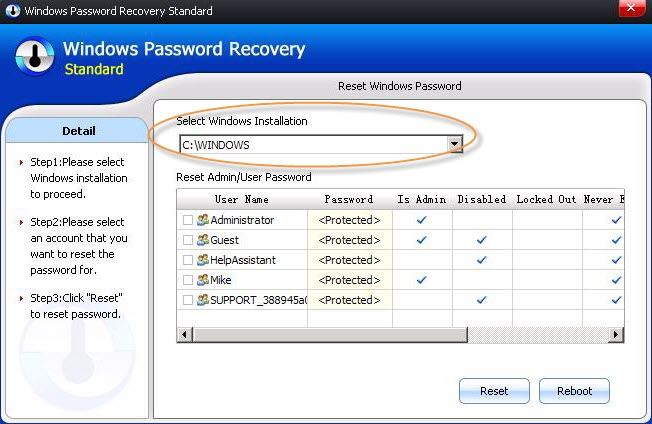 Finally click "Reboot".
Method 2: Use a Password Reset Disk Created Before
Creating a Windows 8.1 password reset disk is very necessary and important because it can help you crack your lost Windows Window 8.1 password easily. But in fact, most of the people didn't realize that before the mishap happened. If you are one of them, go back to use Windows Password Recovery.
Insert the password reset disk into your locked Windows 8.1 computer.
When you input the incorrect password in Windows logon screen, the "Reset Password" option will pop up, click it.
Follow steps in "Password Reset Wizard" to reset the forgotten password. Log on with the new created password.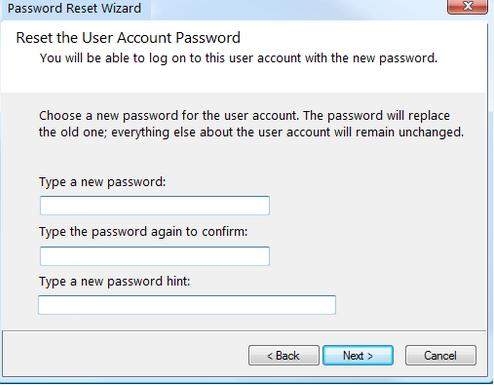 Method 3: Crack Windows 8.1 Login Password in Command Prompt
Provided that you are not the only one user of your Windows 8.1 computer, you can crack logon Windows 8.1 password free from the command prompt by using another admin account. Login in that administrator account and follow the steps.
Note: If you didn't share the computer with others, go back to the introduced two methods for help.
Press "Win Key + R" and type "cmd" in the "Run" command box and hit enter to open command prompt.
Type the command "net user UserName NewPassword", in the command prompt and hit enter. If you want to remove this password, just replace NewPassword with *.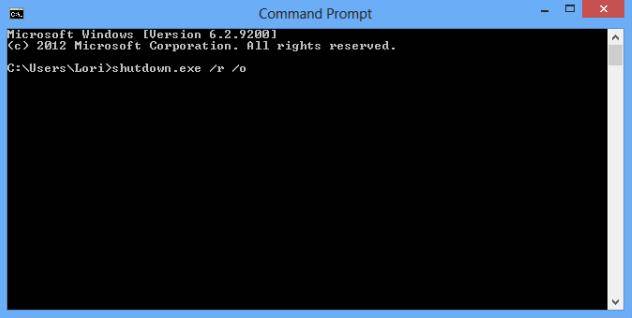 Then, no more be afraid of forgetting your Windows 8.1 password. Just do as the instructions as above. Note that Windows Password Recovery is the most recommended one to crack Windows 8.1 password. Moreover, it can be used on Windows 8/7/Vista and lower.
Download SmartKey Windows Password Recovery Standard:
comments powered by