2 Ways to Auto Login Windows 8

2013-12-13 14:15:01 / Posted by Michael Eric to Windows Tips
Follow @MichaelEric
Sick of entering your Windows 8 login password every time Windows starts up, now you want to auto login Windows 8 without entering password? Here will show how to auto login Windows 8 with different ways. Check them now.
Note:
Windows 8 is shown in this article, and these steps are also applicable to enable login Windows 8.1 automatically. As for Windows 7, click here to learn
how to auto login Windows 7
.
Way 1: Set through Windows 8 Control Panel
This way is available when your Windows 8 login password is remembered by you. Then choose to set Windows 8 to logon automatically in Control Panel.
Step 1. Press the Windows + R keyboard combination to bring up a run box, type "netplwiz" and hit enter.

Step 2. All the users on Windows 8 will display. Select the target one and uncheck the "User must enter a user name and password to use this computer" checkbox. Then click the apply button.

Step 3. Input your password when the "Automatically sign in" dialog appears.

Step 4. Click "OK" to close the User Accounts dialog and you have set Windows 8 to auto login successfully.
Way 2: Use Windows Password Recovery Tool
Note that this way is used when your login password has been changed by others. Then break the forgotten password first.
Having set to auto login Windows 8 password, but your password has been changed by other malicious person? This really sucks but the first thing you need to do is to change the password in Automatically Log On. Or you will be locked out of your own Windows 8 computer. Thus the only choice is to apply for Windows Password Recovery tool to remove the forgotten password. And then you can auto login Windows 8 without password anymore.
Free Trial "Windows Password Recovery Tool":
Step 1. Free download and run Windows Password Recovery on an available Windows-based PC.
Step 2. Prepare a blank CD/DVD/USB flash drive to burn a default .iso file of Windows Password Recovery.

Note: You have two ways to burn Windows Password Recovery. Click here to learn the other one: Create a bootable CD/DVD to a new image.
Step 3. Insert the device to your Windows 8 PC and specify it and set BIOS to boot from it.
Step 4. Select the Windows username and password you want to remove and click "Reset".
According to your own requirements, choose from the two ways to achieve to automatic auto login Windows 8. What's more, keep the Windows Password Recovery USB or disk and it will be useful whenever you need to crack the forgotten or lost password on Windows 8.1/8/7/Vista/XP.
Download SmartKey Windows Password Recovery Standard:
comments powered by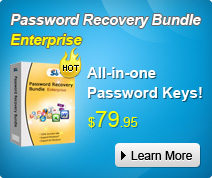 NEXT TOPICS

Office Password & Key
Recover all your Word, Excel, ppt, accesss office files password