How to Auto Login Windows 7 Password

2013-11-20 11:12:24 / Posted by Michael Eric to Windows Tips
Follow @MichaelEric
"How to auto login my Windows 7 computer? I forgot my Windows 7 login password now. I just want to set it to log automatically."
You may think that it can save some time to set Windows 7 to auto login to your user account when your computer is starting up. However, before making this decision, make sure your Windows 7 computer won't be accessed by others maliciously. Thus, follow the guide on how to solve your problem.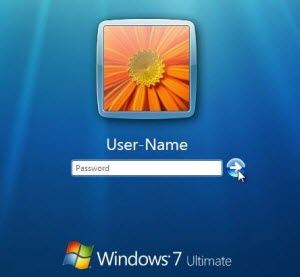 Part I: How to Auto Login Windows 7 Password on Start Menu
With auto login in Windows 7, you will not see the login Windows 7 interface as shown below anymore. Windows 7 will boot into the desktop of the selected user account instead.
Note: If you have more than one user account and the user account that you want to have Windows 7 log on to automatically at startup doesn't have a created password, then leave the password fields blank in step 6 below.
Step 1. Open the Start Menu, type "netplwiz" in the search box, and press Enter.
Step 2. In the "Advanced User Accounts" tab, uncheck the box next to "Users must enter a user name and password to use this computer".
Step 3. Click on the "user account name", you want to have auto login Windows 7 user account at startup.
Step 4. Uncheck the "Users must enter a user name and password to use this computer" box. Click "Apply".

Step 5. In the Password field, enter the selected user account's password twice. Click "OK".
Warning: If your Windows 7 computer logs on automatically, other people can have the same access to your computer, even change your Windows 7 password. If your Windows 7 password is changed by others maliciously, you have to recover it first.
Part II: How to Auto Login in Windows 7 if the Password Has Been Changed?
Never to pose security risk on your Windows 7 password, even to set to Windows 7 auto login. Once other malicious people changed your Windows 7 password, you must change the password in Automatically Log On. However, in most cases, you don't know the new changed password and be locked out of your Windows 7 computer. Thus you need to crack the unknown Windows 7 password with Windows Password Recovery urgently. First free download this password recovery tool.
Free Trial "Windows Password Recovery Tool":
Step 1. Install and run this software on an available PC.
Step 2. Burn a CD/DVD/USB flash drive. Click "Burn" to start burning a default ISO image file to it.

Note: You have two ways to burn Windows Password Recovery. Click here to learn the other one: Create a bootable CD/DVD to a new image.
Step 3. Insert the newly created device on your locked Windows 7 computer. Start to set BIOS to boot from the device.
Step 4. Select the Windows 7 username and password you want to crack and click "Reset".
Make sure you are the only one user on your Windows 7 computer. Or you must think twice about setting to auto login in Windows 7 computer.
Download SmartKey Windows Password Recovery Standard:
comments powered by