How to Find Lost Windows 7 Product Key?

2011-06-16 06:13:04 / Posted by Michael Eric to Windows Tips
Follow @MichaelEric
A valid Windows product key is required to make your computer with Windows 7 function correctly. When you're planning to reinstall Windows 7, you do need to find that unique 25-digit string of letters and numbers Microsoft assigned when you buy Windows 7. Typically, it is with the confirmation email when you buy Windows 7 product key online, or with the packing when you buy it on retail store, or it is printed on a sticky label attached to the side of desktop computers and the underside of laptop computers.
If Windows 7 product key is lost and can't be found on the above place, you can still find the product key for Windows by using SmartKey Windows 7 Product Key Finder. It can quickly let you view Windows 7 activation key (along with other programs) before you reinstall Windows 7 operating system. It works well with 32-bit and 64-bit of all Windows 7 editions: Windows 7 Starter, Windows 7 Home Basic, Windows 7 Home Premium, Windows 7 Professional, Windows 7 Enterprise, and Windows 7 Ultimate.
Following you can find a simple guide on how to find lost Windows 7 product key by using Windows 7 product key recovery software.
Download Product Key Recovery to find Serial Numbers for All Microsoft Products:
How to Find Microsoft Windows 7 Product Key with One Click?
Step 1: Download Windows 7 Product Key Finder
Download this Windows 7 product key Finder, and follow the wizard to install it. Double click its icon on desktop to launch it.
Step 2: Start to Crack Windows 7 Product Key
The interface is simple and user-friendly. Click "Get Key" on the central bottom. Windows 7 product key and registration code for other programs are displayed. You can check Windows 7 product key now.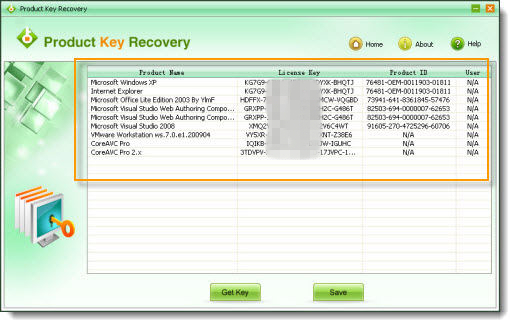 Step 3: Save a Copy of Windows 7 Activation Key
It is optional for you to click "Save" to write down retrieved Windows 7 product key and save it in a text file on your computer. It is recommended in case you need to find Windows 7 product key again.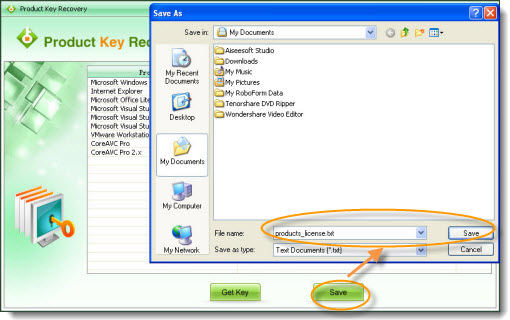 Thus, your have get your Windows 7 product key cracked successfully. Remember to keep this Windows Product Key Recovery.
Free Trial Product Key Recovery to find Serial Numbers for All Microsoft Products: