How to recover lost Internet Explorer Content Advisor password?

2010-01-29 05:55:56 / Posted by Michael Eric to Online Website
Follow @MichaelEric
Questions: HELP! I forgot Internet Explorer 8 Content Advisor password, and the hint doesn't really help. I've tried every possible word I can think of (I remember it was one word, nothing else). I am screwed.
Solutions: I found so many people Before advising you how to remove the forgotten IE Content Advisor password, here are answers to some common questions about Internet Explorer Content Advisor:
What is Content Advisor?
Content Advisor is a tool for controlling the types of content that your computer can access on the Internet. After you turn on Content Advisor, only rated content that meets or exceeds your criteria can be viewed. You can adjust the settings to suit your preferences.
How to create or change the supervisor password in Content Advisor
Setting a supervisor password allows you to prevent others from changing settings in Content Advisor.
Open Internet Explorer by clicking the Start button, and then clicking Internet Explorer.
Click the Tools button, and then click Internet Options.
Click the Content tab, and then, under Content Advisor, do one of the following:


If this is your first time using Content Advisor, click Enable. If you are prompted for an administrator password or confirmation, type the password or provide confirmation.
If you've previously enabled Content Advisor, click Settings, type your password, and then click OK. If you are prompted for an administrator password or confirmation, type the password or provide confirmation.

In the Content Advisor dialog box, click the General tab, and then do one of the following:


Click Create password, and then type a password and password hint. You will use this to change settings and override blocked websites. Click OK.
Click Change password, type your old password, and then type your new password and new password hint. Click OK.

Click OK to save your password and exit. Once your password is set, you should write it down and store it in a safe place, since you'll need it to disable or change settings in Content Advisor in the future.
Here is the best solution to recover/remove Internet Explorer Content Advisor password if forgot.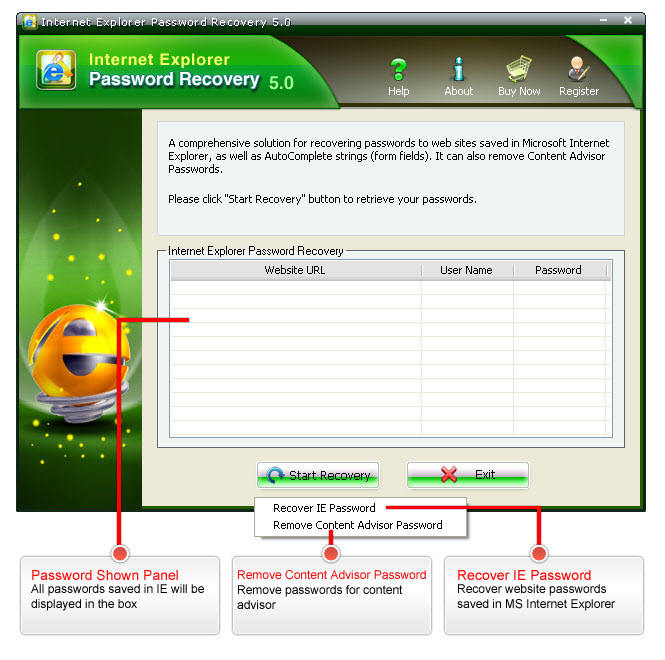 Internet Explorer Password Recovery can remove Content Advisor passwords and work with Internet Explorer 6, 7, 8.
This program is also a comprehensive solution for recovering all Internet Explorer saved passwords that include FTP password, email password, hotmail password, forum password, Google password, yahoo password, AutoComplete passwords, etc. This program can automatically get the list of all passwords saved in Internet Explore even if you have deleted all IE history files. See how to recover passwords to Web sites saved in Microsoft Internet Explorer .
Download SmartKey Internet Explorer Password Recovery:
comments powered by