How to Create and Use A Secondary Gmail Address to Recover Your Gmail Password

Oct. 17, 2013 2:14 pm / Posted by Michael Eric to Online Website
Follow @MichaelEric
Never be too careless to think your Gmail password is safe enough. To avoid losing your Gmail password, adding a secondary email address to your Gmail account for password recovery is really significant and foresighted. Let's check how to set up a secondary Gmail email address and how to recover Gmail password with the secondary address respectively.
How to Set up Secondary Gmail Email Address?
Step 1. On your Google account page, create a new Gmail account.

Step 2. Log out of the newly created Gmail account and login to your main Gmail account which you want to check or recover afterwards.
Step 3. Under the "settings", click on accounts and then click on Add account.
Step 4. Add you credentials for the account you just created where you can recover a lost or forgotten Gmail password.
Step 5. Google.com will send a confirmation email to the account you just added. Login to your new Gmail account.
Step 6. Follow the verification link in your inbox to be added to your other account.
Note: You can't use another Gmail address as your alternate address, and that each address can only be associated with one Gmail account.
How to Recover Gmail Password with A Secondary Gmail Address?
Step 1. Go to the Gmail website, which is gmail.com. You could also go to Google's homepage and click on Gmail in the upper left and corner.
Step 2. Click "Can't access your account?" under the sign-in button.

Step 3. Type in your Gmail address. If you forgot it, click the button "Forgot your username?" and type in your recovery email address.
Step 4. Type in the CAPTCHA word shown. This prevents computers from getting access to your account.
Step 5. Open the "Google Password Assistance" message in the selected email account form "Google Account Recovery" to initiate the password reset process for your account.
Then you will be taken to a new page where you can enter your new password.
Thus, you have learnt the overall information of the secondary Gmail address, try to use it fully. In addition, if you can't recover your forgotten Gmail password with secondary Gmail address smoothly, turn to Password Recovery for help. It can recover Gmail username and password saved in your browser like IE, Firefox and Chrome in a few clicks.
Download SmartKey All-in-one Password Recovery Bundle:
comments powered by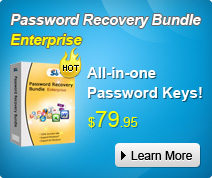 NEXT TOPICS

Online Password & Key
Crack and get back all your online webiste password such as facebook and twitter