Easy Way to Recover MS Office 2007 Password Quickly

Apr. 28, 2013 10:12 am / Posted by Michael Eric to Office Tricks
Follow @MichaelEric
Nowadays with the high technology, people's information can be easily leaked to the public. We need to ensure our safety and the safety of our Office 2007 documents. That is why Microsoft Office 2007 comes with significantly improved security features. You can password protect your Office 2007 documents easily with several steps whenever you want to.
Password protects your Office 2007 files on the one hand can protect your private and confidential information, on the other hand you also have the potential risk of being locked out of your Office 2007 documents as you forgot Office 2007 password. In this occasion, you need the help of Office password recovery.
MS Office 2007 password recovery tool is the most effective and only way to crack Office 2007 password. It will help you recover Office 2007 password by providing online password remove service and offline advanced Office password recovery. Following passage I will offer a simple tutorial on how to use MS Office 2007 password recovery.
How to Crack Office 2007 Password with MS Office 2007 Password Recovery
Step 1: Prepare to Recover MS Office 2007 Password
Download and Install Office 2007 Password breaker, lunch the program after installation. Then click "open" button to import the Office document you forget the password.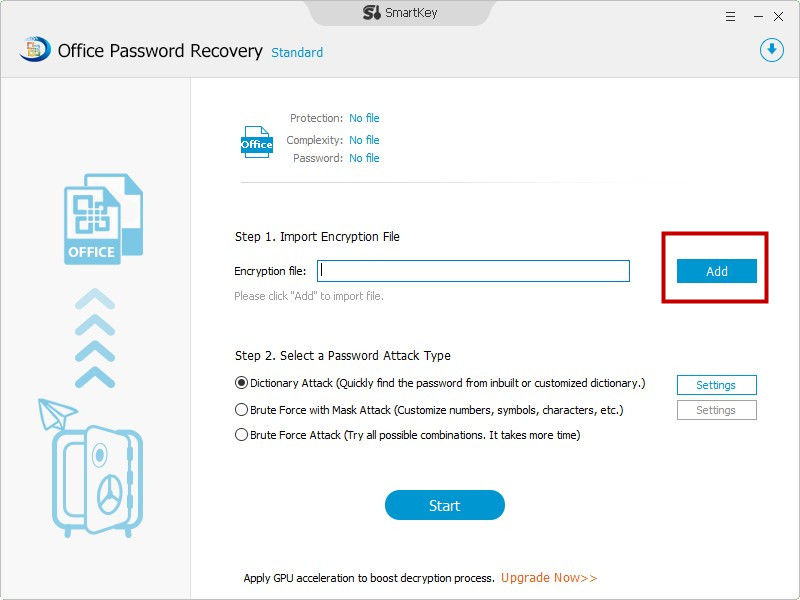 Download SmartKey Office Password Recovery:
Step 2: Select Recovery Mode of Office 2007 Password Cracker
1

Mode1. 100% instant document decryption of Office 2007 Password Remover
1. Select the "100% instant document decryption" mode and click "Next" button on the main interface. You can remove Microsoft Office 2007 password instantly.

2. Click "Decrypt document", it will remove Office 2007 password online in a few seconds. And you can access to your decrypted Office 2007 files without any password.
2

Mode2. Recover Lost Password with Office 2007 Password Recovery
1. If you want to recover your Office 2007 password choose the "Recover the Password" mode. Click "next" button to go on.

2. Choose Attack Type of Office 2007 Password Tool from Brute-Force with Mask, Brute-Force Attack, and Dictionary.

3. Click "Start" button to start Office 2007 password crack. After few minutes, Your Office 2007 password is found and displayed in the File Opening Password box.
How to Remove Password from Microsoft Office 2007?
Additionally, after recovering your lost password, you may think the password for your Office documents is not necessary. You can remove it easily as following steps now.
1. Open you encrypted file, click on the "Microsoft Office" button in the upper-left corner of the document to open the MS Office file menu.
2. Go to "Prepare," and then select "Encrypt Document."
3. Press "Delete" or "Backspace" to remove the password from the Office document. And click "OK."
Now you can easily crack lost MS Office 2007 password with the powerful MS Office 2007 password recovery in several steps. And remove the password from Office 2007, if you think it is unneeded.
Download SmartKey Office Password Recovery:
comments powered by