The Best Way to Recover MDB Password

2013-03-14 15:13:43 / Posted by Michael Eric to Files & Database Topics
Follow @MichaelEric
"Oh! My god, My MDB files keep asking me the MDB password and refusing me to open them. I do not remember the password. They are all very important Meta database. I must get them back. What should I do? "
We may be familiar with this situation. In daily life, we encounter kinds of situations that need us to recover or remove MDB Password (.mdb, a file-extension used in certain versions of Microsoft Access databases). For example, the password protected MDB files left by the former colleague; the password protecting MDB files you download from the Internet and the password protect MDB files you happened to forget. You have no idea of what the password is. You search on the Internet; ask help from others and though every effort you have made, you still cannot find an effective way to get your lost MDB Password.
If you are in the same situation, you need the MDB password recovery. MDB password cracker is a kind of tool that can help you recover password from Microsoft MDB when you forgot MDB password. However, there are so many MDB password unlockers in the market; it isn't an easy thing to select a user-friendly MDB password breaker tool from them.
So if you are also troubled by the problem of choosing an effective MDB password hacker, I highly recommend you try Access Password Recovery. According to its users, MDB password cracker software is simple to install and easy to operate. With it, you can instantly crack MDB password without any efforts. Moreover, this MS access password recovery supports all versions of access database including MS Access 2010, 2007, 2003, 2002 and older ones. Below I will tell you how to recover MDB password step by step.
Free Trial "Access Password Recovery" to Recover *.mdb File Password:
How to Recover or Remove MDB Password?
1

Step1: Get Ready to Crack MDB Password.

First you need to download and install MDB Password Remover into your computer. Click the download button.
2

Step 2: Import the Password Protect MDB file.

Here you need to click "Open" button on the main interface to load your MDB file.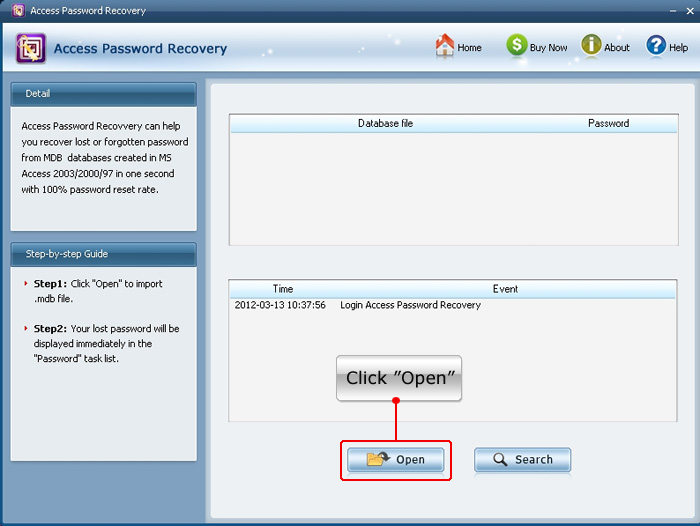 3

Step 3: Unlock MDB Password

Waiting for a few seconds, your MDB password will be displayed exactly under the "Password" list in the main interface.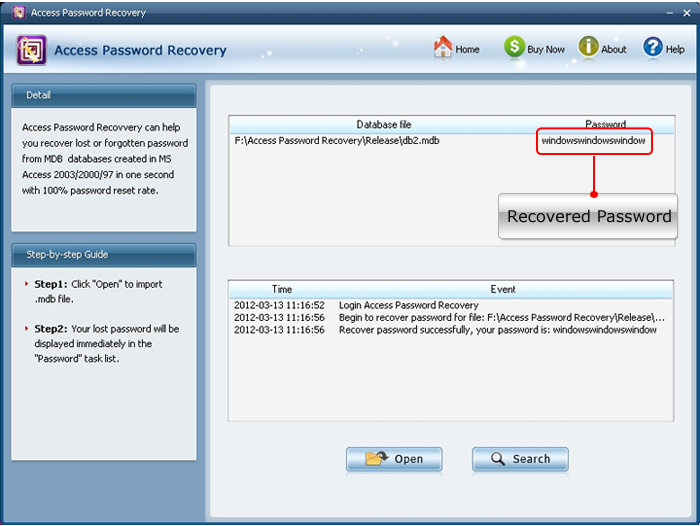 In addition, Access password recovery is an online service that will recover MDB password online and it also supports cracking multiple files password at the same time. So if you are troubled by breaking MDB password problems, try to use Access MDB password Recovery. Pay attention!
How to Restore an MDB File?
If a database is broken, Access Database may erroneously ask for a password, on this occasion you can use the repair utility that is built into MS Access through the following steps.
Download SmartKey Access Password Recovery:
comments powered by